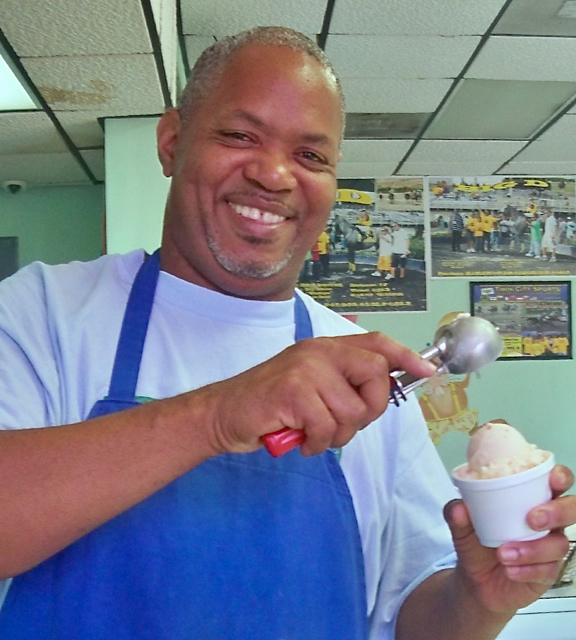 The 20th century was a time of tumultuous change, but at least one thing remains the same today as it has since 1900 – Armstrong Ice Cream. Cedric Armstrong operates the family ice cream business today that his grandma, Minerva Petersen, started 114 years ago.
Armstrong said Petersen sold vanilla ice cream from a wooden cart that she pulled around Frederiksted. Now he makes and sells the creamy treat from his parlor in Whim – in a lot more than one flavor.
"I'm proud to carry on the family tradition," Armstrong said with a wide friendly smile. "Ice cream is what we're known for."
The business has been continuously family owned and operated since 1900.
Petersen's son, Ivan Armstrong, took over making and selling ice cream in 1942.
He sold ice cream from his bicycle until the early 1960s, when he bought his first car. He got a 1955 Chevrolet and sold ice cream from the trunk. He was able to drive to all the big events and any little activities to sell ice cream.
He met his wife Irenia Owen Armstrong selling ice cream at a dance. In 1963 they bought a home in Smithfield and set up a little make-shift shop to make and sell ice cream. The family hand-cranked ice cream until 1970, when Ivan purchased an electric powered batch freezer.
After a few years they purchased a truck and sold ice cream every Saturday at the curve in the Queen Mary Highway where Sunny Isles Shopping Center is today.
"The truck was parked under a mahogany tree at the Sunny Isle intersection way before the mall was built," Armstrong said. "And we're still selling it there every Saturday from 1 to 5 p.m."
The familiar truck is always at such events as Mango Melee and the Ag Fair, where people line up for the famous ice cream.
Cedric Armstrong, 50, said that as in most family businesses, he learned the business working with his parents. He served his first cup of ice cream at 13. He said he wanted to get into the ice cream business after he graduated from St. Joseph Catholic High School in 1982, but his mother convinced him to try something else.
"Mom said it was too much work and she wanted me to learn and experience other things," he said. "She said if it was what I really wanted to do it would happen. That's what I call vision."
He got a job in the Department of Justice and worked there until 1990.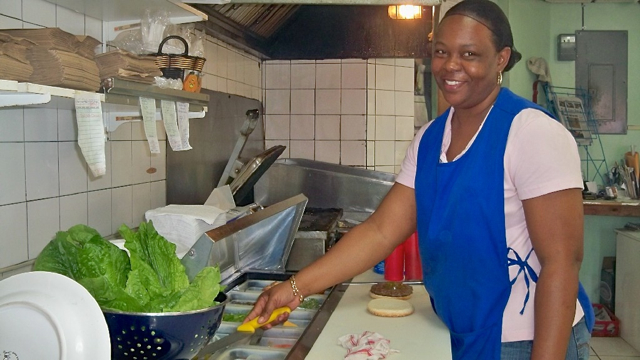 In 1989 after Hurricane Hugo hit St. Croix, he started to help his parents more. They started to think about expanding and taking the business from the backyard to an ice cream parlor. Cedric took over the business in 1991. Memorial Day weekend 1996 they opened the doors of Armstrong's Homemade Ice Cream and Deli on Queen Mary Highway in Whim.
"Ice cream doesn't sell every day," Armstrong said. "We always had it in mind to do an ice cream parlor with a deli." His wife Etherlyn fired up the grill and started serving breakfast and lunch.
He said they can make up to 50 gallons a day, five days a week if the demand is there. Gooseberry is his best seller. He makes almond, banana, peanut, ginger nut, pineapple and more on a regular basis. And he makes seasonal flavors, such as pumpkin, mango and guava berry. He says his special homemade custard base is what makes their ice cream so creamy and flavorful.
Armstrong puts in a long day, generally starting at 3:30 a.m. and wrapping things up around 8 p.m., six days a week. He said finding time with his family is the only challenge he has running his own business. He added the good thing is he is his own boss and he can carry on the Armstrong tradition.
He says he is still a small business riding the wave of economic highs and lows. He explained they don't plan to expand because it's all about high quality products, homemade from scratch, and not making large quantities.
"I'm a stickler about keeping the ice cream the way it is," Armstrong said. "With more expansion it gets away from you."
He said they are affected by high electric bills and they have made sacrifices to stay in businesses.
"We 're thankful that as long as folks have money they are supporting us," Armstrong said.
When asked about the next generation running the business and carrying on the tradition, he said with pride that one of his twin sons, 11-year-old A'Kell,shows a lot of interest in the business. The other son, A'Quan, hasn't shown much interest. He added he will work until the Lord says he can't physically do any more.
The ice cream is sold by the scoop or containers. They make milkshakes and banana boats. The black stallion milkshake made with rum and a few different flavors of ice cream is popular. They serve burgers and grilled sandwiches, wraps, salad, quesadillas and all sorts of breakfast foods to eat in or take out.
The parlor is open 7 a.m. to 7 p.m. Tuesday through Saturday. The deli is open until 2:30 p.m. and closed on Sunday and Monday. They sell just ice cream Sunday from 11 a.m. to 7 p.m. For take out orders people can call 340-772-1919.