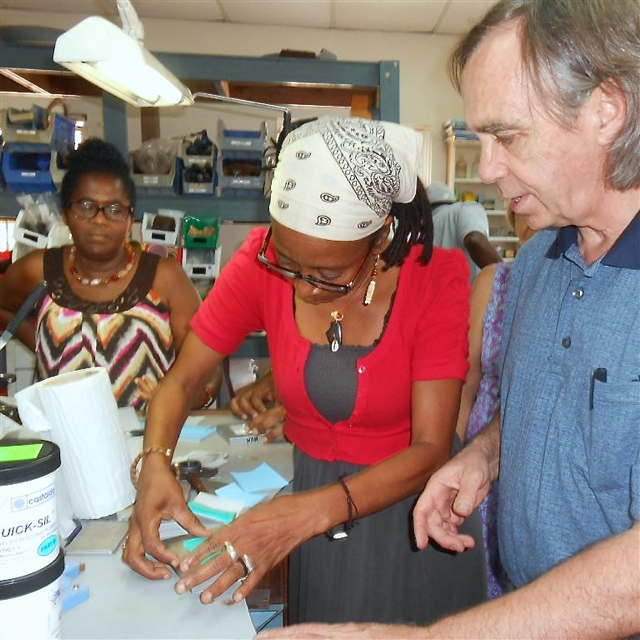 Eight students surround Chuck Hunner, master flexible mold maker, as he meticulously cuts through heat-cured silicone rubber with a fine blade to reveal the silver cast within it. It is an exacting and time-consuming process.
No matter. His audience is hooked. They don't miss a beat as he patiently leads them through the process.
It is the second day of an intensive three-day workshop conducted by Hunner. The lab is filled with sophisticated equipment and the materials for making the molds, which will be used for wax injecting in a future workshop.
This is one of a series of workshops created by Ivanne Farr, owner of Rare Earth Studio and director of the Caribbean Islands Education Foundation, Inc.
Though the jewelry industry has long provided retail jobs in the territory, there has been no training available to help young Virgin Islanders create their own jewelry, a fact that began gnawing at Farr shortly after she made St. Thomas her home.
With nearly $275 million draining out of the Virgin Islands each year to purchase jewelry for resale in the territory for some 300 jewelry stores doing business in Charlotte Amalie, (based on V.I. Bureau of Economic Research figures) it is Farr's mission to expand educational and workforce development opportunities for residents of the V.I.
It is her mission to create that opportunity through the Caribbean Islands Education Foundation Inc.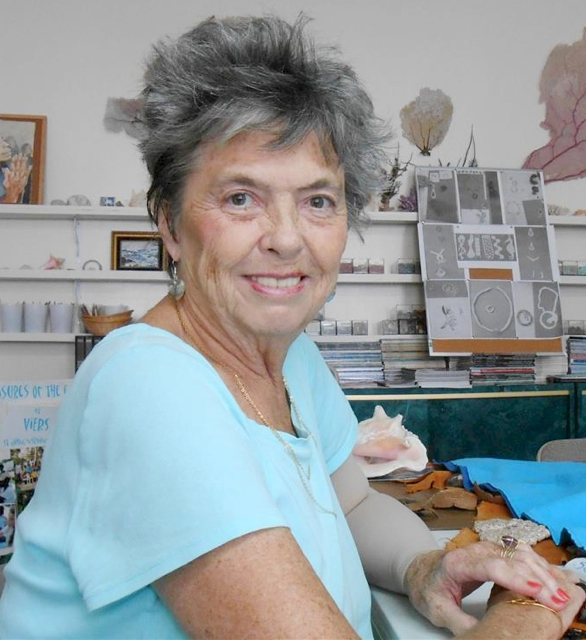 She has been determined in her quest to educate local people in the art of jewelry making, and much more. She has, so to speak, left no stone unturned in her determination.
After visiting St. Thomas for years – her daughter was married here in 1999 – Farr moved to the island in 2003. She is a jeweler of some recognition, long a member of the Gemological Institute of America (GIA.) In 2004, Farr implemented a jeweler's gemologist program introducing people of all ages to gemology and precious metals. Also in 2004, the GIA's Caribbean Islands Alumni Chapter was officially recognized.
In 2005, Sen. Shawn-Michael Malone took an interest in what the program could provide for youngsters; so much so that he sponsored successful legislation for an appropriation for a scholarship and education program for the jewelry industry. Under that appropriation, Farr in 2006 established the Caribbean Islands Education Foundation, Inc., a not-for-profit with a four-member board of which Farr is president. That same year, she created Rare Earth Studio after receiving a donation of jewelry production and design equipment arranged by a founding board member.
Farr offers "Treasures of the Earth," a program introducing people of all ages to gemology and precious metals.
"It is a hands-on presentation of mineral specimens, Caribbean Islands regional raw materials, pure copper and gold along with demonstrations of production procedures leading to the ultimate finished piece of jewelry or objet d' art," she said.
She cannot remember the number of students who have passed through her programs – "in the hundreds, maybe thousands," she said. The studio has hosted public and private schools, including the University of the Virgin Islands Summer Business Residency Camp.
"Bursting with Brilliance" is a program the studio conducts for "at-promise" students between the ages of 7 and 17.
"We don't say 'at risk' students," Farr said emphatically.
Later this spring the studio will hold its inaugural Brilliance Youth Awards, she said.
"The awards will honor the creative work of hundreds who have participated in 'Treasures of the Earth – the Ultimate Field Trip.'"
The studio is a collection of wonders. Showcases line the walls, filled with polished and unpolished gems, crystals, amber, onyx, minerals of all description. Farr seemingly knows each stone, as well as each piece of shell gathered from the island's beaches. Her passion for the territory's natural wonders grounds her conversation.
Speaking with Hunner before class, Farr picked up a blue bit stone, locally known as blue bitch, formed out of volcanic rock, and explained its jeweler's potential.
Illustrating her point, Farr pointed to a standing display featuring photos from a Treasures of the Earth summer course she has taught each year at the V.I. Environmental Resource Station on St. John.
"The kids love it," she says.
She conducts an orientation class in what can be found in natural surroundings, then sends the kids out on their own.
Farr is adamant about having only the best artists, masters of their craft, to educate Virgin Islanders to global standards of excellence. The foundation's mission is to establish a jewelry industry education and vocational training program to empower local people to participate in the global market.
Farr provides opportunities for children as well as adults – this last class, in fact, was all adults. She also works with Work-Able Inc. in classes in a downstairs patio for those who can't climb the stairs.
In 2007 the studio hosted GIA's internationally recognized educational courses, including labs in gem identification and the grading of pearls, diamonds and colored stones. With certification in any of these disciplines, Farr said, the student is well on his or her way to a professional career.
In 2011, Farr was named "Small Business Advocate of the Year" by the Virgin Islands Small Business Development Center/University of the Virgin Islands. Last year she was successful in getting the Queen Conch named official seashell of the Virgin Islands. Following on that success, last December the studio offered a Queen Conch carving workshop taught by Italian master carver Alfonso Vitiello.
The workshops aren't cheap. They cost $750, but the cost is borne in partnership with the Department of Labor, which sponsors scholarships for students who qualify.
The treasure of the studio, what Farr calls the "crowning jewel of our organization," is Pure Caribbean, the program which embraces creativity, exclusively designed and produced works made in the Caribbean islands. The name is registered with the U.S. Patent & Trade Office, awarded to the Caribbean Islands Education Inc.
Farr said, "With our training we can come up to world standards of excellence. People will flock here to buy our products once we get the Pure Caribbean label out there."