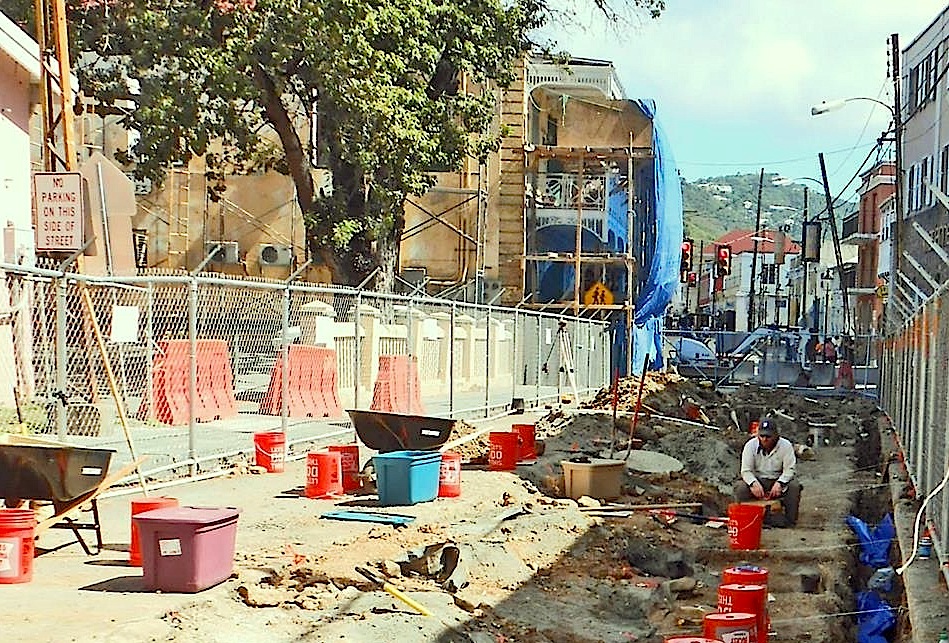 About 2,000 years ago, give or take, a Saladoid era person likely sat right where Market Square is today in downtown Charlotte Amalie drinking out of a clay cup, perhaps musing over ceramic futures, though probably not.
Today one of archeologist David Hayes' troops unearthed that cup handle, one of hundreds of treasures just now coming to light.
Hayes is the site manager for a dig begun almost a year ago. He heads a team of archeologists in hand-excavating the 2,000-year-old pre-Columbian site which he discovered last year as the archaeologist hired by the Department of Public Works' contractor to monitor the construction of the Rothschild Francis Square Enhancements project. The site is on Main Street between Strand and General Gades.
Public Works and its contractor, Island Roads, along with the Department of Planning and Natural Resources and the State Historic Preservation Society, worked together with Hayes to decide how best to preserve the area.
The site was discovered last January when Hayes said he saw hundreds of whelk shells and pottery shards pouring out from the newly disturbed soil of a water trench under construction. He informed Public Works, and the construction was halted to begin age-testing the artifacts he saw pouring out.
Indeed, they'd come across a Saladoid era – 2,500 to 1,400 years ago – site, which Hayes called "a major find, very rich."
He said since last year he has been monitoring the federally funded project and has now hired a crew of 25 people, 15 of whom are highly skilled archeologists – "the crème de la crème" Hayes said – from Southeastern Archeological Research Inc. (SEARCH) from Gainesville, Fla., along with several volunteers including University of Florida anthropology professor William Keegan and Christopher Altes, SEARCH project archaeologist.
SEARCH archeologists Melissa Dye and Ruben Garcia sat bent over a box covered with a sieve intently and gingerly picking out small shards of pottery. They and the others arrived on the island Sunday, cleaning the site in preparation for the start of scientific excavation on Wednesday.
Dye held up a small plastic bag with their finds of the morning. "Here," she said, clearly excited, extracting a small pottery shard, "this is what we're here for."
They say archeologist love dirt and the two young scientists were living proof as they sifted through lots and lots of dirt Wednesday morning, looking happy as kids in a sandbox.
"The work takes priority over everything else because once the water lines are put in, the site will be completely destroyed," Hayes said. "We have to extract as much information as possible."
He said they have until Feb. 7, crossing his fingers for luck. "We hope to have extracted enough information to let us know who preceded us in this area."
Then the artifacts will become the property of the Department of Planning and Natural Resources in the care of the V.I. State Historic Preservation Office.
As site manger, Hayes moves from one problem to the next, leaving little time for an extensive interview. Kibitzers walking down the sidewalk facing the fenced-off construction site are one problem, even though the sidewalk is fenced off and bears signs explaining the work.
The sidewalk superintendents are nothing compared to the wiles and ways of the ongoing construction, an inoperable WAPA water meter, for one.
Hayes, however, has a solid relationship with Island Roads personnel. Standing on a dirt corner, over the steep excavation, Hayes tells the supervisor, "We need to cut this off right here by Winston's foot." The explanation is understood and all parties move on.
Hayes abruptly changes roles. "Come with me," he said, striding out of the immediate construction area and to a storefront in the next block where volunteers sit before big buckets, scrubbing the finds. The storefront is filled with treasures. "This is where the good stuff is."
Hayes takes the recently excavated cup handle, handling it delicately like the precious part of history that it is.
His demeanor changes noticeably when he becomes an archeologist rather than site manager.
"This is what I love," he said "The few seconds of excitement when you find something new."
He picks out another small shard, looking like the rim of a bowl. "See the fine lines cut into the piece," he says. "Notice the pattern and the color." He puts it back in the assortment of shards and shells inside the room, handling it like a baby.
"This is more than 2,000 years old," he marvels, picking up a whelk shell. "I anticipate we'll have 20,000 of these shells and 20,000 pieces of pottery."
Hayes, who is a Crucian, knows whereof he speaks. He is a founding member of the St. Croix Archaeological Society, dedicated to getting residents and visitors excited about the pre-Columbian history of the island.
Public Works Commissioner Darryl Smalls was contemplative about the dig. "It kind of puts life in perspective," he said this week. "You could see where the town of Charlotte Amalie burned down in the 1800s," he said, referring to work completed on last year's dig.
As far as today, Smalls said he would like to see the Rothschild Francis Square Enhancement project completed before Carnival.