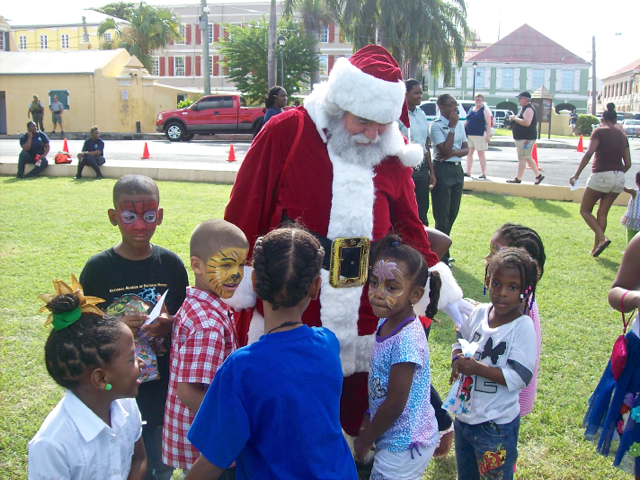 The holiday spirit was in the air as children and their parents attended the annual Children Holiday Party hosted by Gov. John deJongh and first lady Cecile deJongh Saturday afternoon at Fort Christiansvaern.
The family oriented event was filled with fun activities and kids got the opportunity to see Santa Claus.
The first lady said the party began years ago as a way for kids to receive toys. However, when her husband began his first term, they felt it would be instrumental to include a book to promote literacy among young children in the territory.
She said a local author is selected every year. The giveaway allows kids to gain a positive prospective for reading and confidence that they can also grow up to be authors.
During the event, Home Depot employees held a woodworking workshop. Volunteers painted kids' faces, and a cupcake decoration table allowed kids to show-off their creative side. A bouncing castle was also available to burn the sugar rush, making the youngsters a bit more relaxes for Santa.
Cristina Kessler, author of "Hope is Here," signed copies of her book to the kids. In her book, Kessler, who lives on St. John, explores the journey of Hope, a whimbrel, who migrates to St. Croix during the winter.
"The book was illustrated by Marcos Castillo," Kessler said.
After her friend nominated "Hope is Here" for this year's annual party, she was elated when it was chosen.
"It's a huge honor," Kessler said.
Rashidi Clenance, masters of ceremonies, kept the crowd updated on Santa's progress in his journey to the party.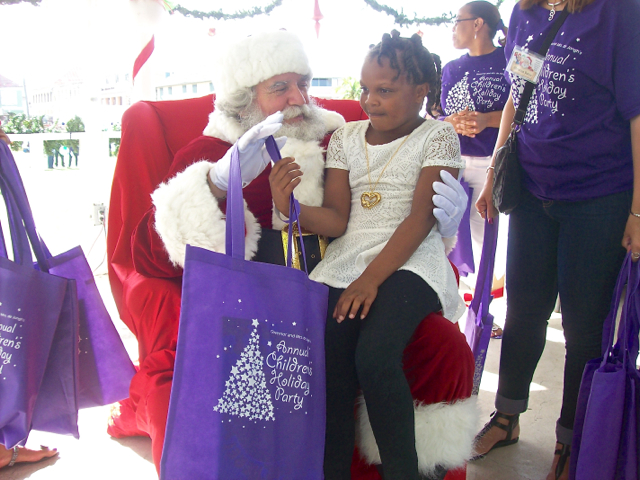 Soon, the honking of a fire truck signaled Santa's arrival. Santa Claus, played by Human Services Commissioner Chris Finch, was surrounded by a group of youngsters who hugged him or tugged on his red coat.
As the kids sat on Santa's lap, the first lady helped Santa distribute a bag filled with educational gifts for the kids.
Keren Scott attended the holiday party with her children Jenee and Jordan Scott.
"I brought my kids here to experience a cultural Christmas," Scott said.
She said there is no other place like the Caribbean, where you can listen to steel pan music and enjoy guavaberry. Scott said the event allowed her to "kill two birds with one stone," while attending the boat parade later on in the day.
During the holiday party, the Governor's Vendor Fair took place at Government House. Vendors sold local food and drinks along with arts and crafts.