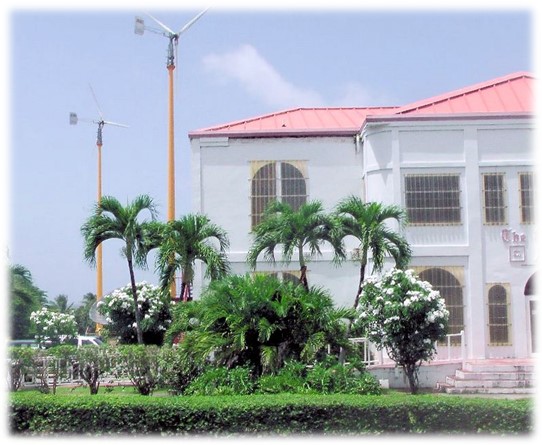 Wind Measuring Devices Available
The Virgin Islands Energy Office (VIEO) has initiated a program so residents can verify the adequacy of the wind resources at their prospective sites before making an investment in wind energy.
The recently initiated Wind Anemometer Loan Program's goal is to spur small-scale wind development in the territory. Anemometers are wind measuring instruments used to collect wind data that can determine the feasibility of installing a wind turbine.
To ensure that the installation is worthwhile, the wind resource should be measured precisely at that location. Wind resources can vary over short distances. Trees, hills and buildings all have an effect on how much wind reaches a certain place. Although wind resource maps are helpful, they are not always precise.
Wind anemometers will be available for loan throughout the territory. They will be loaned to residents for a 12-month period, based on availability and selection criteria. The V.I. Energy Office will assume responsibility for funding for transporting the anemometers, their installation and permitting. VIEO will also maintain them and be responsible for collection of the data.
For more information about the program, contact Carl Joseph at 714-8436, ext. 4304 or Patricia Lord at 713-8436, ext. 3603. The program is made possible with assistance from the U.S. Department of Energy's State Energy Program.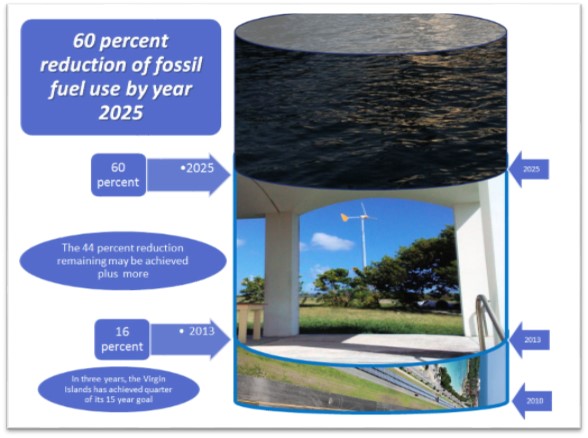 EDIN Conference Dec. 12 on St. Thomas at UVI
Much progress has been made breaking the Virgin Islands' addiction to fossil fuel. Three years ago, when the Energy Development in Island Nations (EDIN) was kicked off, the V.I. was effectively 100 percent dependent on fossil fuel. That is changing. The Virgin Islands has also cut down on its carbon emissions during that period. Persons interested in learning about the changes and progress can attend the EDIN Workshop in the ACC Room No. 142-1A on Thursday, Dec. 12, at UVI, St. Thomas
With the assistance of the U.S. Department of Energy's National Renewable Energy Laboratory, the V.I. set out to reduce fossil fuel consumption 60 percent by the year 2025.
Energy project developers will give an update on that progress at this day-long workshop. (Registration starts at 8 a.m.) Speakers will also address upcoming Initiatives of the Caribbean Green Technology Center and the Water and Power Authority's ViEnergize Business Services Unit.
If interested in attending, RSVP to Lucy Estephane at lucy.estephane@eo.vi.gov or call 713-8436 on St. Croix or call Molissa Brin at 714-8436 on St. Thomas.
Three V.I. Businesses Get Help from USDA Energy Programs
Virgin Islander businesses are taking advantage of U.S. Department of Agriculture funding for energy projects. Among funding recipients announced this month by Agriculture Secretary Tom Vilsack were three St. Croix businesses — Two Plus Two, a night club; Tropics Hydroponics Farm, a greenhouse operation; and Sunny Isle Developer. Sunny Isles is getting $26,000 for energy efficient retrofits; Tropic Hydroponics is receiving $28,874 for a wind turbine; Two Plus Two will receive $59, 614 to help install solar power.
The Rural Energy for America Program (REAP) has been giving grants and guaranteeing loans since 2008, but it has just been in the last couple of years that Virgin Islanders have been taking advantage of the program. VIEO Director Karl Knight said, "Virgin Islanders need to take advantage of all programs available to help them cut their energy consumption. The Energy Office is pleased that it has been able to guide businesses to these programs and to help make applications successful."
The projects in the V.I. were among 424 projects across the nation that will help agricultural producers and rural small businesses reduce energy consumption and costs.
Vilsack said in a press release, "By investing in clean, renewable energy created in rural America, U.S.D.A. is able to provide new income opportunities in our small towns while supporting the Obama Administration's comprehensive effort to combat the impacts of a changing climate."
Under REAP, up to 25 percent of an eligible renewable energy system or energy efficiency improvement project can be funded through a grant, and additional support can be provided in the form of a loan guarantee. Since the start of the Obama Administration, REAP has helped fund more than 8,250 renewable energy and energy efficiency projects nationwide.
Residents can learn more about the U.S.D.A. programs at http://www.rurdev.usda.gov/Energy.html. Businesses can apply for the program at any time during the year.
For information on energy efficiency or alternative energy, visit the V.I. Energy Web site at www.vienergy.org. The V.I. Energy Office phone number is 713-8436.