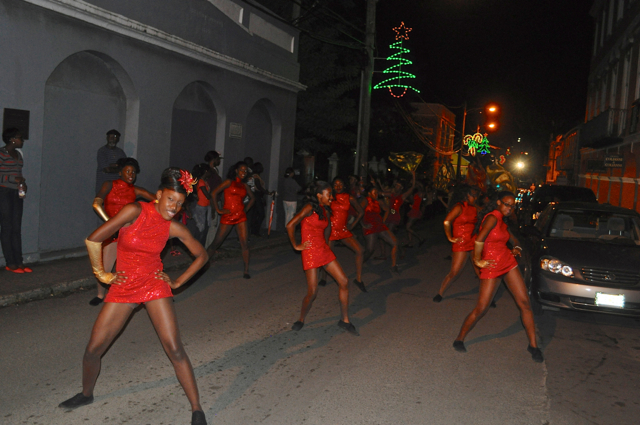 Bands and majorettes paraded through Christiansted Saturday night, winding their way from the Sunday Market Square to the mini-Christmas-village in D.C. Canegata Park, as the Crucian Christmas Carnival season got into full swing.
Parade organizer Ibo Glasgow, said Friday's opening of the mini-village and Saturday's parade went well despite the weather, which earlier in the week brought wind, rain and flooding to the territory.
Those conditions almost delayed the parade's beginning, as a brief shower around 6 p.m. Saturday sent paradegoers at Sunday Market Square running for cover before the festivities even began.
But Mother Nature's outburst didn't last long. No sooner had the St. Croix Majorettes and the parade's marching bands made it to cover than the rain subsided. Police blocked King Street, and the St. Croix Educational Complex marching band got things started in a raucous and celebratory fashion.
According to Glasgow, the night parade is meant to bring back the flavor and tradition of times gone by, when the enslaved Africans on St. Croix paraded from plantation to plantation carrying oil lamps to light their way.
He also said an early parade in the carnival season was good practice for the more elaborate and lengthy adult and children's parades that take place at the end of carnival.
Glasgow said he really enjoyed the children getting involved the most, as he does with most carnival events and the holiday season in general.
"I like to see the kids come together without violence, to just enjoy the marching bands and majorettes," he said. "I'm a carnival person. I love the festival and seeing friends, and friends from the states come back home."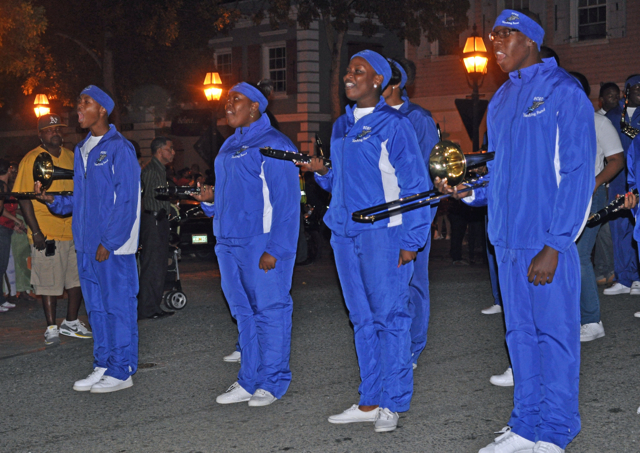 Glasgow said the hardest part of organizing the parade was getting everyone to show up on time, as it is with so much on St. Croix, where "island time" is traditional and everything starts late.
But he had a strategy he successfully employed Saturday, he said, laughing. He told everyone show up at 6 p.m., half an hour earlier than he actually needed them.
The parade started a little past 6:30 p.m.
More information on the 2013 Crucian Christmas Carnival, including an updated schedule, can be found online at www.stxcarnival.com. The website includes updates, photos and a chance to listen to the latest soca music for the season.