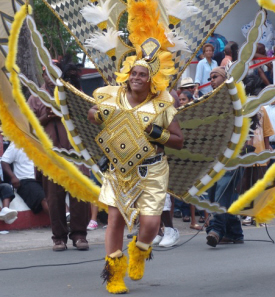 Music, hot local seasonal food and carnival rides will kick off Crucian Christmas Carnival Friday when Christiansted's three-day mini-Christmas-village opens at 6 p.m. in D.C. Canegata Park.
Then everyone on St. Croix is invited to show their island Christmas spirit Saturday by showing up or even participating in the traditional Ole Time Night Parade with Stanley and the Ten Sleepless Knights.
The night parade brings back the old time flavor and tradition of times gone by on St. Croix when the enslaved Africans paraded from plantation to plantation carrying oil lamps to light their way, according to the Crucian Christmas Carnival organization.
On Dec. 7, beginning at 6 p.m., majorette troupes, high school marching bands, Queens, Princesses and other assorted parade participants will line up at Sunday Market Square to continue the tradition and cleave to the cultural roots of the Crucian Carnival. The parade will travel down King Street, illuminated not by oil lamps but by city street lights and Christmas lights twinkling from local businesses.
"There is usually an abundance of majorettes and marching band members, but we want to encourage troupes to dust off costumes from previous years, join the parade and get into the Christmas spirit," said carnival organization president Davidson Charlemagne in a statement.
The Crucian Christmas Carnival organization is still looking for more participants, and it's not too late to pull out the carnival and cultural wear, give them a call and come make the parade bigger, according to parade coordinator Ibo Glasgow.
"Individual entries, small groups, medium sized and large groups are encouraged to get into the spirit," Glasgow said in a statement. Interested persons can call 643-3199 for more information.
Meanwhile, local bands will play Friday, Saturday and Sunday nights, starting with Stanley and the band, Kulee Ban, and Pumpa and the Unit, Friday. Saturday, it's Volume International from St. Thomas; Fusion Band and Stylee Band. Sunday, X6 Band; Angel; Sincere and Planet 6 (Rock City) will hit the stage.
Also Saturday, Herbert Grigg Home for the Aged will see its own mini-parade.
"Our residents are excited, carnival time is a delight to them," said Grigg office manager Maria Colon-Clarke. She said staff and volunteers look forward to bringing the festivities to those residents who are unable to leave the facility, which is located in the Kingshill area of St. Croix.
Colon-Clarke said this is the fourth year of the home partnering with the Crucian Carnival committee and this year is no exception. The mini-parade begins at 4 p.m. with participants in parade costumes. There will be majorettes, marching bands and flag twirlers and mocko jumbies. More participants are still being sought. Vendors will be selling coquito, snacks, and food plates. Stanley and the 10 Sleepless Knights will provide the music along with a deejay.
Colon-Clarke said the event has out grown its regular space at the inside courtyard of the home. This year a stage will be erected right outside of the main building. This change will allow the residents a better view of the performances, and the performers will have a larger space to show their talent.
Also new this year is the selection of the Herbert Grigg Grand Marshals. "We will select the oldest male and female and they will reign over the festivities," Colon-Clarke said. The community has shown its Christmas spirit by volunteering to decorate the facility. Volunteers from Diageo, the Dominican Action Group, UVI Golden Key club and family members identified a section, provided the decorations and did all the work. There will be a lighting ceremony on December 27.
The public is invited, even if you do not have a family member residing at Herbert Grigg. Seniors love to have people around so they look forward to Christmas time and all the attention they get.
For more information and to assist in any way, call Colon-Clarke at 778-0708 or 332-9679.
While not a part of the official Carnival, the hugely popular St. Croix Boat Parade, with its gaily lit vessels and wildly enthusiastic crowds, is not to be missed Saturday, Dec. 14. Festivities will begin at 1 p.m. in Christiansted on the boardwalk and the parade will start at 6 p.m. The parade will end with a fireworks display.
On Dec. 15, the Princess and Duchess contestants will compete for their tiaras at 3 p.m. at the St. Croix Educational Complex and the Jr. Calypso competition starts the same time, at Caribbean Community Theater.
The Miss St. Croix Pageant will follow a week later at Island Center, Dec. 22 at 5 p.m. and the Calypso Monarch competition will be at Gertrude's Restaurant, 8 p.m. Dec. 21.
On Dec. 26, the Frederiksted Festival Village will open on the grounds adjacent to the Paul E. Joseph baseball stadium, with food booths, merchants, carnival rides and games. Opening ceremony will be at 7 p.m. Hartattack Band, Pumpa and da Unit, and Road March Champions Fusion Band will play.
On Dec. 27, competitors will don their biggest, most elaborate parade costumes to vie for the title of Party Monarch, at 7 p.m. in the carnival village.
There will be a quelbe band competition in Buddhoe Park Dec. 28 from 4 p.m. to 7 p.m.
The annual boat races will be held off Frederiksted on Dec. 29 with boats running from the Fish Market to the Frederiksted Pier. The V.I. Department of Tourism will sponsor Cultural Night at the Festival Village that evening.
Dec. 31 is Youth Night at the village.
On Jan. 1, Roast-A-Time J'Ouvert gets the day off to a loud start at daybreak. Starting at Hannah's Rest Corner, the event winds into Frederiksted, with bands and gyrating crowds of all ages.
Space is still available for food and crafts vendors at the Crucian Carnival's "Gloria Joseph Food Arts and Crafts Fair" that will be held at 12 noon, Jan. 2, around the Eliza McBean Clock Tower next to the historic Fort Frederick in Freedom City Frederiksted.
Applications are available at the V.I. Tourism office on the Frederiksted Pier or on the carnival website at www.stxcarnival.com. All manner of local pastries, cookies, candies and hot foods will be there. It is Latin Night in the village.
Jan. 3 the Children's Parade rolls out at 10 a.m. and marches through Frederiksted. Then the big party begins as the Adult Parade hits the road Jan. 4 at 10 a.m. Fireworks and a last night of music finish up the carnival Jan. 5.
Go to www.stxcarnival.com for updates, photos, information and a chance to listen to the latest soca music for the season.