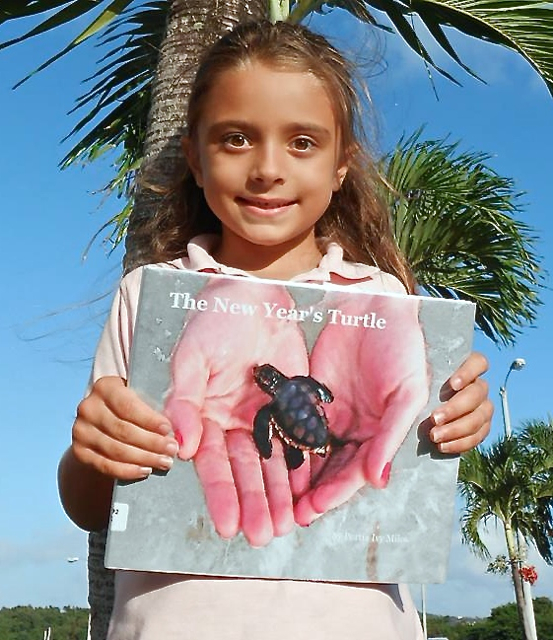 Once upon a time …
… there was a five-year-old girl named Portia, and she lived on a beautiful island in the Caribbean Sea. She was blessed with a natural curiosity and sense of wonder which caused her to write a book about a turtle she met one day, and to film fruit bats she witnessed feeding in a kapok tree.
In fact, Portia Ivy Miles is very much a real girl living on St. Thomas. She graciously consented to a Source interview about her literary and cinematic adventures. We met this week with Portia and her parents, photographer Erik Miles and mom Tara Miles.
Portia was clearly excited about having an exclusive interview, but a little shy at first. With a bit of prompting from her folks, she opened up like the tiny storyteller she is to tell us the tale of Shelley the turtle.
Brushing back a strand of light brown hair, she geared up:
"Well, you see, " she said, "I was swimming with my family at the Bluebeard's beach at the Ritz-Carlton New Year's Day and I saw something in the water and my uncle Mark picked it up and my dad said it was a baby Hawkbill turtle. He called it a hatchling.
"And then a man who worked for the Ritz-Carlton came down and asked if he could take it to Coral World. He said he had another one and he would like to take them both. He said baby turtles are checked out at Coral World before they are released. He asked me if I would like to name it, and I called it Shelley."
And there you have the beginnings of the adventures of Portia and Shelley. We won't reveal the ending here, except to say it was happy. Here's a hint; the last line: "Maybe I will get to see Shelley again one day. I wonder if she will remember me."
Portia wanted to write a story about her adventure for a paper she had to do for her kindergarten class at Antilles School, and that is the basis for her first literary endeavor.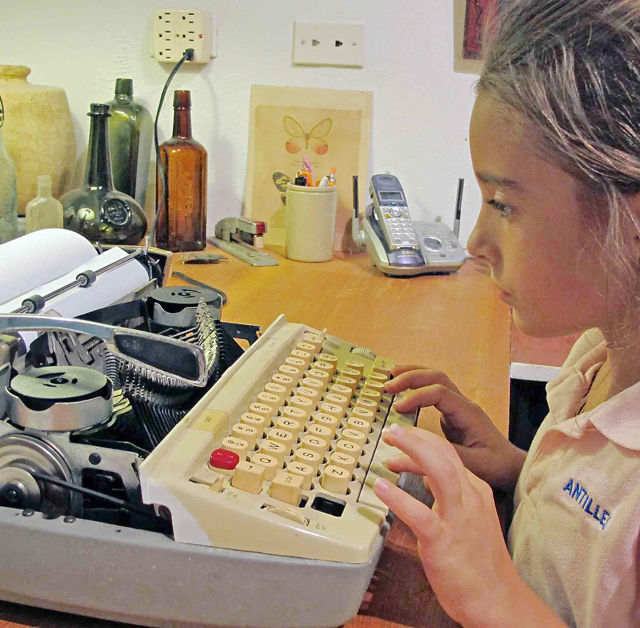 The book is beautifully illustrated with Miles' photos of Shelley, Portia and her family, and some of the Coral World staff. It was self-published by Blurb. It is dedicated to mom, Tara.
Erik Miles is a professional photographer.
Full disclosure: We freely admit that Tara and Erik Miles got into the act. Though the story is told in Portia's words, it got a little editing help.
Portia donated her book to the Antilles School Library.
So, about the bats in the kapok tree. Now a 7-year-old second-grader at Antilles, Portia recounted the adventure filmed early last year as though it were yesterday, eager to share the story.
"I'd been watching the bats in our tree for quite some time," she said, "about a week. We have a kapok tree in our yard, and the bats come to feed. They are Antillean fruit bats."
"The story tells about the bats pollinating like bees do when the tree blooms," Portia said.
The six-minute-video lingers on the nighttime scene, beautifully lit and thoughtfully put together, catching the tiny creatures as they feed. It's a compelling few minutes.
Erik Miles said he had a couple of broken ribs when Portia came up with the idea.
"I didn't feel much like moving," he said. "let alone go out filming fruit bats at night, but she was so excited and I had just taught her about time lapse and she was determined to try it out on something cool and the tree was just out in the yard. Hence, this film, shot over the course of three evenings. My daughter set her own time lapse shots on the Gopro 2 with a little of my assistance, I shot with the Canon 5D."
Miles said Portia sat right next to him and oversaw the editing of the film.
"And I'm going to do the speaking part, the narration," Portia said. "And then we can show it to my class."
Portia chose the music for the film, "Whistling In Tongues by Felix Laband from Dark Days Exit."
How did she know about this kind of adult music?
"Oh," Portia said nonchalantly, "I heard my dad play it."
The film winds up with several shots of the young filmmaker at work.
"That was so much fun," said Portia, an artist of few words, "up on the ladder looking through the little camera. The best part was when the bats would look right at us."
The film can be seen online at https://vimeo.com/38334029
The book is available at http://www.blurb.com/b/4544982-the-new-year-s-turtle.