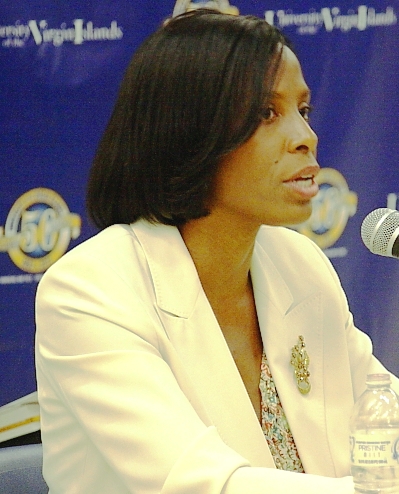 Well-known St. Croix attorney Stacey Plaskett formally tossed her metaphorical hat in the ring this week, announcing she is running to be the territory's Democratic Party candidate for the U.S. House of Representatives.
"I'm excited to kick off a campaign, which prior to this announcement has been working on the ground talking with people, organizing and raising funds as well as working within the Virgin Islands Democratic Party," Plaskett said in a statement.
Plaskett said she plans to continue building on support showed by the territory's Democrats when she first sought the office in 2012.
"We plan to build on the already demonstrable 43 percent of Democrats from the last election who were confident in me taking on the role of Delegate to Congress," Plaskett said. "These strong numbers and our work since last September make us extremely confident in this race."
Plaskett said the campaign has not lost its base and the growth of support has been phenomenal. "People are aware that the U.S. Virgin Islands delegate does not have a vote in Congress so it is important our next representative is able to hit the ground working in Washington, and I and others are confident I can do that."
Plaskett challenged nine-term incumbent Delegate Donna M. Christensen in the Democratic Party Primary, garnering 42.49 percent of the vote to Christensen's 57.48 percent. Christensen went on to win the general election with 60 percent of the vote, while her nearest rival, developer Warren Mosler, received 17 percent. Republican Holland Redfield received 11 percent. In 2010, Christensen won with 71 percent of the vote.
If Christensen runs again for delegate, she will have a number of built-in advantages, as a popular long-time incumbent. Christensen has not formally declared, however, and is widely expected to be considering a run for governor in 2014, after she tweeted in June that she intended to run, and then later deleted the tweet. (See Deleted Christensen Candidacy Tweet in Related Links below)
If the office is open, Plaskett's strong showing in the 2012 primary may be a bellwether of her likely performance in 2014.
During the 2012 primary debates, one of defining differences between Plaskett and Christensen was Christensen's long-time advocacy for a chief financial officer for the territory.
Christensen has argued creating the position will help control waste and fraud and help the territory get more federal grant funding. Plaskett argued that it was a step backwards for the territory, ceding power to the federal government.
"I think we need to create more transparency and accountability in local government, rather than have the federal government impose that on us," Plaskett said during debates.
Another issue in the campaign was Plaskett's switch from the Republican Party to the Democratic Party in late 2008. Plaskett said at the time she had seen the party as an "old boys club" when younger but now viewed the party as a place where new ideas could be heard.
Plaskett, a graduate of both Georgetown and American Universities and a former New York prosecutor, says her past work experience in Washington, D.C., uniquely qualifies her to navigate the highly charged political environment in Washington in order to advance the territory's agenda.
A one-time lobbyist on Capitol Hill, Plaskett said she has the know-how to overcome the barrier of the delegate's lack of a vote on the House floor.
"I worked in Congress not only as a congressional staffer for then-Delegate to Congress Ron de Lugo, but also as a counsel to the House Ethics Committee," she said. "I've also worked with House and Senate members in private practice and as a senior member at the Justice Department. With nearly 20 years practicing law – negotiating multi-million dollar agreements, drafting legislation, managing billions of dollars – going to Congress, a body of law makers, will be an easy transition," she said.
Plaskett's formal announcement events will be held on all three islands this weekend, which began with a grand kick-off announcement Friday on St. Croix at Teddy's in Sion Farm. The campaign events continue Saturday on St. Thomas with a celebration at the International Plaza on Waterfront at 7 p.m. and Sunday at the Cruz Bay Bandstand on St. John at noon.