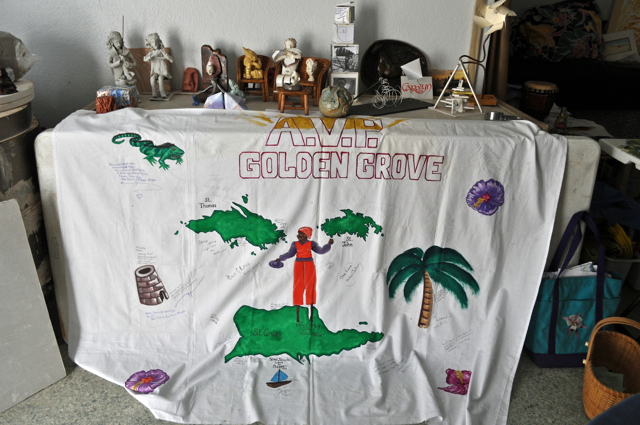 A group that has tired of the violence in the community and wants to teach a better way opened a community peace center in Frederiksted, and hopes to open similar centers in Christiansted and on St. Thomas in the coming years.
The Alternatives to Violence Project opened the center Friday. Modeled after a similar center in South Africa, St. Croix's version is a meeting place, and more – a place for a peace and research library where both students and adults can gather for study and a community quiet space.
According Carolyn Keyes, who has spearheaded the project, the rise in violence in the territory over the last decade makes a community peace center a necessity as a way to get people to handle situations differently.
"Building peace is violence prevention, and our level of violence has hit the epidemic level," Keyes said. "Our figures are astoundingly high. Homicides ranks above diabetes as the cause of death (in the territory) and that's amazing because everyone is alarmed by the level of diabetes, and we're way ahead of the country in that, and yet diabetes is ranked lower than homicides."
According to the V.I. Department of Health's Office of Vital Statistics, death by homicide has one of the top four causes of death in the territory since 2002. Per capita, the territory's homicide rate is right up there with the likes of Honduras, one of the worst in the world.
"Violent behavior is learned behavior, and therefore it can be unlearned. And peaceful behavior is learned, and that's why we want to work on violence prevention. We're not fighting against violence. We're providing alternatives to violence and alternative ways to dealing with one another with a spirit of love and compassion instead of arrogance, mistrust and suspicion, which is a big part of the culture. There's not a whole lot of trust going around this community," Keyes said.
Keyes arrived in St. Croix in 1970 and has called St. Croix home for 37 of the last 43 years. Almost half the time she spent away from the island she immersed herself in a Quaker peace project – Friends Peace Teams – in Africa, specifically Rwanda and Burundi. Considering that Keyes' background working on St. Croix was in social work, and specifically in working with people who've experienced trauma, it made sense that she'd go to Africa to help those suffering through tribal conflicts and civil war, and in conducting her peace work. Seeing all the different nongovernmental organizations operating on the ground in Burundi, she had an epiphany. Why not bring some of the programs back home to St. Croix?
"I realized St. Croix needs these same programs," Keyes said. "Everyone assumes because this is an American territory that everything is OK."
She paused.
"Well, it's not," she said emphatically. "This is a developing country, too."
In 2004, Keyes returned to St. Croix from Africa and, working with the Interfaith Coalition of St. Croix, founded a local branch of the Alternatives to Violence Project.
The Alternatives to Violence is an international volunteer movement committed to reducing interpersonal violence in society by having volunteers present experiential workshops in communities, schools and prisons that help participants gain conflict management skills. These skills can enable people to build successful interactions with others and find new and positive approaches to their lives.
As the grassroots movement of the AVP slowly gained steam in St. Croix over time, Keyes and her volunteer partners started conducting workshops at the Golden Grove Adult Correctional facility. But even before that, Keyes said, everyone noticed something important.
"The more alternatives to violence work that we did, the more we realized they (participants) needed a lot more than that. They needed a lot of skill building and a lot of projects that really focus on peace and doing real community building through peace," she said. "That's why we call it a community peace center."
Keyes said St. Croix's new center, currently located in a small back apartment of the Prince Street Apartments, will grow, providing more programs as they get their feet off the ground and seek more funding. Those programs include three main areas: arts for peace, skill building and advocacy for peace.
Each of the three program areas will have working committees for guidance and collaboration. As needs become more apparent and recommendations are made, programs in each category could be added.
Keyes said the center would be governed by a 12-person working council (it currently has seven members) in which members use collaboration and consensus for decision making, "in order to engender sustainability, trust and community."
"This is a non-hierarchical organization. We all learn from each other and it's all about consensus," she said.
Some of the major programs and workshops the center is planning for the first year include a sculpture program, where participants use "chopped up confiscated guns" to make art, improv theatre, and trying to integrate peace-education training for teachers in the school system and for those training to become teachers at the University of the Virgin Islands.
Keyes has already spoken with some local Rotary clubs about the peace center and Rotary has participated in the past in helping conduct AVP workshops.
According to Rotary Harborside President Ben Mshila, the creation of the center is timely considering the problem being experienced with at-risk youth not only on St. Croix, but across the Caribbean and developing world.
"It fits in within our six focus areas," Mshila said. "Our rotary theme for this year is to engage and change lives, and this is one of our platforms and how we're going to try to make a difference in the community."
The Virgin Islands Police Department is behind the effort as well.
"The safety and security of this community is the responsibility of every citizen, police cannot do it alone," said VIPD Public Information Officer Melody Rames. "A safe community approaches safety from various levels. The community assists by giving information to the police, by creating safe zones through participating in neighborhood watch programs, and the youth and families can be involved by joining positive youth groups such as Police Cadets, Civil Air Patrol and church youth groups as well participating in musical groups, PAL and others."
"Individuals can also re-create community models that have proven successful in other areas such as the community peace center," Rames continued. "All these activities converge to create a safer atmosphere for everyone and the VIPD supports all efforts to increase safety."
Rachel Pakenham is a behavioral health specialist with Frederiksted Healthcare and as part of that role works part-time in the student health center at St. Croix's Educational Complex High School. She said based on what she's been seeing, now is the perfect time for the peace center's launch.
"A lot of patients I've been seeing, especially the last couple of years and under all kinds of stress, well, feelings and frustration build up and they don't know how to handle that," Pakenham said. "They yell at their children, they yell at their spouses, they end up hitting each other and the violence just spills and spills and spills."
"We get children in here whose families are going through all that and who also don't know how to solve conflict and resolve matters peacefully. So they get in fights here and it's just a whole trickle down," she said.
Pakenham said she hopes the center's programs equip her patient population with "the tools necessary to help people learn to just walk away."
"It's not just lecturing them, 'You need to do better,' but rather teaching them other things they can do," she said. "A lot needs to be done to teach people how to handle the violence."
Pakenham said if teachers knew how to handle conflicts rather than just sending kids to the principal, they would actually role model for the children how to solve problems and resolve conflicts in a peaceful way rather than yelling and screaming and calling kids bad names.
"Words sometimes hurt just as bad as slaps and the scars sometimes last a lot, lot longer," she said.
Pakenham acknowledged, though, that getting people to look at how they talk to their children and change that approach, will be challenging.
"There is a lot of resistance to looking at how we talk to our children here," she said. "I think that will be a hard wall to get through."
But it's a wall, Keyes said, that she's willing to try to scale.
"We just feel that the kinds of programs we can offer in expanding our services can really make a big difference in the community," Keyes said. "I consider this my culture because I've lived here for 37 of the last 45 years or something like that, and we teach our children how to be violent by the violence we show."