The yoga room at Renuatum is softly shaded, with sunlight filtering through gauzy off-white curtains. Rainbows are scattered on the walls and floors from prisms that hang in the lobby. Cool air blows through air ducts covered with white fabric – puffy as clouds.
Mothers sitting in comfortable positions on yoga mats have fussy infants nestled against their bodies. As if on cue, when the mothers say "om" the babies almost instantly calm down and become quiet.
These young mothers and babies are taking part in Mommy and Me yoga at Renuatum Spa and Yoga Studio in Christiansted.
Shera Elvins, certified yoga instructor, said yoga is great for nurturing babies and mothers. She instructs mothers and fathers in hatha yoga, which is gentle and relaxed breathing and movements using the body as a weight. Adding the baby as a weight intensifies the stretching and strengthening of core muscles, she said, adding the class is a fun social outing for the babies.
For the first half hour the women do deep breathing and stretching, then get into holding yoga poses for strengthening, balance and toning. The babies generally play or crawl and toddle around the room with moms keeping a close eye on them and jumping up to attend to them. During the last part of practice the babies join in and do yoga with the adult. The infants are held in different positions on bellies and legs, adding strength and intensifying stretching for mothers and babies.
Some of the mothers taking part Friday morning had practiced yoga during pregnancy. They said yoga helps them mentally and physically, and helped immensely during labor and delivery.
"During labor I was able to relax and go to my happy space," Jennifer Lockwood said while holding her 10-month-old daughter, Autum. Lockwood added yoga also helps babies sleep. And it's fun to do with the babies.
Megan Black and her four-month-old son son, Jude, participated in the class for the first time Friday.
"I loved it," Black said. "It gives me the ability to relax when my little one is relaxed."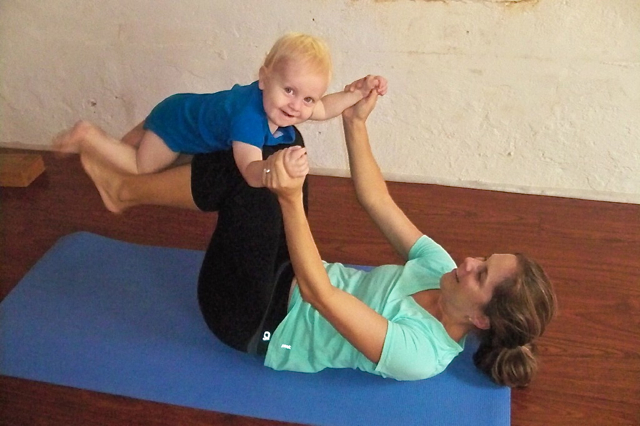 "It's my hour of Zen out of the week," Marne Smith, mother of nine-month-old Lux said.
Laura Croney, said her son Oliver, 13 months old, has started to learn the patterns of what they are doing in class.
"It's a special time just for us," Smith said. "It's also a time to get together with other babies.
According to the Everyday Health website, yoga is beneficial for mothers to relieve postnatal stress and strengthen core muscles and the pelvic floor. Yoga enhances balance and strength in babies using moves like the cobra and downward dog that babies do naturally when learning to lift their heads and stand. It says babies benefit from the massaging of internal organs relieving constipation, helps the respiratory tract and they sleep better. Fathers benefit too by strengthening bonds and gaining confidence holding babies.
Elvins wraps up the class with an inspirational quote of Chinese philosopher Lao Tzu: "If you are depressed you are living in the past. If you are anxious you are living in the future. If you are at peace you are living in the present."
Elvins has a bachelor's of fine arts degree in dance from California State University at San Diego. She is yoga certified through the Aura Wellness Center.
The class for children of all ages is held from 4 to 5 p.m. Wednesdays and 9 to 10 a.m. Fridays. More information about the class is online at www.renuatumspa.com or by calling 1-340-718-2440.