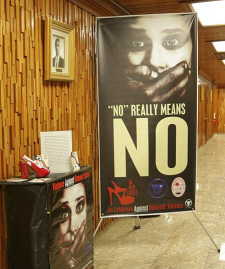 October is Domestic Violence Awareness Month and the Family Resource Center, along with YWCA of the Virgin Islands, has installed a new art exhibit at the V.I. Legislature on St. Thomas to further the cause.
The exhibit, installed Monday, will be featured for the rest of the week and is located in the first floor hallway. The theme, "In Her Shoes," is illustrated throughout several of the pieces, which include one or pairs of women's heels along with a domestic violence message and relevant artwork.
"The 'In Her Shoes' exhibit is a demonstration of the plight of victims of domestic violence and tells the stories of their experiences," according to a release from the Family Resource Center. "Included in this is the story of a five month old, now deceased, and her suffering. Matching shoes that mirror the age of the victim are also displayed."
Organizations sponsoring the exhibit believe it will give more of a voice to victims of domestic violence.
YWCA is also rolling out its "Week Without Violence" with several community events, which continues on Saturday when the exhibit moves to the Tutu Park Mall. The "In Her Shoes" event begins at 10:30 a.m.