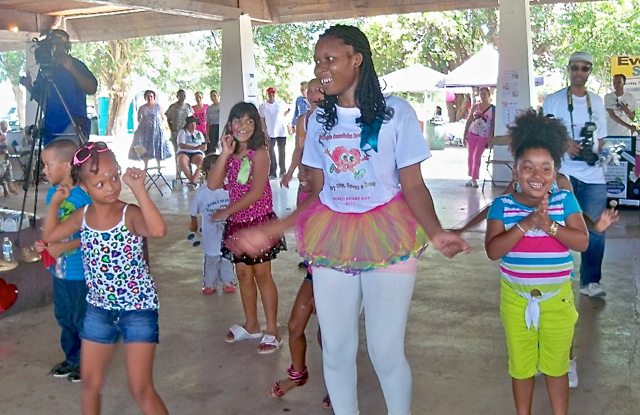 Hundreds of people young and old hit the track at St. Croix Renaissance Park Sunday celebrating World Heart Day.
They walked, jogged and ran in the first "Every Step Saves a Beat" walk.
Dr. Cora Christian, organizer of the walk and director of Virgin Islands Medical Institute, said hundreds of people walked around the track beginning at 10 a.m. She added some participants were even in wheel chairs.
Organizers estimated 500 people were in attendance, some of them volunteers.
"I was so amazed there were so many people here," Christian said. "I'm thrilled and very happy with the turnout."
Christian said "Every Step Saves a Beat" was intended to engage people in heart healthy activities and then, to encourage them to incorporate these practices in their daily lives.
"The goal is to get people to understand that everyone can walk," Christian said. "Older people don't exercise because they think it's tough. It's not a change, just an adjustment in lifestyle. Everyone can move, even in a chair or bed. Prevention is better than curing. Heart disease is the number one killer in the Virgin Islands."
Doctors were encouraged to hang up their white coats and put on their sneakers and walk around the track with their patients. Christian said a dozen physicians' teams walked around the track. Some doctors were from St. Thomas.
Dr. Mavis Matthew, a pediatrician, said she had 30 people signed up on her team. She said the event was wonderful, providing the means for a fun healthy activity for everyone.
A lot of young people struggle with their weight, and 10 percent of children suffer from obesity, she added.
"It's good to teach children healthy practices early in life," Matthew said.
Her team was honored for doing the most laps.
Janiesa Pompey, mother of 6-year-old Devonte Matthew, said Devonte was excited and couldn't wait to do the walk with Dr. Matthew.
Cristina Cruz brought her young son and daughter to the walk.
"It's good to do this instead of sitting around playing video games," Cruz said. "It's good for parents too, 'cause it tires the kids out and they sleep better."
People did more than just walk to save a beat, they danced and got heart health information. Dozens got up and danced the Electric Slide, and Monsita Diaz led people in Zumba Gold and Zumba Kids.
Joanne White, registered dietitian at the Juan F. Luis Memorial Hospital, spoke to people about cutting down on salt and reducing their sodium intake.
Staff from the V.I. Cardiac Center and the Women's Imaging Suite at JFL were on hand giving out information on services and healthy practices. They were also giving out samples of heart healthy kallaloo.
Tita Encarnacion, chief nursing officer at JFL, said it was "a joy" to see so many people at the walk and on the way to getting healthy. The hospital staff won the award for giving out the most information.
The Lions Club and AARP had tents set up and volunteers on hand with information on each organization's services. The University of the Virgin Islands Voices of Inspiration sang for the opening. The UVI Steel Pan Orchestra also played for the beginning march around the track.
VIMI and the Quality Improvement Organization for the U.S. Virgin Islands, along with other community-based health care organizations partnered in the walk to save hearts.
According to VIMI officials, heart disease is the number one cause of death in the U.S. Virgin Islands and in the United States. Approximately one million lives are lost to heart disease each year.