At just 22 years old, Lincoln Liburd has done more for the V.I. community than many here do in a lifetime and, on Thursday, he explained to students at Ivanna Eudora Kean High School how he was able to overcome his life's challenges and why he's chosen to dedicate most of his time to public service.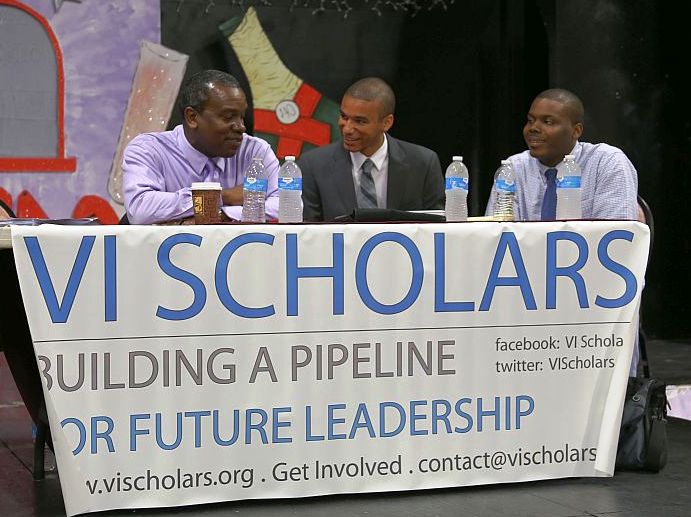 Liburd, the founder of V.I. Scholars, and Labor Commissioner Albert Bryan were on Kean's campus Thursday as part of the RotaryE! Club's "Envision Your Life" conference, which was put on in conjunction with Liburd's Virgin Islands Scholars organization.
Michael Stubbs, who ran and won a city council seat in Stockton, Calif., at just 21-years-old, rounded out the panel and spoke about how he has been able to turn around his own district with initiatives geared more toward empowering the city's youth.
And while there are several conferences held in the territory each year that aim to spread the same message to students, it was clear by the end of the morning Thursday that this one had gotten their attention. Dozens of students gathered afterward to ask the speakers questions, while a group of student body officers from the graduating class of 2015 invited all three to come back in two years to speak at their commencement and baccalaureate ceremonies.
Asked why this conference in particular made such an impact, one student said it was because he was able to relate more to the speakers – and because he felt that they are genuinely working to give students like him opportunities to succeed.
"I was inspired by their stories," explained 17-year-old Kean junior Kerrol Laurent. "They gave us a lot of advice; they said we could work harder, become leaders and do anything we put our minds to."
Speaking to the Source later, Liburd said he was also inspired by the response that he received from the students.
"Today is really about empowering them and providing them with clear paths to healthy professions by letting them know that they can truly overcome the obstacles that they face," Liburd said, adding that Thursday's conference is connected to a year-round mentoring program that matches students with professionals in the community.
"And from there, they are able to accelerate on that path toward positive employment," Liburd said. "There are not enough opportunities for that, so it has become a problem that kids are facing throughout the nation and also through the territory."
During the conference, Liburd spoke about his own life and chronicled two years spent in the territory, followed by periods of living in battered women's and homeless shelters and attending inner city schools in Los Angeles. Liburd described himself as the "kid who was always getting suspended," but said that he was eventually able to "shift his perspective" and overcome the adversity – and once that happened, Liburd said he learned the importance of helping others his age do the same thing.
"I know it sounds like a lot has happened to me," Liburd told one Kean student who asked during the conference how Liburd continued to keep himself from giving up. "But there are so many other people in the world with much, much worse problems and, if they can get over them, so can I."
A Google search of "Lincoln Liburd" shows that he began mentoring students while still in high school and helped raise funds to support victims of domestic violence. A student of Stanford University, Liburd also worked with battered women's shelters in Los Angeles, was a participating scholar at the Institute for Responsible Citizenship and interned at the U.S. Department of Education's Office of Innovation and Improvement.
Along with founding V.I. Scholars, Liburd is a charter member of the RotaryE! Club and a consultant for McKinsey & Company.
After the speakers Thursday, nationally recognized author Gregory Hirschman led students in an empowerment workshop focused on practical and life skills, along with crafting action plans that help move them closer to their academic and professional goals.
The conference will move Friday to the Charlotte Amalie High School beginning at 9 a.m.