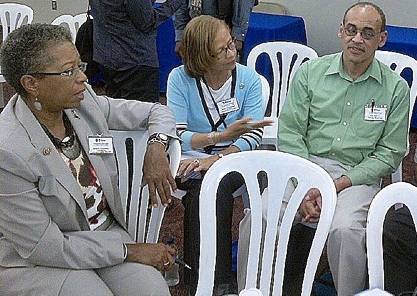 Delegate Donna M. Christensen on Thursday attended a Department of Veterans Affairs Mental Health Summit held in Puerto Rico, saying the wellbeing of veterans and their family members can be enhanced through increased collaboration between the federal agency and the community.
"I am here because I have heard complaints of dissatisfaction with mental health services and am concerned because some of our vets who need the services have stopped seeking care," Christensen said.
"These meetings are being held throughout the country and I was invited to participate so I could bring the many challenges faced by Virgin Islands veterans who have mental health challenges to the discussion," she said. "Our office has brought many local cases to the attention of the VA and I am glad that we are included in the comprehensive efforts that are ongoing to address mental health services to those who have served our country."
The territory was also represented by Angeli Ferdschneider of the Office of the Governor, Veterans Affairs nominee Harry Daniel and Isidro Barbel, transition assistance advisor for the Virgin Islands National Guard.
Christensen said the Virgin Islands dominated the discussion.
"This was a very valuable meeting," the delegate said. "In our discussions, we found that there were many instances of lack of communication on services, inequity and deficiencies in services, and the need for more providers in the islands."
A group was formed in the territory to address the concerns about mental health services and support for and by families. Christensen said the Substance Abuse and Mental Health Services of the U.S. Department of Health and Human Services is expected to visit the territory to work with the group later in September.
"Several remedies have been identified and there is still a lot of work to do," Christensen said. "All of the information will go back to Washington and we anticipate some progress in the provision of services."