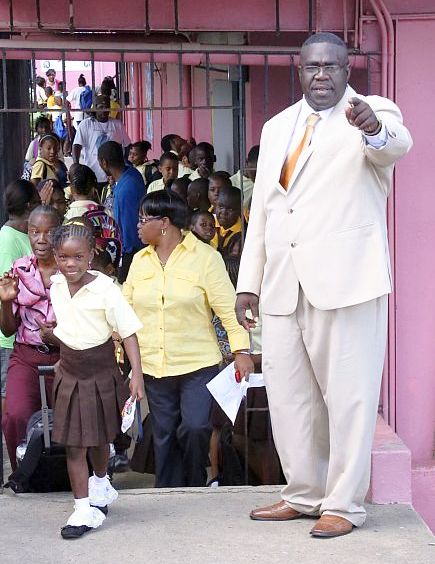 Over the years, parent turnout for the first day of school on St. Thomas has steadily increased and, on Tuesday, many schools reported record numbers, particularly from fathers who showed up to drop off and pick up their children.
Efforts from the St. Thomas chapter of Mothers Against Guns and the Jason Carroll Memorial Fund have focused on increasing the parent numbers and it was evident Tuesday that their push was working. White "V.I. Father's March" T-shirts were everywhere and many fathers also spoke enthusiastically about wanting to play a bigger role in the students' lives.
"I got to go to three schools today," said Joseph Gomez Elementary parent James George as he picked up his daughter Shayna. "And everything went so well. It really is a joy for me to be involved in what my kids are doing and, as far as I can see, they are looking forward to a wonderful school year."
Like many parents, George said he understands there are a few issues that the Department of Education is grappling with, but he is pleased by the efforts of the principals and teachers to make sure the students are still learning, having fun and staying safe.
Throughout the day, Education officials touring the schools spoke about the challenges they are facing – mostly when it comes to staffing – but said they are trying to work through them. Speaking on a visit to the Ivanna Eudora Kean High School campus, for example, Acting Education Commissioner Donna Frett-Gregory said the department still has to fill a number of vacancies on St. Thomas but has been actively recruiting, with the Human Resources staff currently in the process of hiring new employees.
Education will have a better picture of what is left to fill by the end of the week, Frett-Gregory said.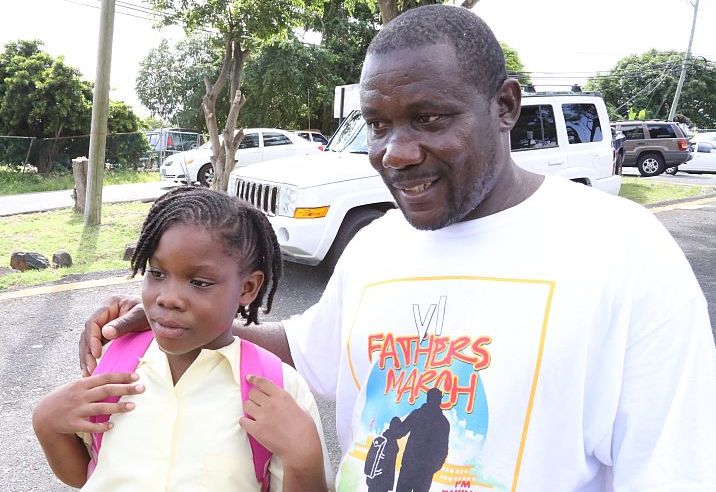 Meanwhile, the hallways at Kean were bursting with students. Seniors gathered in the library early Tuesday morning and got a pep-talk from Principal Sharon McCollum, along with Frett-Gregory and Gov. John deJongh Jr., who spoke to them about the importance of getting the college application process started early.
"I'm really excited to get going," said Kean senior Alisha Roberts after the meeting. "This year I'm looking forward to taking a class in forensic science, especially since that is what I want to major in when I go to college. The crime rate here has really made me look at what I want to do, especially since I know a lot of the cases go unsolved. Maybe I can help with that," Roberts said.
Many schools officials spent Tuesday morning working with students on getting their class schedules completed, while others talked to the governor and representatives from Education about issues ranging from the need for more textbooks to extra desks and chairs for classrooms with more students than originally expected.
Superintendent Jeanette Smith-Barry also spent time getting a few of the district's new principals and assistant principals familiar with their students and campuses – but for most, making the transition appeared to be easy.
Joseph Gomez Elementary School Principal Jamon Liburd told the Source that he plans to "step it up" this year and has already implemented a number of changes, including a new pick-up system that cuts down on the number of students running around the campus after school.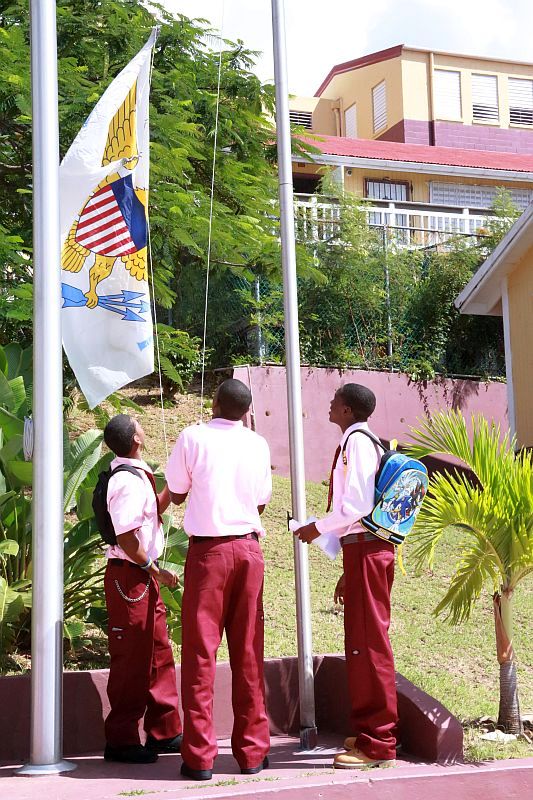 About 60 of the students leave Gomez and walk to nearby pick-up points, such as Four Winds Plaza or Alvin McBean Ballpark, and with Liburd's new system, they are now accompanied most of the way by staff from the school. Some of the staff said that before, the children would walk on their own, which flooded the roadways and exposed them to dangers.
Other students were assembled in the cafeteria as they waited for their parents to come, while those waiting for the bus sat in designated classrooms instead of waiting in the parking lot.
Liburd, who taught at Gomez Elementary from 1999-2005, said he was met with "overwhelming support" from the staff and parents when he showed up Tuesday and plans to continue trying to turn around the campus – particularly in area of security. Many parents said they are concerned that Gomez is not completely fenced in, leaving the campus open to anyone in the community, and there were also some that said the school has to deal with gunshots being fired in the surrounding neighborhoods.
"I think everything went well overall," said parent Shaleem Moolenaar, as he picked up his son Saydon from his first day of kindergarten at Gomez. "The staff talked to us about everything so we were able to spend the day getting to know the teachers and learning what the kids would be doing in school. Right now, I want to see that my son continues to learn, that he keeps growing and getting better, and that he colors inside the lines so he can be an artist, like his father."
Moolenaar also spoke about the foundation his son received from attending pre-school at the Department of Human Services' Head Start program, which also opened Tuesday. At the program's main complex in Sugar Estate, parents also came out for the first day, while teachers spent their time getting to know the students and taking them around the classrooms.
"For the most part, everything went smoothly," said teacher Joy Vanterpool-Hodge, who said some of the new students were a little hesitant to get into the classroom for the first time. But many parents came back during the day and some even stayed until their children got comfortable, she added.
Next door, teacher Edris Powell was working with the program's 3- to 5-year-olds, and was happy to report no major problems.
"Some of the children are returning but many had siblings that used to come here, so they were already accustomed to us," Powell said. "So we were able to get them settled quickly and we began by teaching them how to greet one another, about the different areas of the classroom and about general conduct. Many of the parents also stayed, they asked questions and everything went really well so we are hoping for another great day tomorrow."