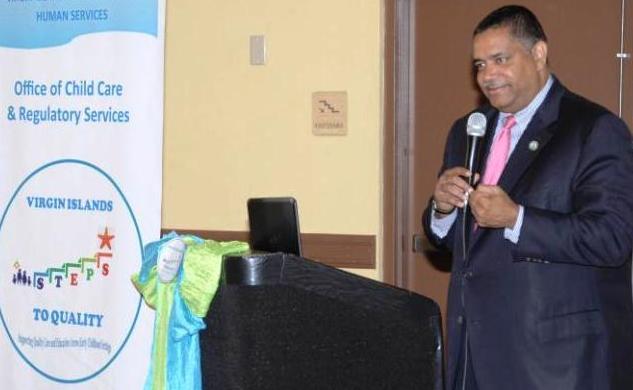 Some 2,000 children in daycare will profit from the gathering Tuesday at Marriott's Frenchman's Reef, where an orientation session kicked off the V.I. Steps to Quality, a program to improve child care and early education quality through a public-private partnership, according to Government House statement issued Tuesday evening.
The U.S. Virgin Islands will be the first territory to join more than 20 states in offering this type of improvement system.
The V.I. Steps to Quality program, referred to as VIS2Q, is based on the Quality Rating and Improvement System, "a method to assess, improve and communicate the level of quality in early care and education settings," according to the QRIS National Learning Network website. The QRIS strategy attempts to constantly improve standards across the early care/education system, including child care regulatory requirements, early learning guidelines, Head Start/Early Head Start Performance Standards, pre-kindergarten program standards, early intervention program standards and accreditation standards.
At Tuesday's orientation on St. Thomas, guest speakers reiterated the importance for the partnership to commit to early childhood education, according to the Government House statement.
Gov. John deJongh Jr. applauded the 24 child care providers, including four Head Start centers that took part in the pilot program.
"You are at the forefront of something extremely important," he said.
Remarks also were made by Delegate Donna M. Christensen; Linda Thomas, Dean of the School of Education at the University of the Virgin Islands; Dee Baecher-Brown, president of the Community Foundation of the Virgin Islands; Fern Clark, assistant commissioner for the Department of Health; Barbara Coccodrilli-Carleson, regional program manager for the U.S. Office of Child Care; and Senate President Shawn-Michael Malone.
The day proceeded with an overview of QRIS and how the Virgin Islands adopted the idea, and procedures to raise the standards of early childhood education and make them progressive. Child care providers received certificates marking their participation and a laptop computer as their first quality improvement resource. Human Services Quality Childcare Unit staff will monitor progress of the VIS2Q with each center by assessing needs to comply with the improved standards, providing professional development for staff and technical assistance, and assisting centers with accessing grants for health and safety and overall quality improvement.