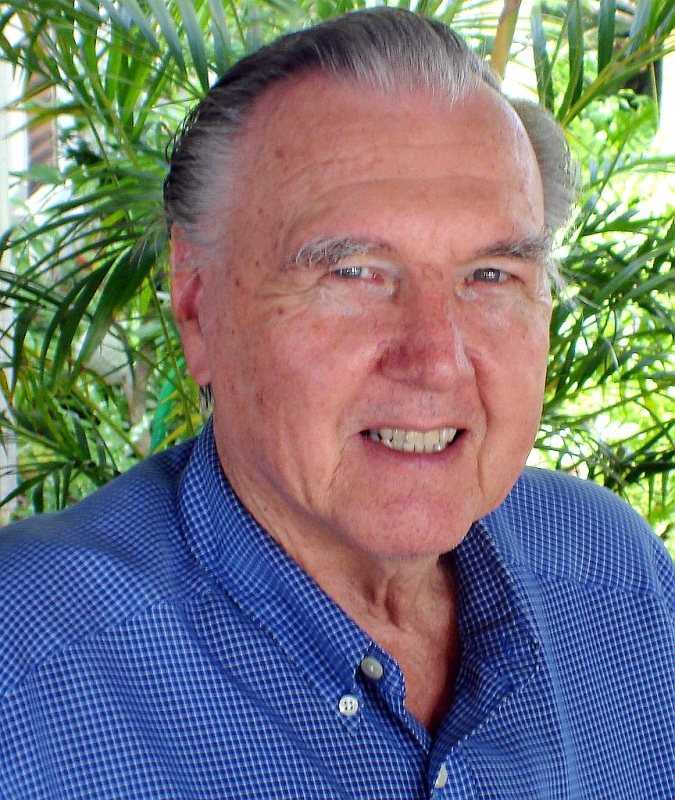 Well-known local civic leader and businessman Robert L. Merwin, 82, passed away Wednesday afternoon after a very brief illness. According to his daughter, Rebecca Merwin, her father died from a sudden stroke. She said up until the occurrence of the stroke he had enjoyed good health and was very active.
Merwin played a huge part in local business, the philanthropic community and social life of St. Croix for more than 50 years.
He served on numerous boards and was involved in many different organizations.
He was a charter member of the Rotary Club of St. Croix and was a founding member of Our Town Frederiksted. He was also a founder and chairman emeritus of St. Croix Landmarks Society. He served as a Coastal Zone Management commissioner working for responsible development. He was also on the V.I. Planning Board.
Merwin was a lifetime member of the St. Croix Friends of Denmark and the St. George Village Botanical Garden. He was a supporting member of a dozen other community organizations. And he was a past president of the St. Croix Chamber of Commerce.
Rebecca Merwin said her father worked to provide leadership. She said he liked to encourage others to contribute to the community.
Robert Merwin, the son of Miles and Marguerite Fleming Merwin, was born Oct. 9, 1930, at Estate Sprat Hall on St. Croix. His sister, Joyce Merwin Hurd, still lives at Sprat Hall. His brother, George Merwin, resides in Virginia.
In 1940 Merwin's family moved from St. Croix to Milford, Conn. In his youth, he enjoyed sailing. At 16, Merwin was the youngest member of the Milford Yacht Club to win the trophy for snipe class in sailboat racing.
He attended Milford Grammar School, Admiral Farragut Academy and Milford Prep School, where he graduated in 1950. Merwin attended Westminster College in New Wilmington, Pa., from which he graduated in 1954 with a degree in business administration.
Right after graduation he married Jean Wick of Pittsburgh, whom he had met at Westminster College. The joke was that they graduated on Monday, Merwin received a commission in the U.S. Marine Corps on Tuesday and they got married on Saturday.
Merwin served two years of active duty as a second lieutenant in the U. S. Marine Corps Reserve. His rank was captain USMCR retired.
Merwin said in a Source interview in 2007 his life has really been involved with the Rob't. L. Merwin & Co. that his grandfather started in 1892.
The company began as a general importer and exporter, importing goods such as lumber and building supplies and exporting sugar, rum and other local products. The company provided cargo-handling services for the ships that would come to the port of Frederiksted.
In the late 1920s and 1930s, Merwin & Co. operated a power plant, ice plant and ice cream parlor. During the years of expansion in the 1960s and 1970s, the company diversified into trucking, heavy-equipment rental and marine construction.
In 1956, Merwin started working for the family company. In 1960, he established Merwin Hardware, which later merged with Merwin & Co. He was appointed manager in 1958 and elected president and managing director in 1962.
Merwin published The History of Rob't. L. Merwin & Co., 1892 to 2005. The book was published on behalf of the Landmarks Society and underwritten by the Merwin Foundation.
Merwin's achievements have garnered him honors over the years. In 1966, he received the Manager of the Year award from the College of the Virgin Islands, Division of Business Administration. In January 1991, the V.I. Business Journal recognized him as one of the 10 outstanding V.I. Business Persons of the Year. In 2008, he received the V.I. Police Department Community Team Award.
He is survived by another daughter, Robin Merwin-Benda of Virginia, and four granddaughters. Rebecca Merwin said the family is making arrangements and an announcement will be made soon about the funeral.
Gov. John deJongh Jr. gave condolences to the Merwin family.
"Mr. Merwin was someone completely consumed in advancing these islands, especially his beloved home of St. Croix. You could not have a conversation with him that did not include some forward movement on some action that would push St. Croix, help an organization and get you to finally accept his reasoning that more can be done," deJongh said.
"I will miss his passion for the people of St. Croix," the governor said, "but more so, the optimism that he exhibited and his belief that if we work together we can make things better for all. He was one of our great business and civic leaders and a dear friend."
"His commitment to revitalizing the town of Frederiksted reflected his greater passion for improving the life of all Virgin Islanders and preserving the territory's rich cultural history," deJongh said.
Condolences also came from Delegate Donna M. Christensen.
"The Virgin Islands has lost another one of its icons with the passing of Bob Merwin. He was a proud veteran of the U.S. Marine Corps and a revered and staunch supporter of St. Croix and his beloved Frederiksted," Christensen said.
The delegate added that Merwin's contributions went far beyond that of business and extended to his community. "He was present at every meeting that pertained to St. Croix development and economic issues," she said.
"A civic-minded individual and passionate supporter of preserving and promoting St. Croix's rich history, Bob's presence was felt at dozens of local organizations of which he was member of, including those of which he was a founding member," Christensen said.
"The territory is grateful for his service and his passion and we are assured that his legacy will endure. May he rest in peace."