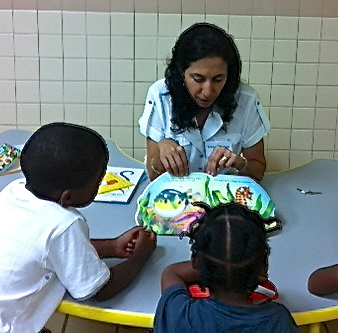 Up front it's all business. Rows and rows of straight-backed chairs face the glass-enclosed front desk. About a third of the chairs are filled with people waiting their turn to be seen at the East End Medical Center in Tutu Park Mall. Some engage one another in quiet conversation, or pass the time hunched over cell phones. Others slump in their seats, just waiting, waiting.
But in a corner at the back of the room there is excitement.
"He blew the conch shell. Bpoo, Bpoo, Bpoo," the woman reads. "Can you blow the conch shell? Like this" she says, holding her hands to her mouth and exhaling into an imaginary shell.
"Foo, foo, foo."
"Berup, Berup, Berup"
"Ta, ta, te-ta"
The responses come for three small listeners who sit surprisingly still on kid-sized yellow plastic chairs arranged in a semi-circle around a matching table. Facing them is Soraya Diase Coffelt. An attorney in private practice, she is also a former judge. But more to the point today, she is a mother, a reading volunteer, and the woman who helped start the Reach Out and Read program on St. Thomas.
Diase Coffelt started volunteering several months ago but the clinic, under the guidance of Medical Director Dr. Debra Wright-Francis, officially launched the program in July.
Reach Out and Read is a national nonprofit organization founded in 1989, according to its website. It started at Boston City Hospital, now the Boston Medical Center, and boasts nearly 5,000 program sites across the U.S. serving 3.9 million children and distributing 6.5 million books annually.
The purpose of the program is to promote reading to and by children. The idea is to approach the parents through the medical community, since pediatricians are likely to see infants, toddlers and young children with their parents on a regular basis. The doctor counsels the adults about the importance of reading and gives out free books when they are available.
Diase Coffelt said she first learned about the organization when it was featured on a PBS television show last fall. Intrigued, she did some research to learn more. She even visited a clinic in Houston when she was on a trip to visit family in the area.
"It's really big in Texas," she said.
"English was a second language to my parents," she said, and they made sure to read to their children. That early introduction blossomed and she became an avid reader. Her husband shares her love of books and the two of them taught their two sons to read. Grown now, both tend to carry books with them and read whenever there's a chance.
When she learned that the East End Clinic was to partner with Reach Out and Read, Diase Coffelt got involved. She and her husband supplied the furniture and some wall decorations for the "Kids' Corner" and donated some books.
She found some students at Ivanna Eudora Kean High School who volunteered to read to children at the clinic during their spring term to earn community service credits. She also introduced the service to the summer intern in her law office, Khadia Kedar, president of the incoming seniors at Kean. But so far, Diase Coffelt is the chief reader.
The program seems to be getting a warm reception. At a recent session, Kimberly Lake sat nearby as her son, Kadeem Thomas Jr., gave rapt attention to one book after the next, enthusiastically answering Diase Coffelt's intermittent questions and frequently tossing in his own comments, unprompted.
"I thought it was pretty nice," Lake said of the session. "It keeps them stimulated, it keeps them occupied."
Kadeem, who will be five in October, loves playing on his mother's cell phone, doing puzzles and working with the ABC's, Lake reported. He can put a story together by looking at the pictures.
"When I was younger, I was a good reader," Lake said, and that translated into success at school. "So I do read to him at home."
The Reach Out and Read model starts at age six months. So far, Diase Coffelt said her youngest audience member has been about nine months old, and he was clearly responsive. Most are preschoolers or in the early elementary grades, but there are books available for older students too. She said she encourages the older participants to read aloud to one another, thus sharing the experience.
More information is available by calling 1-340-775-3700.