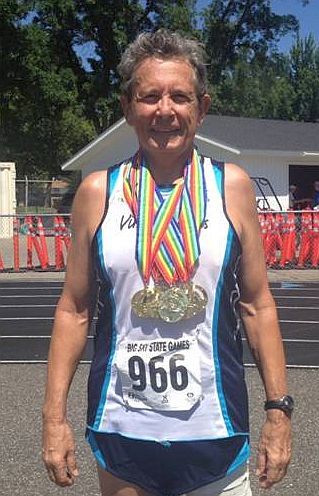 The Virgin Islands Track and Field Federation announced today that representing the Virgin Islands Pace Runners, St. Croix runner Larry Williams took first place and gold medals in the Montana "Big Sky" State Games recently.
A masters runner who competed in the 70-75 age bracket, Williams took first place in the 100, 200,400, 800 and 1,500 meter events.
Now in its 13th year, the competition attracts runners primarily from the Northwest U.S.A. This year the event was kicked off by Meb Keflezighi, marathon Silver Medalist in the 2004 Athens Olympic Games and fourth in the marathon in the 2012 London Olympic Games. The first race in the event was a 5K that Williams also won for his age division.
"It was just great to come back to the track I ran on in high school and finally take a first place…it sure took me a long time to get in shape," Williams said. "The best part was to represent the Virgin Islands and tell people about the paradise where we live." Williams was also part of a four-man team that broke and established new State Game records in the 4×100 and 4×400 meter relays for the 60 and up age group.
Williams is a veteran long distance runner and has competed in numerous national and international marathons and road races. He is a founding member of the San Diego Marathon, which was the initial race in the now famous Rock N Roll Series.
In 2004, Williams facilitated the hosting of Virgin Islands National Team member Lisah Hamilton at the San Diego Marathon, where she made her final attempt to qualify for the Athens Olympics. On June 6, 2004, Hamilton set a V.I. national record in that race with a time of 2:43, just a little more than a minute off the 2:42 qualifying time. She was top American female finisher in the race.
IAAF Masters track and field competition is for male and female athletes who have reached the age of 35. Age grouping varies depending on the type of competition. To represent the Virgin Islands in masters competition athletes are required to register with the V.I. Track and Field Federation at: http://virginislandstrackandfield.org
For information, logon to: the Web site above or to: http://virginislandspace.org; email: wallacewilliams@msn.com; or call 643-2557.