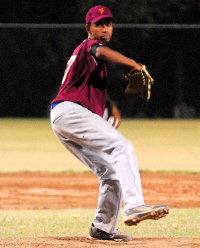 The regular season and defending champion Vikings came into Sunday's contest at the D.C. Canegata Ball Park trailing the surprising 40 Plus Hurricanes 2-1 in their best of three finals series. They know they had to come up with a big game to avoid the upset and they turned to their St. Thomas import, the hard throwing pitcher, Malik Mitchel, to give them that spark. Mitchel was dominant over the first three innings, striking out seven of the first seven batters he faced.
After both teams failed to score in the first two innings, the Vikings was gift wrapped five runs in the top of the third on three Hurricanes errors and managed one earned run on an RBI single by Ajani Dowdy for a 6-0 lead. It was a lead that they would not relinquish.
Two more unearned runs and a two-run single off by Jahmoy Williams extended the Vikings lead to 10-0. The Hurricanes finally was able to tag Mitchel for two runs in the bottom of the fourth on Fernando Quizada's two-run single to trail 10-2 at the end of four innings.
The Vikings were back on the attack in the top of the fifth with four more runs, only one of with was earned as the Hurricanes continued to be their worst enemy and they now trailed 14-2.
The Hurricanes added two runs in the sixth and one in the bottom of the seventh, but the Vikings added three more runs in the top of the seventh for a final score of 17-5.
Malik fanned nine in picking up the win on the hill for the Vikings and Rydell Robinson got the loss for the Hurricanes.
Top batters for the Vikings were Mark Franklin (2 for 4 with two RBIs), Williams (2 for 5 with two RBIs), Jamari White (2 for 5) and Shaun Matos (2 for 6). For the Hurricanes Quizada continues his hot hitting as he was 3 for 5 with two RBIs, Enrique Soto 1 for 2, and Kenny Milligan was 1 for 3.