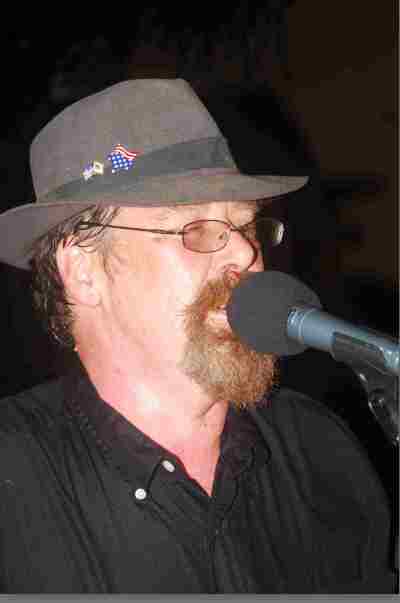 Francis Howard Pratt, known as "Smokey Pratt," died of a heart attack on July 17 on his porch in Hull Bay.
He was born in Portland, Oregon, on April 9, 1952, to Francis and Jean Pratt. The family subsequently moved to Orting, Washington, where he spent his elementary and middle school years. After his father died, his mother remarried Vic Taylor who lovingly took on the task of raising Smokey and his three younger brothers in Orting and Spokane, Washington.
His favorite class in high school was music in which he mastered playing the clarinet. After graduating from high school, Smokey began cooking in various restaurants in Spokane. He married and became a father when he was eighteen. His later enlistment in the U.S. Air Force took him to California, Okinawa and New Mexico. Although his assignment in Okinawa was bomb retrieval and demolition, his discussion of that overseas tour revolved around his playing harmonica with a couple of his Air Force buddies on weekends in honky tonk venues.
After seven years in the Air Force, he left to pursue two activities in Carrizozo, New Mexico — music and cooking. The owners of Johnny's Out Post hired him to manage the establishment and to change it from a casual local bar to an upscale restaurant and music spot. He instead created a successful business built on simple, tasty bar food and on great live music. There he played music often with Big Sonny and the Lowboys, which included drummer Jimmy Carl Black, formerly of Frank Zappa and the Mothers of Invention.
In 1980 he met his future wife, University of Texas at El Paso professor Jane Coombes when she visited Johnny's Out Post with friends. Three months later they moved to St. Thomas, and in May of 1981 they married. While his wife resumed teaching, he focused on cooking. He began at Quarter Deck, now known as Hook, Line and Sinker, and later expanded his culinary finesse as he worked at Parkside Restaurant with the chef/owner, Rene Tournier. He enjoyed preparing Sunday brunch at Shibui's, creating a menu that included his signature dish of curried chicken omelet with mango chutney. His time as executive chef at the downtown Williams and Daniels and Magen's Point Green Parrot made both establishments popular with locals and tourists. In 1989, he left as chef of Cafe Havensight to help his wife establish Mango Tango Art Gallery and Frame Shop and to focus on music.
From the time he moved to St. Thomas, he enjoyed playing music. He would jam with musicians on Back Street. In 1990, he, guitarist John Brittan and three other musicians created the dynamic Blue Shoes Band, performing regularly at East Coast Bar and Grill and Barnacle Bill's.
In 1996 he and John Brittain became 2 Blues Shoes. Smokey provided vocals and played harmonica and flute, and John Brittain played guitar. They enjoyed a 12-year engagement at Betsy's in French Town and a two-year run at Indigo Restaurant at Magen's Point Hotel. Of late, they have played regularly at Molly Malone's. 2 Blue Shoes has been a featured band at both the island's annual Chili Cook Off and the Boy Scout's Marlin Fishing Tournament Award Dinner at the Ritz Carlton. When John Brittain was traveling. Smokey enjoyed playing with mandolin virtuoso C.W. Abbott and guitar maestro Morgan Rael. John Brittain and Smokey Pratt played interpretive blues and rock 'n' roll, including many tunes by Tom Waits, Leonard Cohen, Randy Newman, John Prine and Taj Mahal, as well as their own songs. Smokey was honored to have played with Bela Fleck and the Flecktones, and Dave Bromberg.
At artist Don Dahlke's suggestion, Smokey began sharing his cartoons and paintings with the public at Mango Tango Art Gallery. He loved including cows in his zany creations. Recently, he was experimenting with animation. As one collector observed, "New Orleans has Blue Dog by Rodrigue and the Virgin Islands has Black and White Cow by Smokey."
He was preceded in death by his mother Jean Cole Taylor. He is survived by his wife, Jane Coombes, on St. Thomas; his son, Tyler Pratt, in Schenectady, New York; and his father, Vic Taylor, in Spokane, Washington. He leaves three brothers and their wives: in Spokane, Jack and Cindy Pratt, and Eugene and Donna Pratt; and in Portland, Oregon, Mark and Patti Pratt. He is also survived by sister, Nancy Johnson, and her children: Cheryl, Terry and Jan of Sherwood, Oregon; sister, Vivien, of Oregon City; and uncle and aunt, Hank and Rose Taylor, of Lake City, Florida. He leaves Melvin Carty, the heart of Mango Tango and close friend for 23 years. He is survived by the many fellow musicians who perform on the island and the many artists who work with his art gallery.
Two celebrations to commemorate Smokey's gentle spirit, intuitive creativity and joyous life will be hosted at Betsy's Bar in French Town and at Mango Tango Art Gallery in October, after his great friend and music partner, John Brittain, returns to the island fully recuperated from surgery and after hurricane season has passed.
For more information, e-mail mangotango3000@gmail.com.
Family arrangements are by John Thomas Funeral Home.