It all begins at home, Virgin Islands Territorial Emergency Management Agency Director Elton Lewis told the Rotary Club of St. Thomas Sunrise Tuesday morning. Lewis stressed self-sufficiency as the first step in describing the territory's responsibility in preparing for emergencies.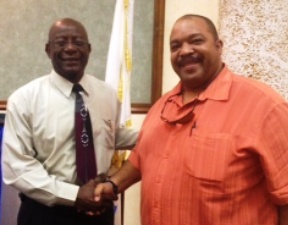 "I've been an advocate for self-sufficiency since I accepted this job," Lewis said. "It starts with individuals, their families and businesses making it their business to be prepared. It's the bottom line in saving lives."
"We've been fortunate," he said. "We haven't had a major disaster since Hurricane Hugo on St. Croix in 1989 and Hurricane Marilyn on St. Thomas in 1995. We are good at reacting to disasters," Lewis said, noting that we need a strategic plan to prepare the territory for disasters.
Lewis pointed out the Virgin Islands' isolation, which is a major factor in preparedness. "We're not like the states who can rely on neighboring states' resources. This requires us to be even more self-sufficient."
"We need to improve our emergency infrastructure on all islands," he said. "We need to hire more people with the proper skill sets and improve our training."
The director pointed out an unfortunate attitude of some in the community who seem to be ready to rely on the federal government if a disaster strikes: "They will take care of us," he complained of the complacency. "We have to be able to have plans to hold us for 72 hours before any outside help gets here," he stressed. "That's where individual people and businesses need to be educated on what they can do to protect each other. We can't simply just await outside assistance."
To that end, VITEMA has been active in providing workshops on preparedness on catastrophes – tsunamis, earthquakes and hurricanes.
Lewis said VITEMA has two classes currently ongoing. One class is on the continuity of operations. "For instance, should something happen to the Police Department or another government agency, what backup do we have to operate out of?" he asked.
"The other class is threat assessment," Lewis said. "The students go to different government and private sector agencies, like WAPA, for instance, and do a site inspection and determine how to better secure the buildings."
The "students," he said, are adult members of the community, government and private sector employees.
"When the federal government agencies get here, we want them to see that we have done our homework, which, in turn, will let them see we are serious."
Though the Virgin Islands Territorial Emergency Management Agency works with the Federal Emergency Management Agency, the Army Corp. of Engineers, the National Weather Service and other agencies, Lewis recently explored another agency, he said.
Last week VITEMA hosted representatives from the Department of Defense's U.S. Northern Command to discuss what is available to the Virgin Islands in a "Defense Support to Civilian Authorities" seminar.
Lewis spoke of progress made in the territory's tsunami alert system, which he said is about 95 percent complete with sirens, as well as signage, evacuation maps, educational outreach and public service announcements in English and Spanish. Lewis said VITEMA is also working to include French Creole. "The system is high on the governor's list of priorities," Lewis said. "I think it's one of the things that keep him up at night."
The director also spoke of V.I. Alert system, which VITEMA launched in 2010. It sends disaster alerts directly to the public on phone, fax, email, even Twitter. The service covers everything from traffic obstructions to hurricanes, flash floods, and notifications from WAPA and the Department of Public Works.
Lewis said there are about 16,000 subscribers. New subscribers can sign up at http://www.vialert.gov.