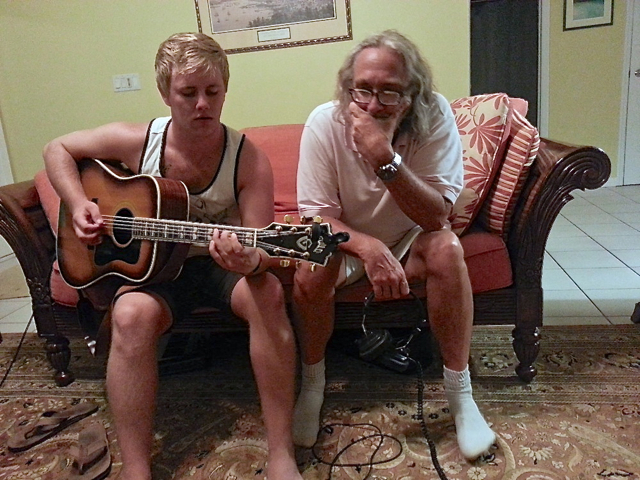 Keith Smith knows pressure and disappointment. He's hoping to be reborn under the island sun.
Smith is at ease under the bright lights. When your father is a high school baseball coaching legend with more than 800 wins under his belt there's no use in running from pressure. As a junior Smith pitched an 84-pitch two-hit game, then just three days later pitched a 124-pitch nine-strikeout game to lead his team to a state championship. He knows the highs of being a hometown sports hero who added another trophy to his father's legacy, and the lows of unfulfilled promise as a college student, collegiate baseball player and unsigned musician.
"I do feel pressure but it's positive," Smith said. "I'd be a fool not to take advantage of this opportunity."
Smith, also known by his stage name Sno, is flanked by an impressive team of musicians, songwriters, producers and promoters dedicated to sparking his career in the Virgin Islands. He's learning songwriting from Robb Royer, who has an Academy Award and several No. 1 hits to his name, and he's learning how to perform from Sean Finnigan, a musician with 30-plus years of experience playing, touring and recording. Finnigan comes from a family of musicians. Sean's brother Mike is a two-time Blues Music Award winner.
"Robb and Sean saved me. Gave me a new life. It's a chance no one had ever given me," said Smith, a 21-year-old Nashville native.
Local musicians are embracing this trio, and tourism officials are hoping Royer's move to St. Thomas encourages other entertainment professionals to follow suit. The legislature passed the Sustainable Tourism Through Arts-Based Revenue Stream (STARS) bill last year to entice music producers to come, live and work in the Virgin Islands.
Royer's decision to relocate was not based on the law, but officials hope he takes advantage of it nonetheless. Tourism officials are excited about what Royer's decision could mean for the future.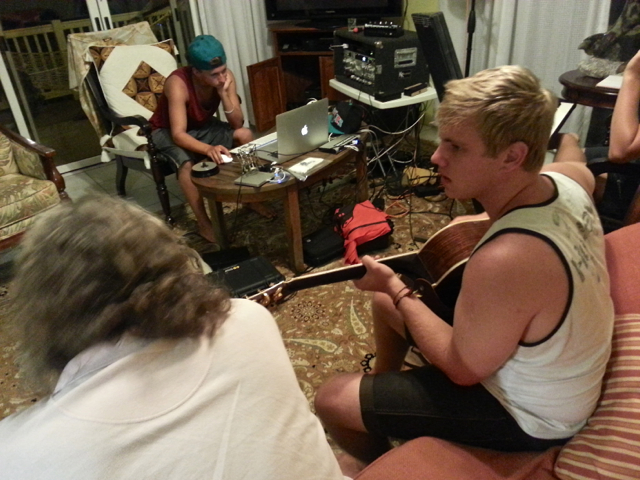 Smith is a 5-foot-10, 180-pound, blue eyed, blonde haired singer-songwriter with a powerful voice and good ear for soul, R&B and pop. He took the name Sno from a friend who nicknamed him "Snow Flow" during hilarious rapping and freestyle battles. He comes from a disciplined and deeply religious background as the son of Ernie Smith. Ernie, a devout member of the Church of Christ, was named the 2011 National Federation of State High School Associations National Baseball Coach of the Year.
Smith admits he's rebelled at times against his upbringing and it almost cost him everything. He'd received a scholarship to play baseball at small Christian college, Freed-Hardeman University, but only lasted a year. He said he got "cocky" and "hardheaded" at times. He was impatient after pursuing a music career for more than a year. Now he's at peace with everything.
"I've surrendered my plans to God with my hands open," Smith said. "All of my eggs are in one basket."
The move to the territory was preceded by months of feeling stagnant in the Nashville country scene for Royer, Finnigan and Smith. Royer, who co-founded the soft rock group Bread, moved to Nashville almost 20 years ago from Los Angeles but despite his success he felt getting "traction" was getting harder, not easier. Finnigan said club owners are too focused on selling alcohol and not necessarily on booking talented acts. Smith felt Nashville wasn't receptive to his diverse style.
"I'm able to breathe here," Smith said. "It's discouraging when you go through all this stuff and you don't get the payoff of people hearing your music. Here your music gets heard."
Royer's credits include the Academy Award Winning song "For All We Know," which was featured in the film "Lovers and Other Strangers," and "Quittin' Time," which won an ASCAP Airplay award when Mary Chapin Carpenter recorded it. But after a while even he felt frustrated.
"I had a No. 1 song with (John Michael) Montgomery. Ray Charles recorded one of my songs, so I was taken aback," Royer said. "I thought 'Wow. There's got to be a better place to do this.'"
Royer frequented the Caribbean for more than 15 years and his wife always told him he'd move here one day. Royer decided to fulfill her prophecy and look for homes in St. Thomas. Royer plans to move into a home in September and he expects to receive title within the year. He didn't have to ask Finnigan and Smith twice to come with him.
The local response to Royer, Finnigan and Smith has been positive so far. Radio stations such as 104.3 The Buzz have already asked Royer, Finnigan and Smith for on-air interviews. Finnigan and Smith played a short set Wednesday at Tavern on the Waterfront, where jazz vocalist Jerry Harris sung their praises.
Smith is putting the finishing touches on his single "Serious Girl" which was co-written by Royer and Karissa LaCour. The song was produced, mixed and edited by Robb's son Matt. Smith's interim road manager Gary Goble has already scored Smith a gig playing Friday nights at Tickles Dockside Pub. Smith performed at the V.I. Idol competition Saturday.
"What's happening here is pure gravy. It's amazing," Finnigan said. "I feel like we're playing with house money."
Finnigan said he's been impressed with how diverse the local live scene is here. He's caught shows at Northside Bistro in St. Thomas and Castaways Tavern in St. John.
"Harris is a master with rare power. He's an elegant stage master," Finnigan said. "And John Hodges? I can play with him. He's unbelievable."
Tourism officials and local politicians are hoping Royer takes advantage of the STARS act. If applicants meet all the guidelines, they'll get a 100-percent exemption on gross receipts tax, 90-percent exemption on corporate taxes and a 90-percent exemption on personal income tax. Sens. Louis Hill, Ronald Russell, and Nereida "Nellie" Rivera-O'Reilly sponsored the bill. Rivera-O'Reilly believes the law could be applicable to Royer. Lisa Hamilton, president of the USVI Hotel and Tourism Association, said the bill was designed to attract "big names."
"Sounds like a win-win. I'm optimistic it will be a good thing," Hamilton said. "If he's generating tax revenue and using the local labor force it could be a positive thing for the area."