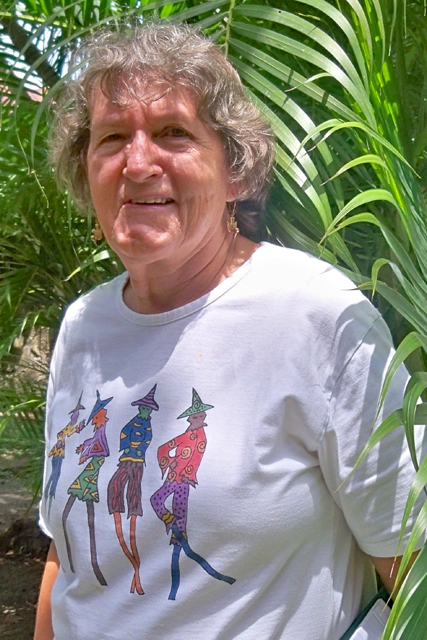 Carolyn Keys, a member of the Religious Society of Friends also known as Quakers, says only a handful of Quakers live in the Virgin Islands.
It's not surprising to have so few Friends in the territory since the number worldwide is around 359,000, according to a 2011 census from the Quaker Information Center. But though their numbers are small, their pacifism makes them well known.
In the Virgin Islands, Keys is a member of the the Interfaith Coalition of St. Croix, a group representing different faiths serving the needs of the community through education, service and advocacy. Through the group she has started some successful peacekeeping projects.
In January 2011, after seven years of trying, Keys and Jerry Weninger, another coalition member, got the the Alternatives to Violence Project into Golden Grove Adult Correctional Facility. The AVP program is designed to improve self-esteem, strengthen communication skills, manage anger, let go of grudges, transform conflict and clarify values.
Interfaith Coalition recently approved plans for a Community Peace Center that will be located on Prince Street in Frederiksted. Keys will work with youth and adults concentrating on arts for peace, skill building for peace, and advocacy for peace. Keys says she has been thinking about the center for 13 years.
She is also talking with Rotary Club of St. Thomas Sunrise about establishing a Community Peace Center on St Thomas.
"Quakers walk gently upon the Earth seeking that of God in everyone," she says. Keys, who has considered herself a Quaker since 1962, said the group's members live close to the Earth and observe nature, and they don't believe in killing and bearing arms.
"Quakers tend to be conscientious objectors, and during war have served in alternative service," Keys says. "We strive for justice positively, not negatively."
The peace testimony, which is a very important Quaker principle, arose out of the belief in the spirit and inward light, or that God or good is in everyone. If God is a reality within oneself and everyone it would be denying the inner spirit to take up arms against another, according to literature from the Friends General Conference.
Keys said the Friends are involved in the United Nations, bringing members together in a friendly manner voicing concerns. Quakers are also involved in the Friends Peace Team, offering conflict resolution programs in Africa. Keys did volunteer work with the Friends Peace Team using the AVP program working in Burundi and Rwanda in eastern Africa to heal conflicts caused from genocide.
According to their belief, God reveals life, truth, and love to everyone directly without the requirement of an intermediary such as a church, pastor, or sacred book. Outward authorities such as the Bible and the tradition of a church are important, but secondary. Bible reading and hymn singing are not meant to be the focus of a meeting for worship. Many consider themselves Christian, but some don't. The Society does have deep Christian roots.
"We believe in the Gospel, in serving other people," Keys says. "We sit in silence and listen for the Spirit within us. We seek and find the Spirit within."
Silence is considered to be a special kind of spiritual exercise. Meetings are made up of people gathered together in silent prayer. Friends believe that if they wait silently upon God there will be times when God will speak to them in their hearts. During silent worship, anyone may feel inspired to give vocal ministry. After the person speaks the message the silence resumes.
According to the Friends General Conference, Quaker worship is based on silent waiting, where they expect to come into the presence of God. In this living silence, they listen for the still, small voice that comes from God through the inward light. Worshiping together in silence is a way for a community to be brought together in love and faithfulness.
Literature from the Friends General Conference, Quaker Press, says, "The origins of the Friends were in 17th century England, a time when many were questioning established religious beliefs. George Fox did not find answers to his questions in any of the churches of his day. Out of his searching came the spiritual message which resulted in the formation of the Religious Society of Friends. From 1667 on, Fox helped organize the system of meetings and arranging methods of procedure.
"From the beginning Friends gave women and men equal status. God bestowed an equality upon all. This concept led to the testimony that one person should not set himself above others through honors and distinctions, which were meaningless in the sight of God. From this came the Quaker practices of simple living, plain dress and plain speech."
Keys says the friends believe in social justice and the Quakers have won the Nobel Peace Prize. They have always been very involved in education. She adds many schools and universities were started by Quakers.
She followed the Friends beliefs, seeing the openness and how involved in service they are.
"And the silence spoke to me," Keys says. "A calling is like a seed that is planted within us."
She says the Quakers welcome others to attend their meetings, held on Sunday morning.
"The more believers, the richer we are. And we can do more service as advocates for peace."
Further information is available by calling Keys at 1-340-719-7805 or sending her email at carolynkeys@hotmail.com.