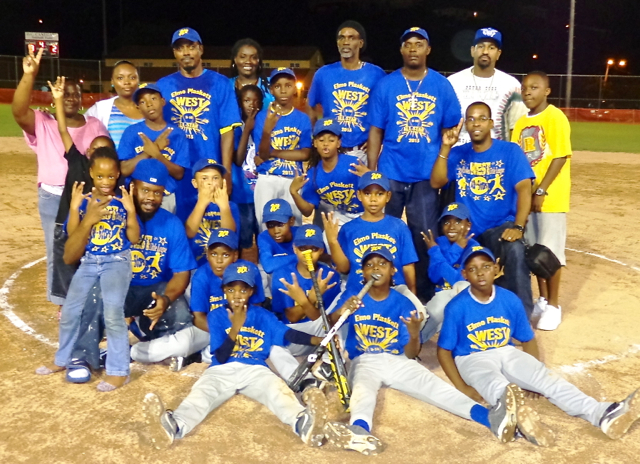 The Elmo Plaskett West Little League defeated the Elmo Plaskett East Little League, 13-2, in four innings via the 10-run mercy rule Friday at the D.C. Canegata Ball Park.
The win gave the West team the St. Croix little league 9-10 division championship and the right to play St. Thomas for the Virgin Islands crown.
The West came into Friday's contest leading the best of five series, two games to one. They won the first two games but the East avoided getting swept by taking game three.
Things looked promising for the East early in Friday's game as they were able to plate two runs in the top of the first to take a short lived 2-0 lead. Both Taj Bates and D'Andre Ballentine delivered RBI singles to account for the East score.
But that would be all the runs the East would score, as West manager Kenny Jackson wasted little time in replacing starting pitcher Kenny Jackson, Jr. with his ace Khaleem Jacobs. Jacobs responded by pitching 3-2/3 innings of no-hit baseball.
The West responded in the bottom of the first inning with five runs on RBI singles by Shakeem Sackey and Enijah Miller and a three-run error.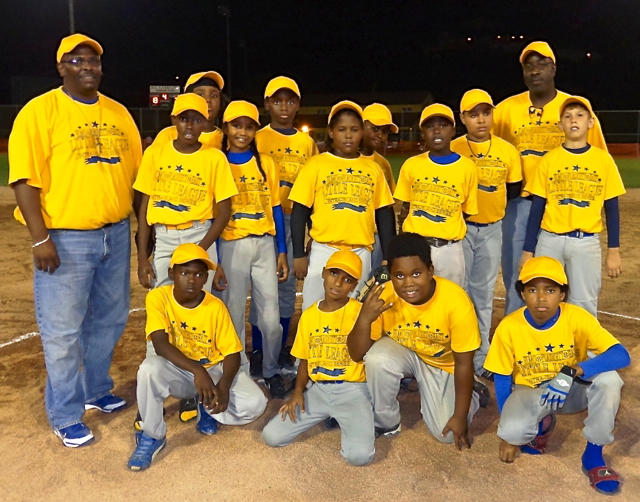 The West then got two unearned runs in the second and three more in the third to lead 10-2 after three completed innings.
After the East failed to score in the top of the fourth inning, the West came to bat needing two runs to have the 10-run mercy rule enforced and win the St. Croix Championship. A hits-batsman, Kevin Williams, and a walk drawn by lead-off hitter, Ahijah Sweeney, got the first two men on base for the champs. Kimani Simmonds then doubled over the left fielder's head to score Williams. Then with runners now on second and third, Jackson, Jr. delivered the game-winning two run single to set off some wild celebration by the West supporters.
Jacobs got the win on the hill for the champs, while Brandon Rasmussen took the loss. Top batters for the winners were Simmonds (2 for 3 with two doubles and one RBI), Jackson (2 for 3 with a triple and one RBI), and Sackey was (1 for 2 with one RBI). For the East All-Stars, Ballentine was 1 for 1 with one RBI and Bates was 1 for 2 with one RBI.