This is part of an ongoing series of stories on the financial crisis at the Juan F. Luis Medical Center and the various plans being proposed to confront it.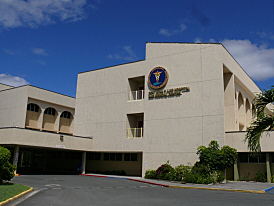 With hospital leaders adamant there is little they can do on their own to solve the financial crisis stemming from Juan F. Luis Medical Center's $35 million debt, it may be up to the Senate to form a solution.
Of the plans being considered, the most aggressive is a bill being proposed by Sen. Sammuel Sanes that would overhaul the law governing JFL and the Roy Lester Schneider Regional Medical Center on St. Thomas and consolidate the two hospitals into a single entity.
Currently the two hospitals are effectively autonomous. Each has its own management team and district governing board. An overarching territorial board, comprised of members of both district boards and government officials, is supposed to supply guidance to the entire system, but it has been criticized as being ineffective in recent years.
Kye Walker, chairwoman of the St. Croix district governing board, said the territorial board was essentially "inactive," failing to meet in 2012 and canceling a meeting in April 2013.
While there are still more questions than answers concerning the fine details of Sanes' proposed consolidation, the ultimate goal of the bill is to cleave away a large portion of the governing apparatus and leave control of both institutions in the hands of far fewer people.
A final draft of the bill is not currently available as it is still being reviewed by the Senate's lawyers, but a synopsis states that the legislation intends to "eliminate the district governing boards" and "[consolidate] the operation and management of the hospitals and health facilities under its jurisdiction under the authority of its board of directors and a single executive management structure."
During an interview in May, Sanes said he envisioned a system with a single board, a single chief financial officer and a single chief executive officer. While this would cut down on the management costs of both institutions, he said, the main benefit would come from forcing the two institutions to negotiate jointly with vendors.
Sanes said the hospitals could save a significant amount of money if they bought supplies in bulk and shared them rather than each facility negotiating on its own.
Both Walker and JFL's interim CEO Dr. Kendall Griffith agree that the move would likely result in lower operating costs and have offered a tentative endorsement of the idea of consolidation, but they say they are reserving full support until they know the details of how it will be implemented.
Walker said consolidation could be an opportunity to bring JFL's management costs in line with what their auditors are telling them is an appropriate level.
"The size of the hospitals are relatively small, but the size and cost of both management teams are relatively high given the size of the hospitals," she said.
Clarifying that she could only speak for herself as the St. Croix district board had not issued an opinion, Walker said she could support consolidation, "so long as the legislation has controls that will guarantee fairness for both institutions."
Walker said she wanted to see equal representation from both islands on the board and amongst the executive management team to ensure that the distribution of resources between the two hospitals is not unfairly skewed due to regional interests.
Griffith also raised the concern that with greater efficiency, the hospitals may require less staff.
"Are we going to need the same number of individuals on both islands or can we get away with just one?" he asked. "And if that's the case, what are the implications of having to reduce the workforce?"
Walker said she didn't envision a scenario in which consolidation would lead to wide scale layoffs, saying she believed the majority of the job losses would come from management positions.
Later Sanes pointed out that the territory was currently short on doctors and nurses, so he thought the prospect of layoffs amongst medical staff was slim.
Still Griffith said it would be absolutely necessary to vet any plan for consolidation through all of the stakeholders – the district boards, the executive management teams and the hospitals' staffs.
"I think both organizations know how to run a hospital better than anyone else in government," he said.
Griffith pointed out that merging the hospitals would raise dozens of questions ranging from fundamental operational issues, such as whether there would be two chief medical officers or one and how credentialing would work, to the fairly mundane, such as how to reconcile the hospitals' entirely different payroll systems.
Sanes was responsive to the idea of gathering input and said the bill was "a blueprint" that could be changed and added to as necessary.
"I'm looking for help from the experts. I'm looking for amendments to make this a better bill," he said.
Sanes said consolidation was essential, however, and pointed to the payroll issue as proof. He said it was "absurd" that two hospital owned by the same government were operating on different payroll systems and said it was time for all government agencies to streamline their operations and work together.
While consolidation may help JFL's month-to-month finances, Walker pointed out that it would do little to resolve the hospital's debt crisis. Consolidation would not negate it's $35 million in obligations to vendors.
"We would still need a cash infusion," she said.
Phone messages left for Dr. Bernard Wheatley, CEO of Schneider Medical Center, and Cornel Williams, chairman of the St. Thomas/St. John district governing board, for their opinion on this matter were not returned.