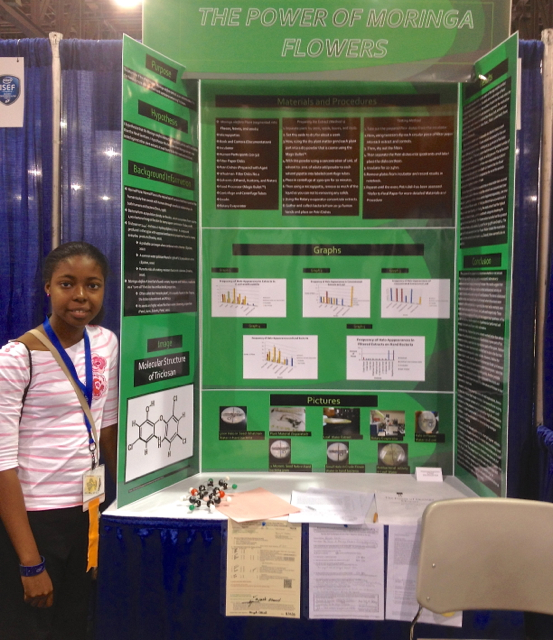 Aliyah Allick, an upper school student at The Good Hope School, describes herself as a person who needs to see to believe.
What she's seen and now believes is that the Moringa tree could provide an alternative to a controversial chemical – triclosan – that's used in nearly 75 percent of antibacterial liquid soaps and body washes sold in the United States today.
Because of her work with the Moringa tree, Allick took home a second place citation from the Patent and Trademark Office Society in May at the Intel International Science and Engineering Fair in Phoenix, Ariz., where 1,600 students representing 70 countries participated. She attended by taking second place at Good Hope's science fair in March.
The award officially was for "outstanding originality, analysis and clarity in science and technology at the international science and engineering fair." But when asked about it, Allick said she was recognized because patents and trademarks saw something in her project that said the research really had a shot at leading to the development of a product, and that's where Allick's ambition resides now. She wants to continue her research with the Moringa tree with the hope that it leads to something tangible.
"My goal for this is to actually create a product out of Moringa which leads us into a new dawn or new age of hand sanitizers and hand soaps where you're not using harsh chemicals like triclosan, but instead turning to natural compounds and natural alternatives," she said.
Why Not Triclosan?
Later this year, the U.S. Food and Drug Administration is planning to deliver a review of whether the chemical – in use for more than 40 years – is safe. More importantly, the review could lead to whether or not triclosan should still be used at all in household consumer products. Considering it's found in a wide range of products, from household cleaners to toothpastes and soaps, the implications the ruling could have are huge, both economically and in terms of health and safety.
Perhaps that's why the FDA has delayed releasing its recent findings on triclosan twice in the past two years.
When triclosan was first used, its main purpose was as an antibacterial agent in a scrub used by surgeons before operating. From there it began a gradual transition into the ingredient list of countless household consumer goods, which interestingly enough, have never had many of their ingredients approved by U.S. health regulators. That's because when these chemicals were developed, laws requiring scientific review of cleaning ingredients didn't exist.
Triclosan's regulatory history goes something like this. Congress passed a law in 1972 requiring the FDA to set guidelines for dozens of chemicals found in household soaps and cleaners. In 1978, the FDA published its first guidelines for chemicals used in these types of products. These guidelines stated triclosan was "not generally recognized as safe and effective," because regulators could not find enough scientific research to demonstrate it.
The draft was tentative, and the FDA never officially finalized the results, so triclosan has never had to be removed from any products the agency regulates. In 1997, the FDA approved it for use in a brand of toothpaste by Colgate because research indicated it helped fight gingivitis.
At present, the FDA says this about triclosan on its Web site:
"Triclosan is not currently known to be hazardous to humans. But several scientific studies have come out since the last time FDA reviewed this ingredient that merit further review."
"Animal studies have shown that triclosan alters hormone regulation. However, data showing effects in animals don't always predict effects in humans. Other studies in bacteria have raised the possibility that triclosan contributes to making bacteria resistant to antibiotics."
In light of these studies, the FDA is engaged in an ongoing scientific and regulatory review of this ingredient. The FDA does not have sufficient safety evidence to recommend changing consumer use of products that contain triclosan at this time.
However, the agency also "does not have evidence that triclosan in antibacterial soaps and body washes provides any benefit over washing with regular soap and water."
According to a story published in May by the Associated Press, recent studies of triclosan in animals have led scientists to worry that it could increase the risk of infertility, early puberty and other hormone-related problems in humans. The European Union banned the chemical from products that come into contact with food. The Endocrine Society, a group of doctors and scientists who specialize in the hormone system, indicated four years ago that triclosan alters levels of thyroid hormones and reproductive hormones like testosterone and estrogen. Kaiser Permanente pulled products containing triclosan from its 37 hospitals across the country in 2010. Johnson & Johnson plans to remove triclosan from all of its adult products by the end of 2015. It's already removed it from its baby products.
What got Allick interested in finding an alternative to triclosan was when she learned what some studies have shown it to do to the marine food chain.
"It's very photo-volatile, so when it reacts with light it degrades and forms into a dioxin, which is a very harmful pollutant that kills your diatom algae, or the basis of your marine food chain," she said.
A study published in Environmental Science and Technology in 2002 says triclosan was in the top seven of contaminants found in water samples taken from a total of 139 streams across 30 states by the U.S. Geological Survey. A study published in Chemosphere in 2011 stated triclosan can react with chlorine in wastewater treatment plants to form chlorinated triclosan derivatives, which when dumped into natural waters and exposed to sunlight, can form dioxins.
Allick put the use of triclosan in simpler terms.
"It's a controversial issue," she said. "But basically triclosan is a really bad chemical."
Not everyone agrees, including trade groups whose members are soap and cleaners makers. But like Allick said, the issue is certainly controversial.
Why Moringa?
Allick's curiousity about Moringa arose because her father came home with branches of it one day boasting of all its medicinal properties.
"He said you can drink it in your tea, eat it and that it's been said to aid in the cure of everything from cancer to arthritis," Allick said.
Moringa trees sometimes are referred to as the tree of life or miracle tree, because of their medicinal uses in various cultures throughout history.
Moringa is native to northwestern India and grows very well in tropical climates. Its leaves are rich in protein, vitamins A, B and C and also contain calcium, potassium and amino acids. A farmer on St. Croix said its leaves were "the superfood," and he couldn't emphasize "the" enough that writing it here would do it justice.
In poor parts of the world where people suffer from nutritional deficiencies, such as Niger in Africa in 2012, Moringa leaves have even been used to feed livestock and at the same time, humans.
The World Health Organization uses Moringa as a basis for daily nutritional programs helping malnourished children and nursing mothers. Studies in both cows and humans have shown that Moringa can help in achieving greater milk production.
According to India's old tradition of medicines, the leaves of the Moringa tree could treat at least 300 diseases.
"I started researching it and, lo and behold, I found out it has antibacterial properties," Allick said. "That's when I said why can't you use it instead of triclosan? There's nothing stopping you from doing that. So that's what I did."
Going Above and Beyond
"We provide a basic structure for science research with the science fair, and Aliyah's own passion and focus have allowed her to be so successful," said Jane Coles, Good Hope's science fair chairwoman and Allick's teacher. "It's like teaching someone building skills on a project like a shed, and she turned around and designed the Taj Mahal."
Allick made a crude extract out of the various parts of the Moringa tree – seed, root, flower, stem and leaf. She'd then add the extract to water, acetone and ethanol and test her concoctions on bacteria.
In conducting her experiments, she eventually made an extract that worked on the bacteria as well as an antibacterial soap with triclosan in it.
She needed a laboratory to work in, and through Cole's help she found Dr. Michelle Peterson of the University of the Virgin Islands. Peterson was quick to point out that this project was all Aliyah.
"I didn't do research on this project. This is not Dr. Peterson," she said. "Aliyah's not just bright. She really thinks and goes well above and beyond. She's great if she doesn't understand something and immediately goes out to research it. She is definitely very gifted in terms of research and the ability to think critically."
Coles seconded that notion, stating Allick's project was well-controlled and that it used the scientific method beautifully.
"What made Aliyah such a standout this year was her drive to return to the lab and repeat her trials and keep asking herself how she could better her product," Coles said. "She had to keep testing the different combinations of techniques until she hit on the right recipe. Then she tested the product on different bacteria to make sure it would inhibit their growth."
As for the prospects on turning the extract into a product that could replace triclosan should the FDA say it needs to go, Coles thinks the idea isn't far-fetched.
"There is a whole branch of science called pharmacognosy which studies drugs from natural sources, and plants have evolved to produce some pretty potent chemicals," Coles said. "In nature these chemicals protect the plants from disease or herbivores, and people can put the resulting compounds to use. Moringa does grow well here. It seems like jobs could be created in the production and marketing of this tropical plant."
Peterson said Allick's accolades were well deserved.
"I think her project is an important one in terms of antibiotic resistance and the sorts of chemicals we choose to use and not use to kill microbes," Peterson said. "It's important that there is research going on out there whether it's in small academic labs like this one or big pharmaceutical companies. The more options we have the better off we're going to be."
"A lot of people may know about Moringa," Peterson continued, "but not really know how great a plant it is. Her research certainly brings that to the forefront," Peterson said.
As for Aliyah's current plans, she's far from done with her Moringa research, and since she just completed her freshman year, she'll have plenty more science fairs and opportunities to expand the scope of her studies.
"What I really want to do is isolate the compound or compounds that are working in the extract in addition to making a product out it," Allick said. "But it's a long process to grow plants and extract from them, so I'd like to find a method to increase the speed for extraction. Maybe synthesize the compound or something of that sort."
Peterson agreed that as a budding scientist, Allick comes off mature beyond her years.
"That's what blows me away," Peterson said.
For Allick's teacher, the end result equals pure gratification.
"The most rewarding aspect of being a teacher is when a student takes basic instruction and takes off on his or her own," Coles said. "The nice thing about the science fair program is that we provide space for excellence. There is no ceiling on the level of work that is done. I am very excited to see what the future will bring to Aliyah. She will only reach farther and farther."