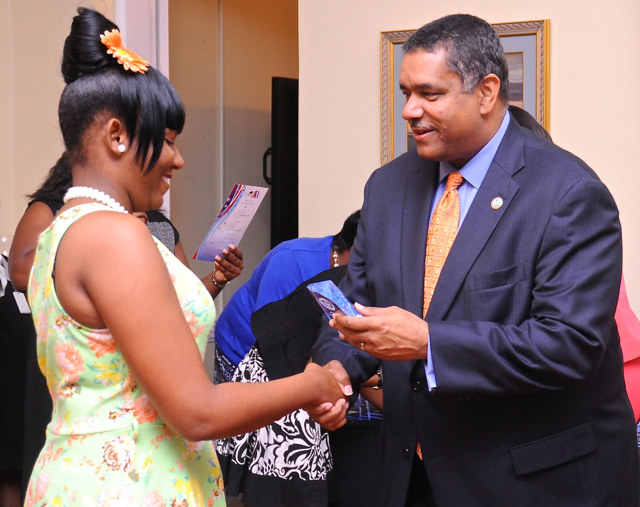 At receptions held at Government House on St. Thomas and St. Croix, Gov. John deJongh, Jr. praised 2013 graduates of the Jobs for America's Graduates VI Program.
The program, which was introduced in the Virgin Islands in 2009, is designed to keep at risk students in school, focused on higher education or career opportunities. The territory's four public high schools participate in the JAG-VI program, according to a news release from Government House.
In remarks at the receptions, deJongh spoke of his longstanding interest in the program.
"What got us the most excited was the success rate of the program. It is unbelievably effective. Ninety-four percent of the students enrolled in the JAG program graduate from high school. Fifty-three percent are placed in fulltime jobs, while 44 percent enroll in colleges or universities for further education," deJongh said. "The statistics for the JAG program were astounding, and convinced us that we had to introduce the program in the Virgin Islands, and the sooner the better."
Working with the Department of Education and the Department of Labor, the JAG-VI multi-year program was launched in February 2010. All four public high schools participated and 25 freshmen students from each school were selected to be members of the first class of the program. Each year more students joined the program – as freshmen, sophomores or juniors.
The school-to-work program works because it involves the entire community, the governor said.
"JAG-VI has succeeded because of the wonderful collaboration between all parties. I want to especially thank the staff of the Department of Education, Department of Labor, and JAG-VI, who have nurtured and supported this program since its inception."
On St. Thomas, 72 members of the Class of 2013 participated in the JAG-VI program. The St. Thomas reception was held May 29.
"Congratulations to the 66 seniors from Ivanna Eudora Kean High School and six seniors from Charlotte Amalie High School," deJongh said in his remarks. "We are so very proud of your achievements. Each of you was motivated to enroll in the JAG-VI program for different reasons, but you made a wise decision. You worked hard, took the courses offered, and learned that real choices in life are based on a sound education, a strong code of conduct, and determination
On St. Croix, 42 members of the Central High School Class of 2013 participated in the JAG-VI program. While Educational Complex participates in the program, there were no participants in the school's Class of 2013. The school will have graduates from the program in the Class of 2014.
The St. Croix reception was held May 30.
De Jongh told the graduates, "I speak for the entire community when I tell you how proud we are of you. Tonight you will receive a token of your achievement, which – like your high school diploma – will always be a confirmation of your ability, potential and value. I cannot promise you that your lives will always go exactly the way you want them to. But I can promise you that you will always have our love and support, plus the knowledge that your hard work led to this success and that you can apply the same effort to any challenge you face. I look forward to the great accomplishments that I know you have in you."