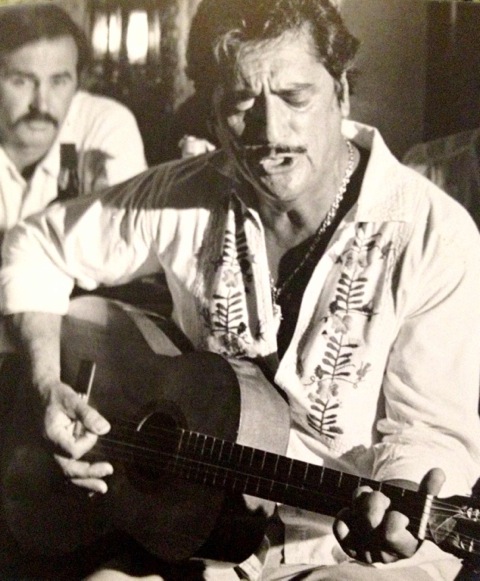 To my hero, my father, Victor 'Monty' Montenegro
This morning my father, Victor "Monty" Montenegro, has sailed unto death. Before you send your condolence message saying you are sorry for my family's loss, don't. We are not sorry. Yes, for us it sad to say goodbye to my father, but sorry we are not for my father lived like no other man I know. And he was not sorry to die for he lived every moment, every day, every second until his last breath. He lived a life worth living. And one worth sharing with you.
All who have known my father have their stories. Many of you know of the man with the whale tooth that he said he pulled from his mother-in-law's jaws. You know the man with the quick joke, the friend of most everyone and anyone. The guy at Morningstar or on the steps of the marina. The man with the guitar who would readily flash you the ear to ear smile. The "hey baby" guy. The adventurer.
My father served in the Air Force, which took him to Kansas, Alaska and England with B-52 nuclear bombers. After that, he became an adventurer. He ended up in the Exuma Islands of the Bahamas working as part of a team that would track and retrieve the Cape Canaveral rocket launches of the 1950s space race. Treasure hunters would come to the island looking for the reported buried treasure of Captain Kidd, so he and friends in the machine shop created authentic looking, fake silver crosses and left them buried. When they were found by American treasure hunters, it caused an international incident as the British Crown claimed rights to the find. The English even sent their consular general from Miami to take hold of the treasure. Until, of course, it was found to be a hoax. My father and friends were never found out. I apologize to Queen Elizabeth on his behalf.
When the base commander discovered his ex-girlfriend was in love with my father, he sent him to the furthest place he could find: the Ascension Islands, which sit in the middle of the Atlantic equally far from Brazil as from Africa and is the tracking point for the last stage of booster rockets. Here he made lifelong friends, who would become a part of his adventures for decades. He also found his way to Brazil on leave, where, at one point, he was a bartender in a whore house. He traveled South America and has the stories of girlfriends to mark each city visited.
My father became a sailor and would take ships across the Atlantic from the Caribbean to ports in the Mediterranean. From Gibraltar to St. Tropez, Nice, Barcelona and Madrid he would take out his guitar at every instant attracting admirers — all except for the old lady in Portofino, who, sick of the racket at 2 a.m., threw out her chamber pot on him and his party of admiring drunks. Everywhere he left friends whose doorsteps he could show up on and be welcomed in like family, decades later. After all, if you knew my father for more than five minutes, you were a friend for life. He returned each time with a mouth full of languages: French, Spanish, Italian, Portuguese — he knew them all.
My father's love of the sea was deep. And it has given drama to his adventures. Crossing the Atlantic, he and his crew mates were demasted and drifting in open seas with the lines wrapped around the prop. My father, chosen as the best swimmer, had to jump into the cold black sea to cut the lines free as the crew stood watch with rifles in hand looking for sharks. He has sailed through storms and brought back the Cutty Sark to port in Venezuela when the rest of the crew went down to malaria. Even malaria was unable to stop him.
He met my mother when she was 16 in Nassau, Bahamas. He was 10 years her senior. But she was beautiful. He would play guitar, and my mother would dance flamenco to the delight of the crowds in the bars. That is until my grandmother found out and dragged my mother home by her hair. She disapproved of my father. But you would have, too. So my father flirted with my grandmother. It didn't help, much. My mother was sent to England where she was a Playboy Bunny at the Playboy Club in London. My father told her to come to St. Thomas, Virgin Islands. Come to the marina; ask for me; I'll be there; be my wife. And she did. And they were married at the court house. He told the judge to hurry because he needed to get his bride home. The sink was full of dishes and there was nowhere to pee. Even the judge had to laugh.
They moved to Hassel Island and made a home amongst the pseudo-hippie colony and collection of misfits, artists, vagabonds, oddballs and unique personalities. There he met one of the two best friends he ever had. Dave Dana was a naval architect and shipwright, who taught my father the art of working with wood and designing and building ships. They built several ships including Tradition, a beautiful, long wooden race boat with the first movable keel. When I was born, he named me Dana in honor of his friend who had lost a son. I was brought home in a Heineken box, which seems fitting considering whose son I was. My parents raised me free and happy on Hassel Island. Next to us in the sail loft was the person he called his "German brother." Manfred Dittrich has been my father's best friend for nearly half a century. He considered him is true flesh and blood brother. Sailmaker and shipwright, side by side.
My father was infinity creative — a tinkerer, creator and maker at heart. I remember him making all kinds of oddities when I was a kid. When I was 10, he was hired to go to New England to rebuild a train so that it could be used as a restaurant. I remember being immensely proud when the back of the menu recognized him as a dying breed of artist. He created models out of wood, jewelry out of anything at hand. And he gave so much of it away. Maybe you have some of those brightly-colored earrings, a model boat, a resin model of a diver, copper bracelet. Today, my sister and I are both highly creative and work in innovation-driven fields. I guess it is in the blood, an inheritance we see in our day to day. Genetics are an amazing thing.
But these are the stories that so many of you know or even were a part of — protagonist in the story. What I know is what maybe you did not. I knew a man who deeply felt for orphans. Maybe it is because he lost his father at 14 and had to become a father to his four sisters, but the role of parent was important to him. He would make wooden toys at Christmas and send them to the orphanage on St. Croix. I often think behind my father's smile was a sadness at missing his father. My father was also one of the most well-read men I have ever met. He bought us endless books, including the Encyclopedia Britannica, that he would have me read from most nights And he had an ability to figure out anything mathematical or mechanical; he was able to build or fix most anything. He was always curious, always reading, always interested. Even in his last weeks he was investigating something that piqued his interest.
My father demanded much of me. To this day, I still always open doors for women. I was taught that work is sacred and an honorable thing no matter what work it is. I remember walking down the dock at Yacht Haven and my father explaining that you treat every man the same no matter if he is the captain of a mega ship on the dock or the guy who collects the garbage. For him, any man who worked deserved your respect. Any man down on his luck deserved a hand up, which my father was always willing to give to those who needed it. From my father I also learned the importance of education. Not a wealthy man, he saved everything to send me to the best schools. He sacrificed for me because he believed in me. And because, for him, that is what a father does.
My father loved me and my sister. My sister was raised by her mother in California. It is my father's one thing that he would have changed. He would have had both of his children together. But he told me once that I would never be alone because I had a sister. You see, my father knows the importance of family. He raised his sister as if he were their father. He saved and sent money home until each could be brought to America, and he loved them immensely and was always happy to be with them, in the warm embrace that is family and happiness that is little sisters. In his final weeks, he was with them in Maryland. They ate crabs together. It's kind of their thing.
If you are to feel sorry for anyone, it is my mother, Joan. Though they separated when I was six, they remained an inseparable partnership. They remained married, paid taxes together and supported each other. It was my mother who went with my father when he was diagnosed with cancer nearly two years ago, and it was she that coordinated his care – calling hospitals, briefing doctors, paying bills and striking fear into anyone who did not get the job done the way she expected it. My father and mother have been together in their own way for over 52 years. My father has loved my mother every day since they met. And my mother has loved him back. My mother has lost her best friend. His last words were to her as she held his hand. He said that she and he were getting into the boat to go back to Hassel Island. They would cook steaks.
I will miss my father and, yes, I have cried. And I am sure I will again. But I do not mourn. I do not regret. I do not wish it any other way. My father lived even when faced with death. He did not regret, did not feel sorry for himself. He did not even flinch when told he would die. He lived in spite of death. He lived a greater life than anyone I know. I'm sure even Hemingway would have admired him and called him a great friend. He collected friends over things, and kept only a guitar and memories as his treasures. He was a family man, who got to meet his two grandchildren: Sebastián, 11, and Amelie, 6. They adored him, and he loved them and made them laugh. He lived like a Viking — traveling, adventuring, daring, fearing not death. He was larger than life. And he was a great father.
I will always remember going to the beach with him when I was my son's age. I will remember playing soccer with him, cold boat rides home and putting my head on his chest as we watched "Magnum P.I." And when I hold my children's hands in mine, I will feel how he felt my hand in his all that time ago. And I know that torch is passed and that everything my father taught me, all the love he had for me, for my sister, is in me now and I pass forward to my children.
I imagine in death my father sailed out on to a beautiful ocean with a strong breeze, clouds bright orange and purple with the setting sun. He mans the wheel and looks forward, on to the adventure that is death and to whatever is on the other side. He looks back for a moment at all of us and waves and grins that grin full of life. I see it even now. Somewhere out there is my father with his guitar, a smile, a laugh, surrounded by his friends. They tell dirty jokes. They drink wine. Foolish old men who have lived lives worthy of storytelling. The Delfus Gang. The crew of the Besse Virginia. The Morningstar beach crew and with all sorts of friends that have gone before him.
So, do not be sorry for me. I am fine. I lived in the shadow of a great man and was loved by him. He held my hand when I entered this world, and I held his so he could leave it. I am the lucky one, blessed at birth with a father who was truly a father. What I ask of you is this: Send me your memories of my father; write your stories; tell me the things that remind you of him. And share a joke with someone. That is something my father would have liked.
Unto the next adventure old man. Sail on. I will miss you. I loved you. I love you still. I honor you. Till we are together again, old man — your son, your baby boy, Dana.
***Victor "Monty" Montenegro died in Maryland on May 6. He is survived by his son, Dana Montenegro; daughter, Jessica Tedder; sisters: Jenny, Lilly and Alice; best friend, Joan Montenegro; and hundreds of friends like you. We will be holding a party in his honor on St. Thomas later in the year. People will be expected to tell jokes. People who would like to leave messages can go to facebook.com/IKnewMonty or send them to Dana.Montenegro@gmail.com