Jeff Nelson, the ousted chief executive officer of the Juan F. Luis Hospital, has taken a new job as the head of a medical university in his native Minnesota.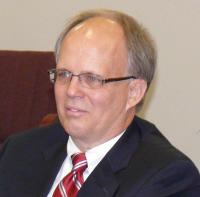 Nelson has been hired as president and chief executive officer of Northwestern Health Science University in Bloomington, Minn., a suburb of Minneapolis, according to the NHSU website.
At Northwestern, Nelson will be in charge of a 72-year-old private natural health care university with educational programs in such fields as diagnostic imaging, nutrition, health sciences, chiropractic, eastern medicine and acupuncture. The school has 864 students on its 25-acre campus.
Nelson resigned his position at the St. Croix hospital Jan. 25 after a sometimes stormy two years. He had been selected by the JFL governing board in 2011 to help turn around the troubled hospital. Luis Hospital was facing severe financial difficulties, with debts greater than $20 million, and scrutiny from the Centers for Medicare and Medicaid Services, which accredits hospitals and determines whether they are eligible for Medicare and Medicaid reimbursements.
While early steps – including a series of discussions with hospital staff and the community on the condition and goals of the hospital, and the decision to post all financial records online for public scrutiny – earned him plaudits for candor, some of the decisions he took to right the foundering institution caused controversy, none more than the February 2012 decision to lay off 85 licensed practical nurses and certified nursing assistants, with the goal of running the hospital with registered nurses.
During his tenure the hospital slowly turned around its month-to-month financial condition, registering a string of months when it took in more money than it paid out. But pressure from CMS continued and, in December, the board decided to strip Nelson of some of his responsibilities and began searching for a chief operating officer. He resigned the following month when CMS rejected the latest compliance plan.