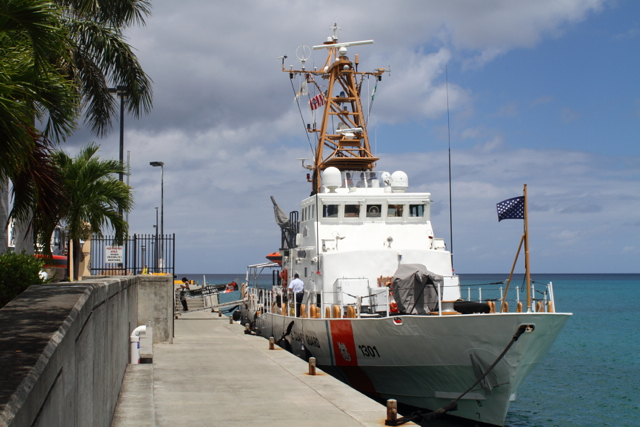 The same conditions that make the Virgin Islands beautiful also make them vulnerable to a wide array of disasters. The Virgin Island Territorial Emergency Management Agency challenged the public to prepare for more than just hurricanes at its "All Hazards Preparedness Expo" Saturday in Buddhoe Park.
The daylong event featured rescue demonstrations by first responders, as well as informational booths from agencies including the Fire Service, the Red Cross, the St. Croix Rescue Academy, and the V.I. National Guard.
VITEMA Director Elton Lewis said the day was a chance to remind the public of all the potential hazards we face as an isolated island territory. He said that since the islands have suffered so much destruction from hurricane's in the not-too-distant past, sometimes people forget that other disasters can strike us.
"We have to concern ourselves now with tsunamis. We now have to also concern ourselves with terrorism and try to mitigate all these issues," he said.
He pointed out that the very place where the expo was taking place was where the tsunami of 1867 struck St. Croix.
He said VITEMA has been pushing tsunami preparedness recently, and the territory was close to getting "tsunami ready community" status. To that end, VITEMA has installed tsunami warning sirens and evacuation signs. He said there were only a few goals left to achieve before receiving the status, most notably achieving an adequate level of public education on the topic. He hoped Saturday's event would help.
Lewis said by pushing awareness of other disasters, VITEMA was not diminishing the threat of hurricanes, however, and certainly there was ample hurricane information at the expo.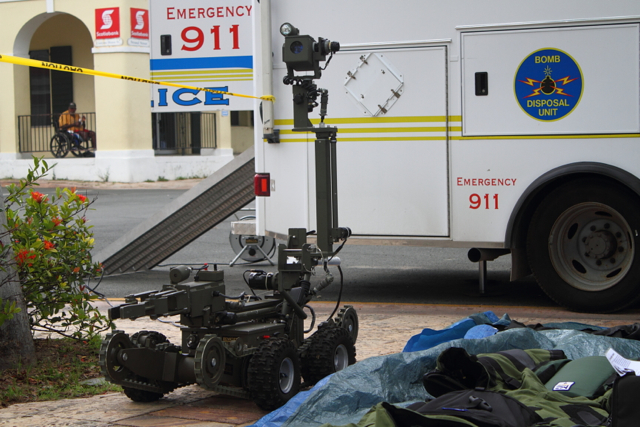 The Department of Human Services and the American Red Cross gave out information about the island's shelter system. Suzette Rojas from Human Services said the St. Croix Educational Complex was still their main shelter for large storms and that the Claude O. Markoe school would serve as a secondary shelter after a hurricane for people displaced from their homes.
The Water and Power Authority was also present, preaching power line safety.
"If you see it down, consider it live," warned Nicholas Lezere of WAPA's line department.
He said that following a major storm, it was best to stay indoors and not to attempt to cross over downed lines until a line crew had assessed the situation and informed you that the wires were dead.
The expo also offered a spotlight for some of the territory's four-legged first responders. Rauna Otto and Cheryl Hass were showing off a pair of search and rescue dogs in training.
Gunner, a Doberman, and Nesi, a German shepherd, will become tracking dogs when they complete their training. Haas said that she and Otto were volunteer trainers, not first responders, and the dogs would continue to live with them, but be ready to go into action when needed.
There was also some aquatic search and rescue tools on display. The Coast Guard cutter Farallon sailed from Puerto Rico to participate in the expo. It docked off the Ann E. Abramson pier and the sailors were giving tours of their cramped home to any curious visitors.
Boatswain's Mate 2nd Class Nathan Washburn said the cutter was usually used in anti-narcotic and migrant mitigation missions, but could be deployed to help in search and rescue operations following a hurricane.
The Virgin Islands Police Department had its own piece of expensive machinery on display. Officer Richard White was showing off the department's bomb disposing robot, a metallic arm on tank treads with a high-definition camera for an eye.
White said the robot could lift any suspicious packages and load them into a reinforced container on the back of a truck. The package could then be driven to a remote area and be destroyed.
He said that sometimes people scoff at the need for such a device or other counter-terrorism training, believing the Virgin Islands are too isolated to be impacted by that kind of violence. White says it's better to be prepared.
"If it can happen in the states, it can happen here," he said.
That's exactly the lesson VITEMA was trying to teach with the expo. Asked what else the agency could do to convince residents of the territory of the need to prepare for disasters, Lewis said, "All we can do is make ready, and say it over and over and over again."