Slot machines at St. Croix's Randall "Doc" James racetrack have boosted the island's horse racing industry but they are starving the island's one casino, testifiers told a Senate committee Tuesday. They said increased numbers of abandoned horses are also straining Agriculture Department veterinary services.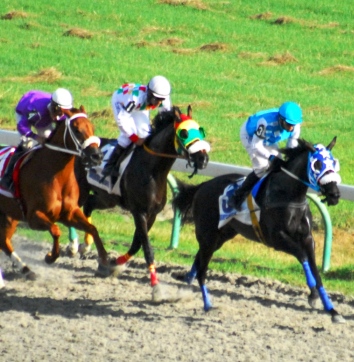 In 2010 the V.I. Legislature enacted a "racino" law, allowing horse racing tracks to have slot machine parlors and allocating a portion of the slot revenues to increasing race purses and promote horse racing. [Racino Act] Tuesday's hearing of the Culture, Historic Preservation, Youth and Recreation Committee on St. Thomas took testimony from a wide array of sources about all aspects of horse racing, to get a sense of the state of the industry, its potential and its needs.
Representatives of horse racing associations, regulatory agencies and industry officials all similarly testified Tuesday that purses, the number of races and the number of race horses had increased on St. Croix since the racino was established at the St. Croix track in 2011.
Acting Casino Control Commission Chair Violet-Ann Golden testified that the racino generated gross revenues of $1.3 million between August and December 2011, its first months of operation, and paid a 16 percent gross revenue tax of $216,000. In calendar year 2012, the racino generated gross revenues of $4.8 million and paid $766,000 in gross receipts taxes, Golden said. And it has paid $174,000 as of March of this year, she said.
The V.I. Department of Agriculture, which regulates the importation of livestock into the territory, has seen a marked increase in the numbers of horses being brought in. While this seems to indicate growth in the industry, it has also led to more animals being abandoned and neglected, according to Dr. Bethany Bradford, director of veterinary services for the department.
"The racino bill has injected quite a bit of money into the horse racing industry," Bradford said. This has resulted in more importing of horses, more horses needing homes after retiring, more off-track racing, and more locally bred and stolen horses tied up on vacant properties, she said.
"What has happened is an increasing number of horses but no increase in the infrastructure to make sure they are cared for," she said. "There is a prevailing attitude among many that horses are disposable and that when one gets injured you just get another one. Agriculture has become the dumping ground for abandoned horses," she said.
In all of 2012, the department saw 26 horses imported to St. Croix – a jump from prior years, she said. Up to April of 2013, she said the department had already seen 27 horses imported – with two-thirds of the year to go.
In 2012, the department had to euthanize 15 horses and responded to 280 calls to deal with strays and abandoned horses, Bradford said. And there has also been a rise in traffic accidents with horses, she said.
"When was the last traffic accident involving a horse?" Sen. Kenneth Gittens asked.
"About two weeks ago," Bradford replied. "It was not reported. We got a call to come get a dead animal," she said. Aside from the danger, disposing of the animals is difficult, time consuming and costs money, she said.
The same racino act is providing a small amount of funding to help Agriculture deal with these issues, but far from enough, she said, and the need is greater than staff and resources can meet.
Cherise Williams, manager of Traxco, the St. Croix race track operator, testified that despite the racino cash influx, Traxco and the race track continue to lose money.
Golden agreed, saying Traxco is losing more than $1 million a year and that, as of the end of 2012, its current liabilities exceeded its current assets by $13 million.
An audit found "there is uncertainty about Traxco's ability to continue as a going concern," Golden said.
At the same time, the slot revenues at the racino appear to have come at the expense of casino revenues at Divi Carina Bay Casino and Resort, the territory's one casino, Golden said.
"Since the opening of the racino in 2011, casino revenues have steadily decreased as racino revenues have steadily increased. Patrons who once frequented the casino now frequent the racino on a regular basis," she said.
According to figures provided by Golden, the casino saw $14.5 million in gambling revenue in 2012 – the lowest figure since 2000.
Revenues have also declined due to poor economic conditions, Golden said. Revenues peaked at $24.1 million in 2007, before the great recession, to $21.1 million in 2010. But they declined more after the racino opened, dropping to $17.8 million in 2011, when the racino was open for four months, then to $14.5 million in 2012.
No bills were before the information gathering oversight hearing.
Present at one time or another during the hearing were Gittens, Sens. Myron Jackson, Terrence "Positive" Nelson, Shawn-Michael Malone, Tregenza Roach and Nereida "Nellie" Rivera-O'Reilly. Sen. Janette Millin Young was absent.