Sharon Kendall is a full-time student with a full-time job and a family. She admits maneuvering through the day wearing these different hats can be difficult but she'd rather delegate than be a dictator.
"You can do more if everybody's involved and engaged," said Kendall, a bank manager at Scotiabank who is studying for her Master of Business Administration degree at the University of Virgin Islands. Kendall has been working in the banking industry for 23 years.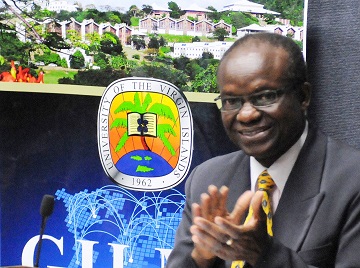 Kendall and more than 30 other students, faculty, business leaders, government and nonprofit employees attended the opening of the 2013 Inaugural International Conference on Leadership, Management and Strategic Development on Tuesday morning on UVI's St. Thomas campus. The ceremony was hosted by UVI's Global Institute for Leadership and Management Development (GILMD).
Gabriel Ogunmokun, director of GILMD, introduced UVI President David Hall and Interim Provost Camille McKayle-Stolz to the audience. McKayle-Stolz spoke briefly before she yielded to Hall who gave a 30-minute speech on the attributes of global leadership. Research presentations followed the ceremony and continued through 5 p.m. Presentations continue Wednesday from 9 a.m. to 5 p.m. in the Chase Auditorium.
Hall outlined five attributes of global leadership: authenticity, vision, strategic thinking, holism and being spiritually grounded. He used the life of Dr. Martin Luther King Jr. to symbolize his perfect model of a global leader.
"When you're authentic you embrace leadership with great reluctance and trepidation," Hall said. "When you're a visionary you can communicate with the powerful and commune with the powerless."
The conference will be followed by UVI's 18th Global Leadership Development Course, which continues through May 27.
Participants were traditionally university undergraduate and graduate students but this year the course was expanded to employees from businesses, governmental agencies and nonprofit organizations. The course has awarded more than 500 certificates to graduates since its inception in 1995, Ogunmokun said.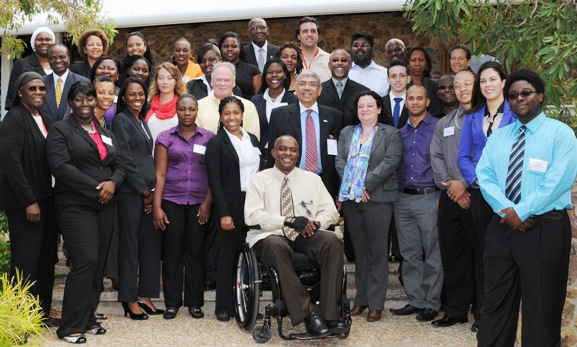 Fourteen presentations are planned by university researchers representing schools from Kuwait, Haiti, Puerto Rico, the British Virgin Islands, the territory and the U.S. mainland, according to a press release from UVI.
Mohsen Bagnied, head of the Division of Business and Economics at American University of Kuwait, spoke about global leadership as it concerns U.S. involvement in world affairs.
"President Hall gave a very inspiring speech. We need to fight for peace everywhere not just here," said Bagnied, who was originally born in Egypt. "Martin Luther King fought for civil rights but also social and economic justice."
"We need to fight for people in Burma and Syria or the same things that are happening there will come here," Bagnied said.
Hall said leadership comes in many forms. The more coalitions one can build the better.
"I think it's critical to be a collaborative leader. I came here with a vision but it has been enhanced by a process that includes my cabinet, faculty, staff and students," Hall said.
Kendall agreed with Hall's outlined attributes of a global leader. She said she plans to use this course to help prepare for a possible job in international human resources.
"Scotiabank has branches all throughout the Caribbean," said Kendall, who moved to St. Thomas almost 25 years ago from Antigua.
Ogunmokun said the name of the conference changed so the course could be offered throughout the year and not just in the summer. The course was previously known as the Summer Institute for Future Global Leaders. The two-week course focuses on developing broad knowledge and functional skills necessary to develop leadership and management skills in the technology, commerce and communication industries.
The general public is welcome to attend some of the institute's classes to listen to guest speakers, Ogunmokun said. Any nonstudent who wants to enroll in the course and eventually obtain a certificate should contact Ogunmokun at (340) 220-1150, he said.
McKayle-Stolz quoted section 2A of the school's "Strategic Plan 2017: Pathways to Greatness," tying the theme of the conference with the tenor of the opening ceremony.
"UVI will produce graduates who are academically excellent, globally sensitive, entrepreneurially focused, emotionally and spiritually balanced, and committed to serving the world," McKayle-Stolz said. "It's fitting for this conference. We are proud hosts."