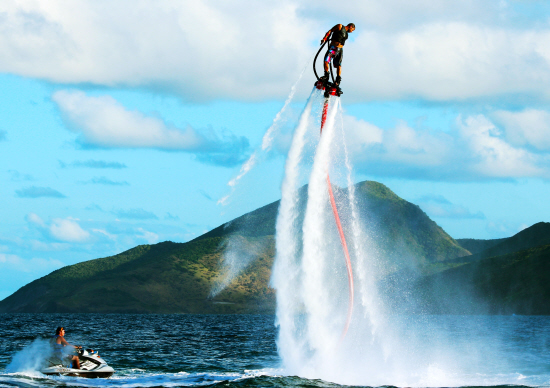 One of the world's newest extreme water sports is coming to Charlotte Amalie.
St. Thomas Flyboarding, a local business started in St. Kitts by two 20-something professional athletes, opens Wednesday at the Island Beachcomber Hotel where it will offer flyboarding lessons to tourists and residents.
Flyboarding features a flyboard – not an actual board but jet boots, a Kevlar hose and two hand held stabilizers – to propel oneself to staggering heights while skiing on the water. The user can then maneuver to do backflips, somersaults, and spins in mid-air.
"It's a blast," said Tom Fields, 21-year-old co-owner of St. Thomas Flyboarding. "Many people who do it say they have the time of their lives."
Prices range from $130 for 30 minutes to $200 for a full hour. Lessons are seven days a week 10 a.m. to 5 p.m. at Lindbergh Bay next to the hotel's beach bar and grill.
Fields said the equipment is pricey, and although it may seem dangerous to some, they provide helmets, life jackets and padding to help consumers protect themselves.
Fadio Montesi, who manages rental and training facility Xtreme Flyboard in Fort Lauderdale, Fla., said the sport is surprisingly safe.
"Its not dangerous," Montesi said. Xtreme Flyboard certifies instructors to teach the appropriate way to flyboard. "You're not going to fly 20 feet high in the beginning. Maybe three or four feet."
French professional watercraft racer Franky Zapata invented the flyboard in 2011, Fields said. Even though flyboarding is a new sport, 21 countries arrived in Doha, Qatar to compete in the first world championships last year, according to Zapata's website.
"It started out small. Then it exploded everywhere," said Fields, a professional kitesurfer. Kitesurfing is a surface water sport combining aspects of wakeboarding, surfing and paragliding by using a large power kite to propel across the water on a board.
Fields' experiences with kitesurfing piqued his interest in flyboarding. Together with co-owner Jeff Andrade, a 29-year-old professional kitesurfer who moved to St. Kitts four years ago, Fields came up with a business model that would market the sport to the Caribbean. Fields and Andrade took courses to become certified instructors in flyboarding and then set out to teach it to the masses.
Fields and Andrade opened up their business part-time in St. Kitts last August before going full-time in December. Their scheduled appointments quickly filled up even stretching into 2014.
The response was so overwhelming they decided to come to St. Thomas. Fields and Andrade worked out an agreement with hotel owner Michael Resch who allowed them to operate inside his hotel. Lindbergh Bay is optimal for the sport, Fields said.
"It's a protected bay with flat water," Fields said. "It doesn't get much better than this."
Resch said Fields and Andrade are starting off slow but "water sports [are] important on the island" so he expects the business to garner a large following.
"These guys have been doing this on St. Kitts for quite a while so they know what they're doing," Resch said.
Fields offers lessons on how to strap on the jet boots, which are attached to a jet ski by a hose. The lessons will also include how the hose uses the stream of water from the jet ski to propel the user into the air.
Once the user gets used to the flight, he or she can go higher to perform tricks or to dive deep into the water like a dolphin, Fields said. The hand stabilizers help the user maintain control and balance, Fields said.
Fields said flyboarding looks hard but it's fairly easy. Most instructors take 15 to 20 minutes to explain how to use the equipment. Fields said the jet skis can handle users weighing more than 275 pounds.
The business will open with a booth next to the beach bar near the water but Fields said he plans to expand into a larger facility inside the hotel. He sees expansion as inevitable.
"Its easier to come to St. Thomas. Lots of cruise ships come here. Lots of tourists. There's a (cooperative) government in place here," said Fields, a Miami native. "We felt like it was a great fit."