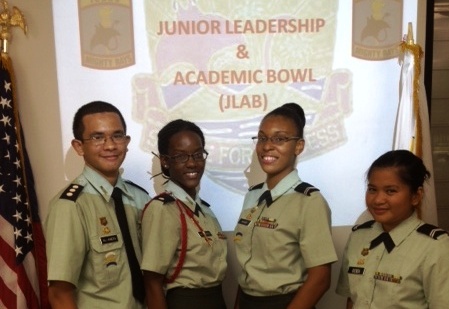 Having advanced through two phases of competition, the Ivanna Eudora Kean High School JROTC academic team will represent the St. Thomas school to compete in the 2013 Army JROTC Academic Bowl Championship in Washington, D.C., this summer, according to Kean High senior Army instructor Col. Eddy Charles.
The team is composed of Cadet Captain Jamaal Al-Ameen, an 11th-grader; Cadet First Lieutenant Heather Henderson, 11th grade; Cadet Corporals Mary Yvonnie Buendia and Deyjah Foster, both Kean 10th-graders. They will join the competition on the campus of George Mason University the week of June 21-25.
During two rounds of competitive online play this year, the Kean JROTC team earned top scores out of the 1,582 teams that competed from around the world, winning a place in the National Academic Bowl competition and an all-expense paid trip to D.C., according to a statement from Charles.
One of the main goals of the JROTC Academic Bowl is to prepare students for state exit/graduation exams and for college entrance exams, such as the SAT and ACT. The Kean team is one of only 24 Army Academic Bowl teams in the nation to advance to the finals.
The winner of the Army JROTC Academic Championship will compete against the Air Force, Marine Corps and Navy JROTC Academic Bowl winners in the JROTC Joint Service Academic Bowl Championship.
The JROTC Leadership and Academic Bowl is a nationally recognized academic competition created exclusively for JROTC students. By participating, cadets learn the values of citizenship, academic competition and college opportunity. According to Charles, the competition creates tremendous opportunities for JROTC cadets by allowing them to demonstrate leadership and academic abilities.
There are 1,731 Army JROTC programs around the world. According to the College Options Foundation, this is the first time a JROTC team from the U.S. Virgin Islands has advanced to the national championships in D.C.
The JROTC Academic Bowl competition is sponsored by the Army JROTC and conducted by College Options Foundation, a nonprofit organization dedicated to enriching the academic development of high school students and assisting in their preparation for higher education.