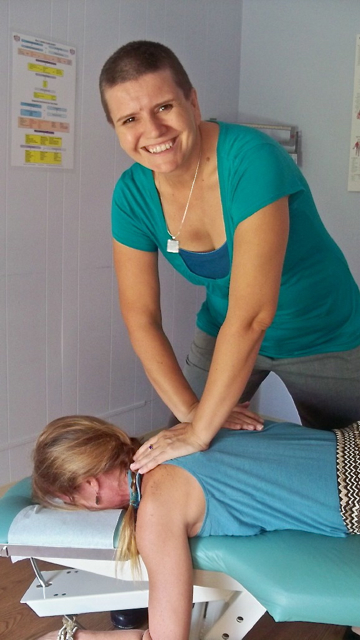 Kelly Brown felt St. Croix needed a place where movement and wellness would come together to attain healing. To assist the whole body, mind and spirit in achieving wellness and healing, she opened Elements at the Brown Chiropractic Wellness Center.
"I wanted to create a sacred place for healing for the community on St. Croix," Brown said. "I wanted to do something positive for the island. People are hurting here with the economic situation and everything else that negatively impacts our well being. Often healing isn't complete if we don't address emotional and spiritual needs. I want people to stay positive, wake up positive, live positive and die positive."
She opened her chiropractic practice more than five years ago in the Rueckl Building at Five Corners in Golden Rock and added Elements in March.
Brown, originally from Albany, N.Y., and a graduate of Western State Chiropractic College in Portland, Ore., is taking an alternative, naturopathic holistic approach beyond chiropractics to healing. The holistic practitioner treats the whole person and every aspect of the individual's health – emotional, physical, mental, environmental, socioeconomic and spiritual health.
To address spiritual health Brown is offering "Half Hour to Healing" meditation sessions.
Brown said the blissful states of reverie in meditation are proven to enhance immune function and activate the body's natural healing abilities. In meditation, divine energy comes from beyond ourselves, she said. Prayer and meditation can bring bring personal or group healing. Brown said she believes group healing is more powerful, so participants in her sessions often send healing positive energy out for St. Croix or other places where people need healing. The session after the bombing at the Boston Marathon was held for the people involved in that tragic event.
The sessions are for the novice and those experienced in meditation and begin at 6:30 p.m. sharp on Monday and Thursday. There isn't a fee for the session, because it is Brown's way of giving back to the community. Donations are accepted.
To help one relax, manage stress and anxiety and to achieve peacefulness of body and mind, several instructors at Elements bring together physical and mental disciplines in different types of yoga.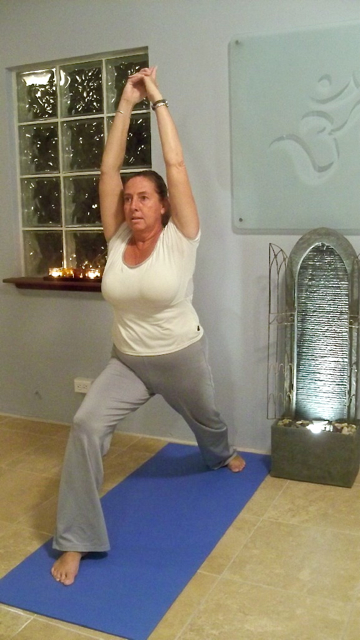 Yoga is a mind-body practice that combines stretching exercises, controlled breathing and relaxation. Yoga can help reduce stress, lower blood pressure and improve heart function. And almost anyone can do it, Brown said.
Hatha is one of the most common styles of yoga and beginners may like its slower pace and easier movements. But most people can benefit from any style of yoga – it's all about personal preferences. Elements offers the yoga beginner foundation, hatha, vinyasa, and ashtanga vinyasa flow yoga
Gayle Vanasse, certified yoga instructor and office manger, said people need to connect with their instructor, and she encourages them to experience classes with other yoga instructors to find the right fit.
"Yoga is a great stress reliever after a long, busy work day," Vanasse said. "Centering on breathing helps put stress aside."
The poses help with flexibility, strengthening, and mind control, she said. Vanasse also offers stability ball with yoga. At $5 a session, Vanasse said, the classes in part are about giving back to the community. The other instructors charge $10. Elements also offers wellness workshops and brings in guest instructors.
More information about the center, class schedules and registration can be obtained by calling 1-340-718-2663 or going online at www.brownwellness.com.