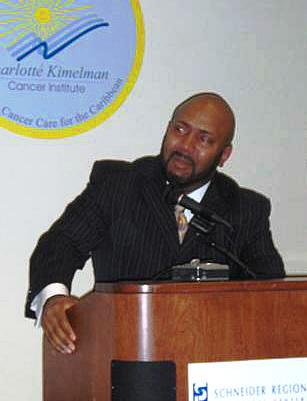 Rodney Miller Sr., the former chief executive officer at Schneider Regional Medical Center, pleaded not guilty Wednesday to two counts of filing fraudulent and false tax returns.
In the indictment [Rodney Miller Tax Indictment], the government alleges Miller filed 2006 and 2007 tax returns with the V.I. Internal Revenue Bureau that he knew were false. He reported total 2006 income of $265,000 and 2007 income of $256,000 but knew it was "substantially more," according to the indictment.
The two charges each carry a maximum sentence of three years in prison. Trial is scheduled to begin June 17.
In U.S. District Court on St. Thomas, U.S. Magistrate Judge Ruth Miller assigned public defender Gabriel Villegas to represent Rodney Miller, advised the former CEO of his rights and updated the terms of his release. He was released on a $10,000 unsecured bond and was forbidden to travel outside the Virgin Islands or the state of South Carolina, where he currently resides, without first getting permission from the court.
These minor federal tax charges are related to actions Miller took while CEO of Schneider that also led to multiple local criminal charges of fraud and conspiracy. (See related links below)
Miller and top Schneider executives Amos Carty Jr. and Peter Najawicz were charged and twice tried for allegedly defrauding Schneider Regional Medical Center of millions of dollars.
Prosecutors alleged Miller racked up almost $3.8 million by the end of his five years at the hospital, while Carty and Najawicz, who are accused of approving and making the payments, regularly received thousands more than the $80,000 salaries listed in their government payroll documents.
At the core of the case were two 2005 employment agreements for Miller – one that reflected the $150,000 salary listed on his Notice of Personal Action, which reflect what an employee's position is and how much he or she is paid; and another that contained hundreds of thousands more in extra benefits that prosecutors argued Carty added without informing the hospital board.
Both previous trials ended in mistrials and the three parties are scheduled for a third V.I. corruption trial in October.