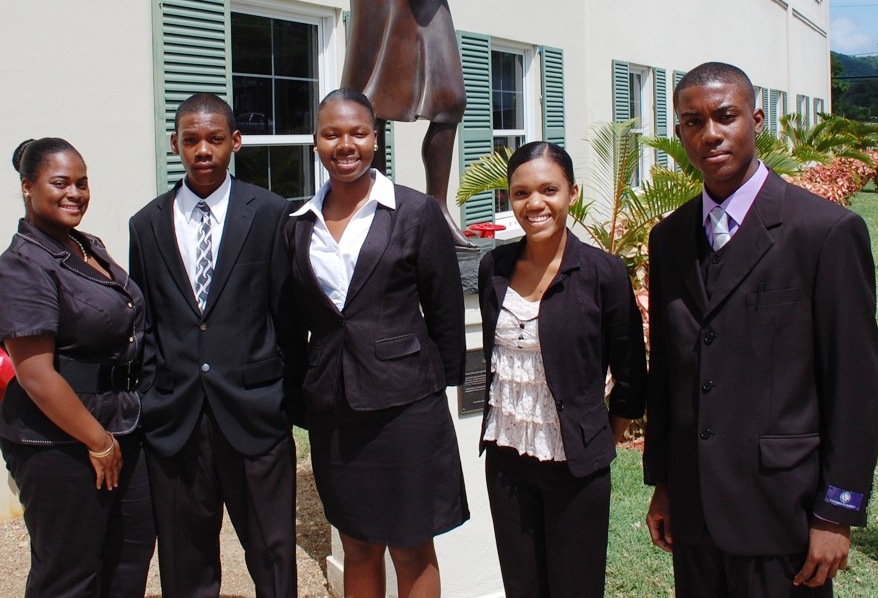 St. Croix high school students took on the roles of attorneys Tuesday, citing cases and law to a panel of actual attorneys during the first round of the 19th annual V.I. High School Appellate Moot Court Competition and, when the arguments were over, two of four teams moved on to the next round.
Moot court is essentially a practice court where students can learn about the process while learning about the law. Students study cases, prepare and deliver oral arguments on a current legal issue before a three-judge panel. The court runs the program, selects topics and compiles the relevant statutes and case law in packets for the students. Each team gets help studying the cases and preparing to deliver arguments from two attorneys in the V.I. Bar Association.
This year, the students are arguing both sides of a challenging hypothetical criminal case involving the rights and responsibilities of citizens and governments regarding the purchase and registration of firearms, specifically assault rifles, in the imaginary city of Frederik Amalie. The case bears on what, if any, limits there are to the right to bear arms enshrined in the Second Amendment of the United States Constitution.
The students were presented with a scenario in which all firearms have been banned within the boundaries of Frederik Amalie, without exception. They were given a hypothetical plaintiff: one Renaldo Abraham, who wanted to purchase an AK 47 assault rifle solely for home protection after being burglarized three times. The imaginary Abraham heard from a gun store owner that he could not have a licensed weapon within Frederik Amalie, and thus sued to have the law overturned as an infringement upon his right to bear arms.
First up were Brendon James and Patrice Gumbs, two 17 year-old seniors at St. Croix Central High, acting as the government's legal representatives, arguing "Abraham" lacked standing to sue because he was not harmed.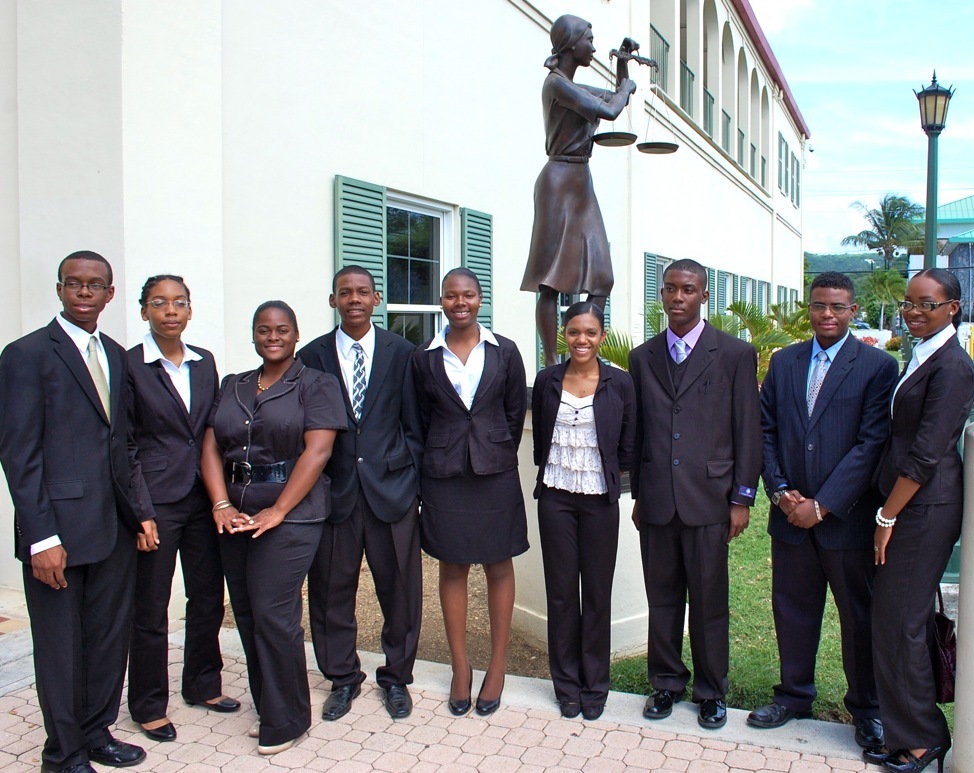 Because Abraham never actually attempted to register a weapon, he is not in violation of the law, so "there does not exist a credible threat of legal action," James said. With no legal action pending, he cannot show that he has been harmed and therefore lacks standing to sue, James and Gumbs argued.
Jahreim Luke, 17, and K'Nyel Ayala, 18, two St. Croix Educational Complex seniors, took the podium next, arguing on behalf of "Abraham."
"He has established standing because of a well-justified fear of prosecution," Ayala said, elaborating that the V.I. attorney general had publicly promised to arrest anyone who brought a gun into Frederik Amalie. So if Abraham attempted to license a weapon for home use and then tried to bring it to his home, he could be arrested.
"But he never tried (to license a gun) did he?" asked attorney Nagesh Tammara, one of the volunteer judges.
"Why is this different from Parker?" asked attorney Emile Henderson III, another of the three judges Tuesday, referring to a major case establishing precedent concerning fear of prosecution as a harm or tort.
"The court found in Parker that he was not targeted, so he had no standing," Ayala responded, adding that "Abraham" could be prosecuted if he attempted to bring a weapon through Frederik Amalie to his home.
Next up, Complex High 17-year-olds Chasen Richards and Ruthlin Aldonza argued the government's position, then two Central High 17-year-olds Shanice James and Marcus Johnson argued again on behalf of "Abraham."
"By purchasing the gun, Mr. Abraham would have faced an imminent threat," Shanice James said.
"The key word in your statement is 'would,'" Tammara said.
"He had the intent to purchase the firearm. He faced a real threat of not being able to purchase a firearm," James responded.
After all teams presented arguments, the three judges – Henderson, Tammara and attorney Tanisha Bailey-Roka – recessed for a few minutes, then returned and announced the winners:
1st Place: — Shanice James and Marcus Johnson;
2nd Place: –Jahreim Luke and K'Nyel Ayala;
3rd Place: — Ruthlin Aldonza and Chasen Richards;
4th Place: — Brendon James and Patrice Gumbs
"I got to learn a lot about what takes place in court," Johnson said when asked what he got out of the competition so far. Johnson is about to start attending University of the Virgin Islands, and hopes to transfer to a university in Florida.
Shanice James had a similar take as Johnson. "It gave me experience and familiarity with how the law works. And with one year (of high school) left it will look great on my resume," she said. She hopes to major in electrical engineering and minor in business and bioelectronics.
Central High senior Richelle Allen, 17, prepared for the competition along with Johnson and James, but did not present arguments Tuesday as each team was limited to two competitors.
Attorneys Nizar DeWood and Kelvin Vidale, and advisor Ericka Hansen led the St. Croix Central High School team. Randy Holz-Apple, an attorney who helped coach the Complex team, said the amount of research the students have to do is impressive and that arguing their cases in front of a crowd is really good for their self-esteem and confidence.
"These students are all going to college and that experience means so much when they get to college," Holz-Apple said.
Wednesday at 11 a.m. at Superior Court on St. Thomas, students from Antilles School, Charlotte Amalie High School, Ivanna Eudora Kean High School and Sts. Peter and Paul Catholic School will compete to represent St. Thomas.
On Thursday at 9:30 a.m., the final day of competition, the selected teams will present their arguments before a three-judge panel comprised of justices and judges from the Supreme Court of the Virgin Islands, the Superior Court of the Virgin Islands and the District Court of the Virgin Islands.
The prizes are scholarships funded by the V.I. Bar Association. First prize is $1,000 per team member; second prize is $750 per team member; third prize is $500 per team member; and fourth place gets $250 per team member, according to Holz-Apple.