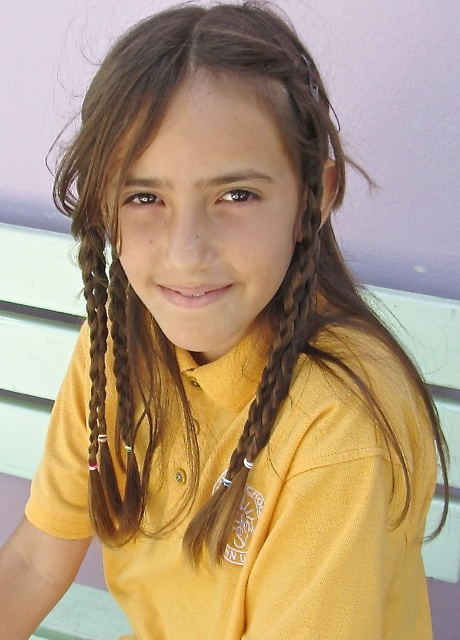 At age 11, Gifft Hill School fifth grader Ananda Hernandez already has a start on one of her possible career choices. Teacher, artist and author are on the list, and as one of 10 young Caribbean writers to have her work included in the Rotary E-Club of the Caribbean's electronic Butterfly Story Book, she has a good start on the third one.
Ananda wrote a short story entitled "The Lonely Lizard."
"It's about a lizard who is really grumpy," she began.
The lizard meets a pixie whose wings were stolen, sets off to find them for the pixie so he can get one wish, tricks a goblin into giving him the wings, returns the wings to the pixie, and gets to make a wish.
"The lizard wishes for all the forest animals to be his friends," she finished.
Ananda wrote the story as part of a school assignment. She said she didn't have any particular storyline in mind when she started out, making it up as she went along.
Her story was one of 142 received by the Rotary's new electronic club, whose members come from the English and French-speaking northern Caribbean.
Her success has made several people proud.
"She is a superb student," Gifft Hill lower campus principal Beth Knight said.
Knight also noted that Ananda came in fourth in the St. Thomas/St. John spelling bee when she was in the third grade, an accomplishment Ananda said was her proudest moment.
"It was very exciting," she said.
Rotary Club of St. John President Joan Bermingham said Ananda's story was one of 47 received by the club. The club could send three submissions for consideration in the book.
"It was a difficult choice because there were so many that were good," Bermingham said, adding that club members read all the submissions before making their choices.
Ananda's mother, Monica Morris, said she was extremely proud of her daughter.
"She keeps surprising me with her achievements," Morris said.
In addition to her mother, Ananda lives with her brother, Arjuna Morris, age 8.
Her father, Carlos Hernandez, lives in Venezuela.
Ananda was born in Venezuela but moved with her family to St. John seven years ago. She has attended Gifft Hill School since she was in kindergarten, and expects to move up to the Upper School next year.
School keeps her busy, with the school's drama and dance classes as well as soccer on her after-school agenda. On weekends, she said she likes going to the beach, being with her family or cooking her favorite – baked potatoes.
"Or I stay home and draw," she said.
Art is her favorite school subject. Ananda said she likes drawing, the colors and "making things up.
However, she said being with her friends is what makes the school special.
She also enjoys fashion, wearing her favorite gray high top sneakers with multi-colored accents to complement the regulation khaki pants and Gifft Hill polo shirt. She said that on "free Fridays," when students in the Lower School can wear what they like, she dresses up.
"I like to be stylish and unique," she said.