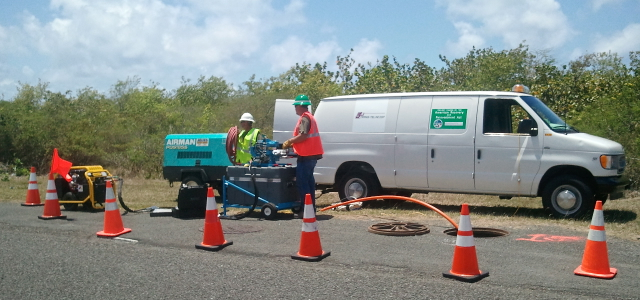 Government House issued an update for construction projects that can affect traffic in the territory.
Virgin Islands Water And Power Authority
The Charlotte Amalie Hazard Mitigation Project will have limited work in the areas of Store Tvaer Gade, Raadets Gade, and Veterans Drive. There will be very minimal effect on vehicle traffic and no disturbance to pedestrian traffic.
The work, which will include termination of high voltage cables, installation of transformers and excavation in alleyways off of the main road, will be from 6 p.m. to 6 a.m. Construction crews will be very flexible with work schedules to accommodate any Carnival activities that occurs near the work areas.
This schedule will run through May 11.
No major traffic flow interruptions are scheduled during the Carnival season.
At this time, no regular water or power line maintenance projects are scheduled for the week.
Innovative
Innovative is working on one project that will affect the flow of traffic on St. Croix: Southgate to Cotton Valley Project.
Innovative construction crews continue to excavate along Route 82 (East End Road) starting at Southgate and ending at the Cotton Valley Remote. This project is scheduled for completion April 30.
At present, Innovative does not have any projects on St. Thomas and St. John that will affect the traffic flow.
Waste Management Authority
The V.I. Waste Management Authority will continue work on LBJ Phases 2 and 3 Force Main Sewer Line Rehabilitation Project.
The road and land closures for this week include the following:
Queen Mary Highway, Route 70: Starting Monday through May 5, the road will be reduce to one lane beginning at the entrance to Queste Verde Condominiums northward to the intersection by Golden Rock Shopping Center in 1,000-foot intervals each day.
The schedule may be modified at any time due to inclement weather.
Motorists are asked to adhere to the directives of the flagmen and to reduce vehicular speed when approaching the construction zone. Motorists are also encouraged to use alternate routes during this construction period.
The LBJ Force Main Phases 2 & 3 Project includes the installation of 4,500 linear feet of a structural liner inside of the existing 24-inch ductile iron sewer line pipe. The project travels east along Northside Road (Route 75) and south along Queen Mary Highway (Route 70). The project will end in the vicinity of the intersection of Queen Mary Highway and the entrance to Queste Verde Condominiums by Beeston Hill.
Virgin Islands Next Generation Network
St. Thomas and St. John
A small amount of trenching will occur at different locations along the island main highway at different intersections. Some trenching will occur near the intersection of Hometown Road and Mandahl Road (Annas Retreat), at the intersection of Mafolie Road and Valdemar Drive, and at the intersection near Mafolie Hotel along Mafolie Road.
Traffic-vault installation will commence near Airport Road and along Moravian Highway (Route 30) moving west from the VITEMA office location towards Black Point Hill. Traffic vaults will also continue from the top of Mafolie Hill near Louisenhoj along Mafolie Drive to the intersection near Mafolie Hotel.
Aerial crew will install aerial fiber hardware on the island of St. John. Also, installation will continue in the latter week from Peterborg to the top of Mafolie Hill in St. Thomas.
St. Croix
VI Paving will continue asphalt paving, beginning from WAPA to Five Corners along Northside Road (Route 75) to La Reine Intersection. Also, paving will continue from the Superior Court along Centerline Road (Route 70) heading west to Frederiksted.
Regular trenching hours will begin daily from 7 a.m. to 7 p.m. along Kings Hill Road from the intersection of Route 707 and 75 to La Reine Intersection (Route 70 and 75). Also, trenching will continue from Time Square to Prince and King Street intersection.
Traffic-vault installation will commence along Hams Bluff Road near Global Crossing into Frederiksted town near Fort Frederick and the Legislature Building. Traffic-vault installation also will continue along Centerline Road heading east to the Boy Scout building and near the Basin Triangle along King Street into Time Square, Christiansted.
Innderduct installation will continue on Hess Road (Route 68) and Sion Hill Road (Route 81).
Aerial hardware installation and aerial fiber will commence along South Shore Road from Divi Carina Bay Resort along Route 60, westward towards Union and Mount Washington then along Route 624 and finally along Route 66 (South Shore Road) to Haypenny Bay.
Underground fiber will commence from the beginning of Melvin Evans Highway, Frederiksted to near Estate Blessing.