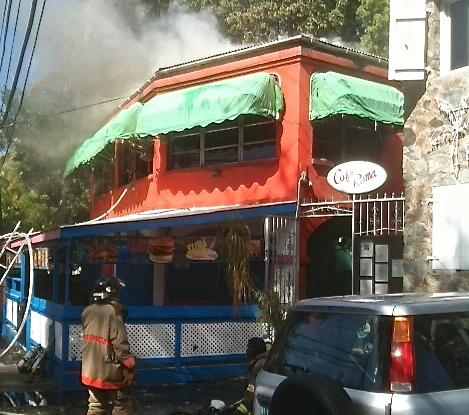 A fire Sunday gutted Café Roma restaurant, located on the second floor of a masonry building on Veste Gade in Cruz Bay, but Deputy Fire Chief Marx Costanzo said Joe's Diner on the building's ground floor got off with only a puddle.
The fire was centered between the restaurant's dropped ceiling and the roof, Costanzo said. The roof and ceiling were made of wood.
"We don't know how it started. It's under investigation," he said.
The fire didn't spread to any adjacent buildings in the crowded downtown area. No one was hurt, Costanzo added.
The V.I. Fire Service got the call at 1:55 p.m., and firefighters and trucks from Cruz Bay and Coral Bay fire stations responded.
Costanzo said it took about an hour to contain the fire and another hour to wrap it up.
"It was a fight to get it out completely," he said.
Smoke billowing from the building could be seen from the hillsides above Cruz Bay.