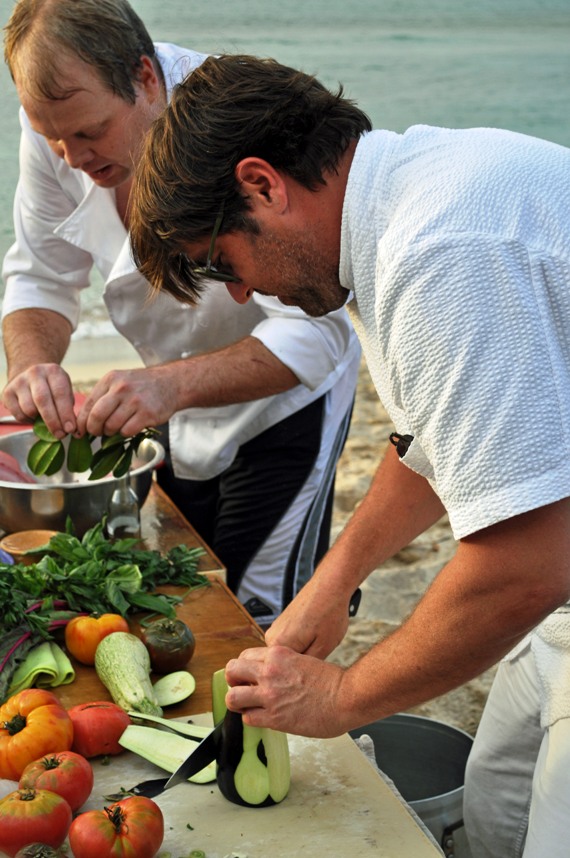 Four celebrity chefs in for this week's St. Croix Food and Wine Experience competed in a fun-filled, food competition Wednesday night at Eat at Cane Bay Restaurant on the island's north shore.
Taking part in competitions that included being blinded and identifying foods, trivia, knife skills and a cook-off on the beach, the two teams actually accomplished something at the event's conclusion that hadn't occurred in its four-year history – everybody was declared a winner as the two teams tied.
With a victory for Team Lionfish in the cook-off competition on the beach, lead chefs Paula DaSilva and Josef DeSimone came from behind in points and ended up knotting the score with Team Lobster, comprising chefs Mike Lata and Simon Stojanovic.
Both teams used only local ingredients to conjure up their own version of St. Croix Seafood Stew. Some of the ingredients available included leeks, spiny lobsters, lionfish, canary melons, Swiss chard and, naturally, Cruzan Rum.
According to Katherine Pugliese, co-owner of Eat at Cane Bay Restaurant and one of the founders of A Taste of St. Croix, the aspect of using only local ingredients was something she was quite proud of – as the theme of this year's week-long event was "Food, Farm and Philanthropy."
"It was great having St. Croix products and it was a nice element," Pugliese said. "I felt very strongly about that. The kitchen (staff) kept trying to put other things on there, but I said if it's not grown on St. Croix, I don't want it on my table."
"And sure enough," she continued, "these guys made an amazing soup with stuff that was only grown here, from coconut water to coconut oil. It was amazing. They did a fantastic job."
With a sizable crowd on hand which had the restaurant and beach filled and parking spaces in the lot at a premium, Pugliese said the reason for the event's increasing popularity was simple.
"Everyone likes to eat. It's a common thread no matter where you live, what you do or how rich you are. Food brings people together," she said.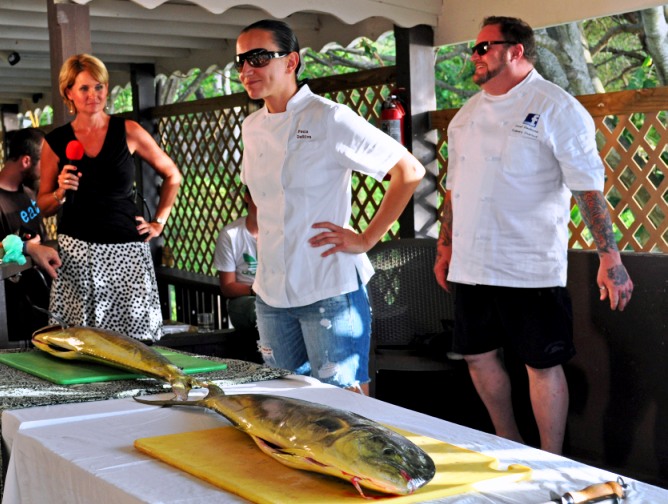 For celebrity chef DeSimone, who is the Director of Global Food Services for the social media giant Facebook and whose team prepares 50,000 meals a week for Facebook employees, he was having a "grand time" and had come away in his four days on-island quite impressed with St. Croix's restaurant scene.
"I love the laid back attitude but I also love the work ethic of the restaurants. I've been to three or four and they've all been spot on," DeSimone said. "Really good local ingredients and a real push for local ingredients, which is something that we do in California. So it's good to see that farm-to-table mentality in other places."
DeSimone was also impressed with the use of the invasive IndoPacific Lionfish and said it tasted like a red snapper to him.
"Really good, really flaky," he said. "Now that I've done that here I'll probably take that one back with me to California and throw it on the menu and freak some people out."
Prior to the competition getting under way, the Department of Natural Resources' Chief Environmental Educator William Coles and The Nature Conservancy's Kemit-Amon Lewis demonstrated cleaning the lionfish while also talking about a new program getting ready to rollout territorywide.
Developed upon a conglomeration of ideas, and some of which is modeled after the Monterey Bay Aquarium's Seafood Watch Guide, the territory's upcoming Reef Responsible initiative has a goal set to get fishermen and the restaurants to work together to encourage people to responsibly use local resources.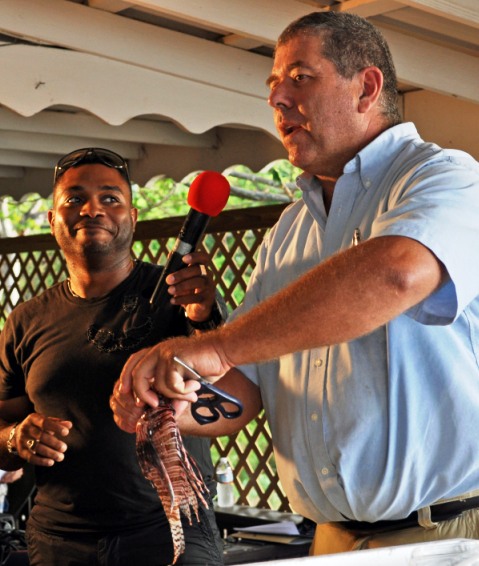 "If we can get people to use the resources responsibly, we can better manage that resource," Coles said. "So what we're doing is a two-pronged attack. We're getting the local fishermen to follow the rules and regulations and we're getting the information out to the restaurants of what to eat and when."
When the program rolls out officially this summer, restaurant patrons will see signs at restaurants deeming them reef responsible, which means they purchase seafood in season and within size limits. These signs will also enable these restaurants' patrons to know what fish are considered good to eat, environmentally and sustainably speaking, and which aren't. On the flip side, restaurant chefs and owners will be given calendars knowing when certain fish are ok to buy.
"If there's no demand, there's no reason to harvest," Coles said. "And since we're not associated with the commercial fishermen or the restaurants, we can be that go between."
But even with this market-driven approach to a sustainable commercial fishing industry in the territory, Coles was honest when asked to assess the local aquatic environment as it pertains to fish.
"At this point in time, just about all of our local reef fish are having problems but it's for a variety of different reasons. It's not all overfishing," he said. "There are all these other issues, but the idea is to try and reduce the stressors."