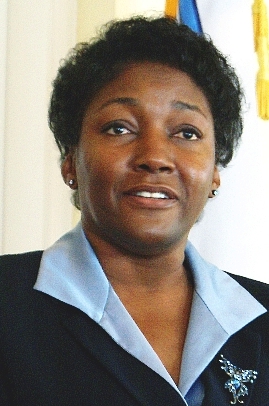 Education Commissioner LaVerne Terry is resigning from her position – for family reasons – and Gov. John deJongh Jr. has appointed Assistant Commissioner Donna Frett-Gregory as acting commissioner, effective May 1, the governor announced at a press conference Thursday afternoon.
"For some time now, Dr. Terry and her family have been dealing with a family member's illness and she expressed to me that she has reached a point where she cannot deal with the family illness long-distance," deJongh told reporters on a conference call.
DeJongh praised Terry's performance in the five years she has been with the department, saying Education improved under her watch.
"Under Terry we were able to maintain full accreditation of our schools with Middle States," deJongh said. "We have seen improvements in reading comprehension, math and science, and a 46 percent increase in Virgin Islanders taking advance placement tests for college," deJongh said.
The governor also credited Terry with developing a plan for information technology, putting videoconferencing in place, enhancing parental involvement with programs like the department's Parent University, and other measures.
"I am personally extremely grateful to Dr. Terry," deJongh said. "She tried to stay as long as she possibly could."
Terry became acting commissioner in 2007 and the Legislature confirmed her nomination to the position in March of 2008. (See related links below)
When she arrived, Terry had 26 years of experience as a teacher and administrator in Delaware and Connecticut. She has a master's degree in special education from the University of Maryland and a doctorate in education leadership, also from the University of Delaware.
She is a fellow of the Broad Academy, whose website describes it as a 10-month executive management training program designed to prepare executives from business, nonprofit, military, government and education backgrounds to lead urban public school systems.
According to her resume, while serving as assistant superintendent of the Christina School District in Delaware, Terry tripled enrollment in AP courses, increasing enrollment of minority students by 300 percent; improved test scores in the district's elementary and middle schools by 20 percent; and developed several model teaching and development programs.
Frett-Gregory served as acting commissioner previously, in 2007, at the beginning of deJongh's first term, and became assistant commissioner a few months later, under acting Commissioner Lynn Spampinato.
Before that, Frett-Gregory held the position of deputy commissioner for fiscal and administrative services, which encompassed oversight for the territorial operations of Federal Grants and Audit, Budget Control, Business Administration, Computer Operations, and Property and Auxiliary Services divisions, as well as the warehouse.
Frett-Gregory has more than 20 years of public financial and administration experience. She holds a master's degree in public administration from the University of the Virgin Islands and a bachelor's degree in business administration from Morgan State University.