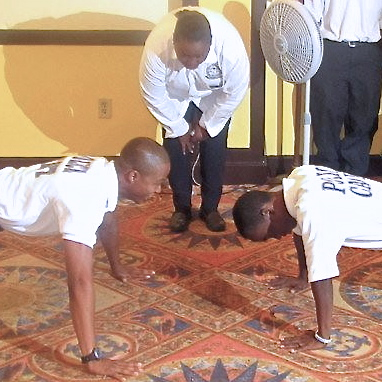 Dozens of high school seniors in the V.I. Police Department's cadet program came out to Carambola Resort Saturday to listen and learn about discipline, self-presentation and other important life skills at the fifth annual VIPD Cadet Leadership Conference.
Past cadets shared their experiences with new cadets at the conference, with some emphasizing that the program's benefits go beyond just preparation for a law-enforcement career.
"The cadet program serves as an introduction to the criminal justice field overall," said Sherrika Industrious, a former police cadet class president and current UVI student, in an interview with VIPD Public Information Officer Melody Rames. "It helps a lot with criminal justice studies. Through the cadet program I was able to acquire classes like constitutional law, forensics and communications. … When I first took an introduction to criminal justice course it was basically the same as when I went through the academy, so that helped me a lot and I received an A for the course."
But it also helps with more universal life skills, Industrious said.
"After the program, I had confidence and that is very important," she said. "It also helped me develop good communication skills. … Good communication is the most essential thing."
Police Officer Samuel Gittens also pointed to the life skills students are exposed to as cadets, telling Rames, "It exposes cadets to working and doing business with different people. It gets them to work with people of different ethnic groups, from different environments and in different age groups."
At least one cadet among this year's crop agreed about the usefulness of the skills being imparted.
"You learn a lot about leadership and you learn discipline," cadet Diana Lee Brewster told Rames. "You learn how to react to difficult situations in a more calm way … and to better analyze and handle the situation."
"A lot of the things we are exposed to you would not normally be exposed to as a young teenager," she added. "It helps with situations that may be tough if you don't have the training or background."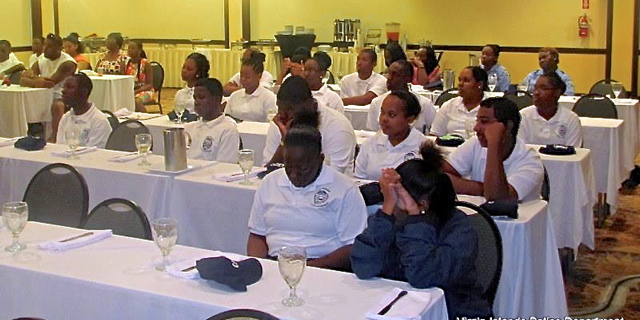 The police cadet program, run by the Bureau of Crime Prevention, has existed for many years, but was revamped in 2007. The program recruits high school seniors interested in the criminal justice field. Working in cooperation with the University of the Virgin Islands, cadets receive free UVI tuition in exchange for five years of service in the V.I. Police Department.
To qualify for the program, students must have a 2.5 grade point average, letters of recommendation from their school principal and guidance counselor, a good school record, and a clean juvenile criminal record. Students who meet those requirements must complete a 21-page application that includes a 250-word essay and a background check. They are then interviewed by a board of officers who scrutinize their answers and demeanor.