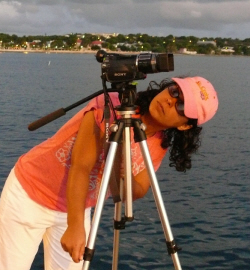 Award-winning St. Croix filmmaker Johanna Bermúdez-Ruiz will attend a free screening of her documentary "Sugar Pathways" at 7 p.m. Saturday and take part in a question-and-answer session after the film, which documents ties between the big island and Puerto Rico.
The 80-minute feature film follows the migration from the Puerto Rican island of Vieques to the U.S. Virgin Islands over the past century, growing to become an integral part of Crucian and V.I. society.
"It's a film about bringing people together," Bermúdez-Ruiz said, who spoke about the movie shortly after it premiered in 2009. "It's about diversity and people of all cultures and backgrounds coming together to become one. It is for people to see how two cultures, the black and Latino culture, became one in the Virgin Islands."
Born and raised on St. Croix, Bermudez-Ruiz is herself a descendant of the families who migrated to St. Croix.
"Young people need to know the history of why we came here," Bermudez-Ruiz said at the film's premiere. "This is an educational film preserving the culture of Puerto Ricans and Virgin Islanders. I put a lot of passion in the film, with scenes that really move me and touch me," she said.
The film features extensive archival footage of St Thomas, St. Croix and St. John, photographs and interviews with local historians, elder Puerto Ricans on St. Croix and other cultural figures, set to music by Danny I and Stanley and the Ten Sleepless Knights, and an original soundtrack composed by Laurent "Tippy" Alfred. Actress Lauren Vélez of the Showtime television series "Dexter" narrates.
Bermudez-Ruiz is a past winner of the MAAFA Film Festival Best Short Documentary, San Juan Film Festival Hummingbird Best Short Documentary and the ImageNation Special Award. One of her films, "Vieques: An Island Forging Futures," documents the protests on Vieques that led to the closure of military bases and the end of bombing practice there.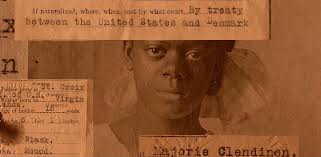 She is the executive director and owner of Cane Bay Films, dedicated to the preservation of the stories of ordinary citizens.
What people have said about "Sugar Pathways:"
Jorge Capetillo, professor of sociology and chair of Latino Studies, University of Massachusetts, Boston: "'Sugar Pathways' is not only a documentary based on rigorous and detailed research of the Vieques-St. Croix connection in the past half century, but is also a beautifully crafted art piece that vividly projects to the viewer the origins of the cultural diversity that we find in the Caribbean, as well as the human struggle to survive, adapt to a new socio-cultural environment, and create a new society. These components give 'Sugar Pathways' its complexity and beauty."
Former V.I. Sen.Wayne James: Sugar Pathways explores "… the cultural contributions of Puerto Ricans to St. Croix, their migration process from the 1920s to the 1950s, and the resulting cultural synthesis that marked the inevitable path to the multicultural world of the 21st century."
Delegate Donna Christensen: "This film preserves history and culture and raises public awareness, portraying the blending of Crucian and Puerto Rican traditions."
Parking will be available at the Christiansted Historic Site parking lot from 6:30-9 p.m. Please bring a blanket or beach chair, or some sort of seating to be comfortable on the lawn. This event is a "Pack it in, pack it out" affair. Moviegoers are encouraged to pack a picnic to enjoy during the show, but also pack up all trash and food waste, preferably to be recycled later.
For more information about St. Croix Movies at the Fort, including monthly updates, the National Park Service's "Pack It In, Pack It Out" policy, the Virgin Islands Caribbean Cultural Center or "Sugar Pathways," visit the links below:
www.facebook.com/pages/Virgin-Islands-Caribbean-Cultural-Center/ orwww.nps.gov/chri
www.facebook.com/stcroixmoviesatthefort or www.canebayfilms.com