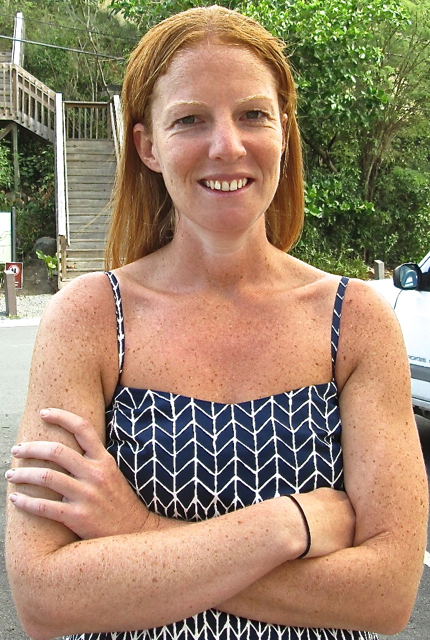 Registered nurse Sandy Colasacco, 33, saw a niche that needed filling in her native Massachusetts so she started The Baby Grove, a company that provides help with pregnancy and childbirth. She's also consulting with pregnant and new mothers on St. John.
As if this wasn't enough, she's also teaches CPR and childbirth classes and is a St. John Rescue member, a volunteer post she said is very different than being a nurse.
"I like the fact that you're saving lives," she said of her work with St. John Rescue.
It's a big commitment, she said, because members are on call all the time. Since she lives in the Cruz Bay area, she only responds to calls on the western end of the island unless there's a need for more help in Coral Bay.
Born in Needham, Mass., Colasacco first moved to St. John in 2003. Like many youthful transplants she worked in retail and as a maid. She already had a bachelor's degree in sociology from Wheaton College in Norton, Mass., but decided she wanted to be a nurse.
She returned to Massachusetts, graduating in 2008 with a bachelor's of science degree in nursing from Massachusetts General Hospital Institute of Health Professions in Boston. While at school, she worked in childcare centers in the Boston area.
Colasacco tried hospital nursing, but she didn't like it because there was no continuum of care. Like all hospitals, nurses work shifts so nurses share responsibilities for the patients.
Frustrated, she opened The Baby Grove so she could provide help with pregnancy and childbirth issues. The services cover a wide range and include in-home classes on such subjects as childbirth, newborn care, breastfeeding, infant CPR, prenatal support, and labor support as well as daytime and overnight nursing.
She does much of her consultations with clients in the Boston area and keeps tabs on her staff of seven registered nurses via the phone.
She returned to St. John in January 2011.
"I can run the business from down here," she said.
Colasacco sees myriad health-related issues on St. John that she'd like to work on. For starters, she said too many young women aren't using birth control. She said they have to make an appointment for a physical before getting a birth control prescription, which is an obstacle. The appointment is expensive, and then they'll have to pay for the prescription. Like many young people around the country, those young women can't afford health insurance and are too old to piggyback on their parents'.
"My hope is to make it more accessible and more affordable so people will go," she said.
There are many positives, however. She said new mothers tend to gather together to provide support. Additionally, she said they use cloth diapers, which are better for the environment than disposables.
Life is busy for Colasacco, who makes frequent trips back to Massachusetts to keep tabs on The Baby Grove and to visit family. When she's not on a plane or on the phone, she likes to go to the beach and hang out with friends.
She said in addition to the balmy weather, she likes St. John because when she goes somewhere, there's always someone she knows.
"And I meet new people all the time," she said.
And in the future? She said she hopes to attend graduate school to become a nurse practitioner.
"My goals are lofty," she said.
Colasacco can be reached by phone at 1-781-405-5379. Her website is at www.thebabygrove.com.