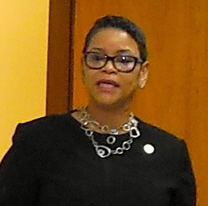 St. Thomas Deputy Supervisor of Elections Mabel Maduro resigned, effective Thursday, and the V.I. Joint Board of Elections Friday voted to assign Maduro's duties to St. Thomas Board of Elections administrative assistant Sharon Benjamin, at a special meeting Friday on St. Croix.
Maduro's letter of resignation, submitted on Tuesday, says she is leaving "to pursue other interests," and provides no further explanation.
The changes at the St. Thomas office come after a conflict between Maduro and V.I. Elections Supervisor John Abramson, which resulted in her suspension and reinstatement last year.
Abramson asked for Maduro's dismissal in a September 2012 letter, citing poor job performance. The complaint arose during Maduro's bid for the senate-at-large seat, with Abramson saying the run posed a conflict of interest with her elections job.
The motion to terminate failed at a September meeting. Instead the board issued a 30-day suspension of duties without pay.
In December, the Joint Board reinstated Maduro and directed that she be given back pay for the time she was suspended.
Abramson has been on medical leave and is not expected to return before his retirement in June.
At the Joint Board organizational meeting in February, St. Thomas member Arturo Watlington Jr. moved to have Benjamin take over Maduro's duties, while leaving Maduro in the position. Watlington's motion failed.
Friday, Watlington moved to have the Joint Board give Benjamin the duties and responsibilities of the St. Thomas deputy supervisor. Voting yea were: Watlington, Lawrence "Larry" Boschulte, Claudette Georges, Alecia Wells, Lisa Harris-Moorhead, and Rupert Ross. Former Sen. Adelbert Bryan voted no and Raymond Williams abstained. Absent were Wilma Marsh-Monsanto, Lydia Hendricks, Harry Daniel, Liliana de O'Neal and Roland Moolenaar.
The vote occurred after a controversy over adjournment. The board voted to adjourn, then immediately voted to reconvene when Watlington said they had neglected to act on the Benjamin appointment. Bryan argued that it was a violation of meeting notice requirements to immediately reconvene a meeting, because it was a new meeting that must be publicized. The five absent members left, then the meeting proceeded to a vote and the board re-adjourned.
The joint board also voted to create a temporary personnel committee to look into a complaint made by Abramson against St. Croix Deputy Supervisor James Weber II, and an election reform committee to propose changes to V.I. election law so the V.I. Legislature can act on them during legislative session scheduled for June. Both committees are to meet and report back to the Joint Board at its next meeting, which is scheduled for April 24 on St. Thomas.
In other matters, Stephanie Barnes, the territory's Americans with Disabilities Act coordinator, told the board the U.S. Election Assistance Commission should release Help America Vote Act funding for new voting machines once the territory gets a letter certifying compliance with the federal Americans with Disabilities Act and submits it to the EAC. Problems with the St. Thomas office have been corrected by moving to a new location and that letter should arrive "very soon," Barnes said.
And Assistant Attorney General Kimberly Salisbury gave the board a presentation on what V.I. laws need to be amended to comply with the federal Uniformed and Overseas Citizens Absentee Voting Act, known as UOCAVA.
In 2012, the U.S. government went to court to force the territory to comply with the terms of UOCAVA, which requires states and territories to transmit absentee ballots to military and overseas voters at least 45 days before primary and general elections.
In September 2012, the V.I. Joint Board of Elections entered into a consent decree with the federal government over the issue. The 29th V.I. Legislature passed legislation making some of the necessary changes in 2012. Those changes take effect in 2014.
Salisbury gave information about which laws need modification. The election reform committee created at Friday's meeting is to take that information and draft recommended changes both to law and to all the other election system deadlines that would be affected by the changes to the law.