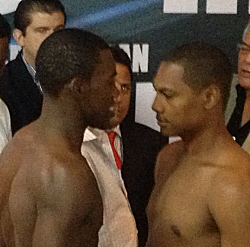 Just a week ago, 340 Boxing champion Julius "The Chef" Jackson (14-0 with 10 KOs) was looking forward to his fight against Roberto Jose Acevedo under the big lights in Atlantic City on ESPN2's popular "Friday Night Fights" card.
But Acevedo (7-0 with 4 KOs) pulled out at the last minute, leaving Julius's brother John Jackson and cousin Samuel Rogers on the card, while he cheered from the sidelines.
"It was disappointing," Julius said in a recent interview. "I was really ready to take on another undefeated fighter. I was totally in the zone, and looking forward to it, but everything happens for a reason. Other opportunities open up, and I'm looking forward to those too."
After the fight, in which John and Samuel were able to add another win to their records, 340 Boxing managers were able to quickly announce that Julius had been booked for a Saturday fight in Panama, where he will be facing off against Colombian-born Jhonatan Ricar (9-5 with 7 KOs) at the Hard Rock Hotel's Megapolis Convention Center.
Ricar and Julius met for the first time Friday at the official weigh-in for the fight, which will feature a bout between the International Boxing Federation's junior flyweight champ Johnriel Casimero and Luis Alberto "Pan Blanco" Rios (18-1 with 13 KOs). The co-main event will feature John Mark "Iceman" Apolinario (17-2 with 4 KOs) and Roberto Vasquez (32-5 with 22 KOs) in a rematch for the World Boxing Association's interim bantamweight title.
"This is really an historic card," Julius said recently. "And I've never been to Panama, so I'm excited about that, too. My training leading up to this has so far been the same — I was getting ready for ESPN and that didn't happen, so I'm in top-top shape and ready to go. It's going to be explosive."