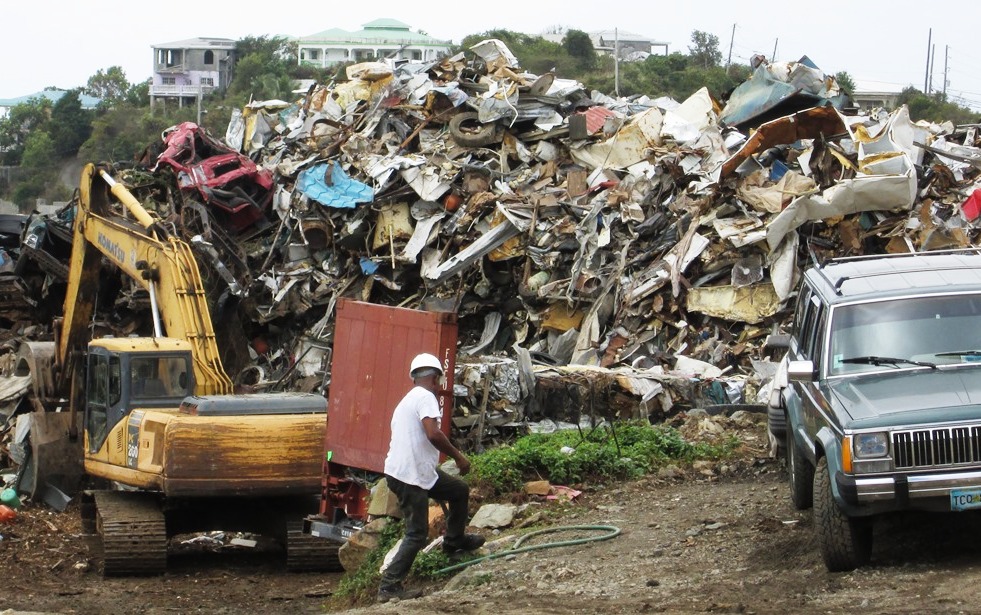 The mountain of scrap metal at the Susannaberg Transfer Station is being removed and sent to a recycler in Florida, V.I. Waste Management Authority officials said Thursday at a meeting at Julius E. Sprauve School.
"They should be finished in about two or three weeks," according to Steven Aubin, WMA chief operating officer.
Aubin said that contractor V.I. Recycling, which is handing the removal, is expected to return in about six months to remove the scrap metal that has accumulated since the previous removal.
The fact that people bring in cars and appliances that haven't been "detoxed" causes problems when it comes to scrap metal removal, he said. All fluids, tires and other hazardous materials must be removed before those items are hauled to the transfer station, but Aubin said that doesn't always happen.
In response to a question from Deborah Charles, who lives adjacent to the transfer station, Aubin said the scrap metal piled up for three years because the authority didn't have funding to get rid of it.
Waste Management Director May Adams Cornwall said later that federal funds were paying for the removal.
Charles said she would like the entire transfer station moved. She said when she bought her house there, it was with the understanding that the site was temporary and an area at Hurricane Hole was under consideration.
"We have outgrown that site," Charles said.
Cornwall suggested that the V.I. National Park, which occupies more than half St. John's land mass, provide some land for a transfer station. However, she said she was open to suggestions for another site on St. John but it would be years before a new transfer station could open even if a site could be found.
"People are going to complain if it comes too close," Cornwall said.
Meanwhile the authority plans other improvements to the Susannaberg site. Aubin said a tipping floor is in the works. The tipping floor will allow staff to easily remove items like appliances that can't be compacted for transport to the Bovoni landfill on St. Thomas. Aubin said compacting the garbage means that it takes up less space and consequently costs less to ship.
According to WMA chief engineer Jim Grum, the tipping floor should be done in July.
Wandering goats and pigs have also been a problem at Susannaberg, but Randy Thomas, who heads Agriculture Department activities on St. John, said the number has been reduced because the owner has them better contained than in years past.
Tires are also an issue. While many tire buyers pay what Cornwall said was a voluntary fee for their disposal when they buy their tires, old tires are still being dumped around the island. Mario Leonard, director of solid waste and environmental programs for the St. Thomas/St. John district, said that in one case, a St. John tire retailer paid a hauler to dispose of the tires properly but the hauler dumped them illegally.
Cornwall said federal funding is being used to get rid of tires but that that source would soon dry up.
As it does at nearly every Waste Management meeting, the issue of paying for garbage disposal is discussed. Cornwall said the agency will start with advance disposal fees on items like cars, tires and electronic waste. She said the proposal for implementing the fees would go to the Public Services Commission in about two months.
However, she said, the WMA needs to implement a full complement of fees to make the agency viable.
St. John Administrator Leona Smith said that a memorandum of understanding between the Police Department and Waste Management is in the works so police officers can issue tickets to waste violators. She said this is necessary because Waste Management is short staffed.
In an interview with the Source before the meeting, Cornwall and Grum said the planned reconstruction of the pumping station in the parking lot across from the post office in Cruz Bay is still in the works. Cornwall said that ownership of the land where the existing pumping station sits was in question, but the paperwork was filed to transfer it from the central government to Waste Management.
Once that process wraps up, applications for the necessary permits can be filed and the project moved forward.
To report violations or make other suggestions, visit www.viwma.org.